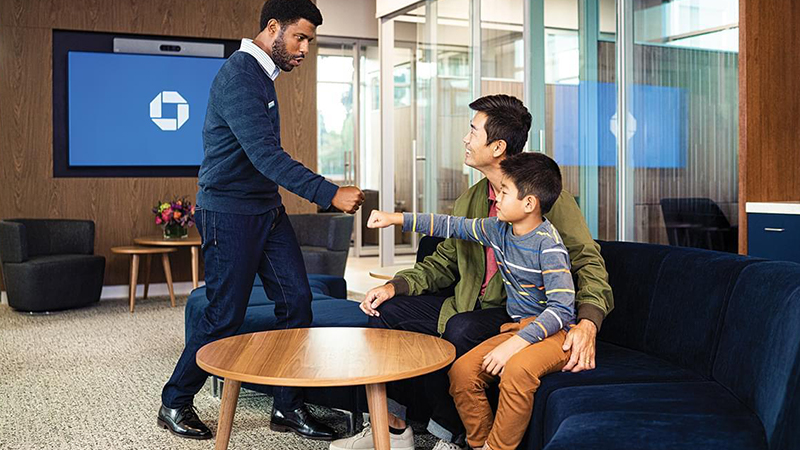 Article
Economic Opportunity Begins with Access: How JPMorgan Chase is Bringing Localized Resources to Underserved Communities
Nearly 7.1 million households in the U.S. are currently unbanked, with Black, Hispanic and Latino communities making up 64% of the total unbanked population. The lack of community branches with low-cost financial products and services at the local level leaves many people living in underserved communities to rely on costly alternative financial products, such as check-cashing services and payday loans, to carry out their day-to-day financial needs. This can leave people in a cycle of debt, unable to become financially resilient and ultimately, build wealth.
A recent study by the JPMorgan Chase Institute found that families need roughly six weeks of take-home income in liquid assets to weather any sort of volatility, and that 65% of families don't have enough liquid assets to do so – and these are pre-pandemic findings. Profound racial inequalities created by structural barriers have been made worse by the pandemic and continues to put a strain on families' economic mobility and restrict the U.S. economy.

"When we look at the scope of the problem, it's massive," said Colleen Briggs, Head of Community Development at JPMorgan Chase. "It means we're going to need people all across the ecosystem thinking about how we can help support Black, Hispanic and Latino families—leaders from communities, government and business."

Improving the financial health of Black, Hispanic and Latino communities means improving access to banking in these communities. To do this, we took a familiar approach and localized our efforts.

From Detroit to Chicago and Beyond

In 2014, we made investments to increase economic opportunity for Detroit residents and help support the city's focus on achieving an economic comeback by 2022. This effort has taken collaboration among local nonprofit, government, business leaders and our employees, which apply their skills and expertise to help ensure the city's economic turnaround creates lasting opportunity for its residents. This approach, proving to be successful, became a model to address our nation-wide efforts to help close the racial wealth gap.
Last year when we announced our $30 billion commitment to advance racial equity, we prioritized Chicago and focused on addressing homeownership the South and West sides.

That summer and fall we met with more than 50 local community leaders, government officials, housing advocates, and our own employees to listen and better understand the barriers and the unique challenges our communities face.
"There are nuances to advancing racial equity in particular geographies where we do business. We have to be in communities, we have to listen, analyze, build impactful partnerships on a local level and create a localized plan for that city to make sustainable progress inclusive growth, " said Alice Rodriguez, Head of Community Impact at JPMorgan Chase.
Localized Efforts for Inclusive Growth

We're using the success of the Detroit model and the groundwork we're laying in Chicago to extend to additional priority cities. To advance economic equity, job opportunities and financial literacy, we've launched similar localized efforts across the country, such as the opening of 100 new Chase branches and 16 Community Centers in neighborhoods that lack access to traditional banking, hiring 150 community managers to deepen local relationships and create programming with community partners.

Chase's new Community Center branches are designed to help us better collaborate with local organizations and offer free skills training and space for small business pop-ups. In addition to branch managers, these Centers include community managers, community home lending advisors and small business consultants. These roles were created to make and maintain strong local connections with the community, offer the guidance and expertise, and provide accessible tools, resources and financial education. Nine Community Centers have opened- the latest in Akron, Ohio and Washington, D.C., both opened its doors in September. Additional neighborhoods being served include Harlem, Ventura Village in Minneapolis, Stony Island in Chicago, Oak Cliff in Dallas, New Orleans, Detroit, and Crenshaw in Los Angeles.

Our $30 billion commitment included a $50 million investment in Black, Hispanic and Latino-led and owned Minority Depository Institutions (MDIs) and Community Development Financial Institutions (CDFIs). With $40 million of that investment already with Louisiana-based Liberty Bank and Trust, North Carolina-based M&F Bank, New York-based Carver Federal Savings Bank and Los Angeles-based Broadway Federal Bank, we've increased our commitment to $100 million.

"This infusion of capital will allow us to scale up our efforts to support small businesses, increase our mortgage lending and help refinance predatory lending products, which will result in significant cash flow enhancements for our most challenged communities," said Liberty Bank President and CEO Alden J. McDonald Jr. "We appreciate the confidence JPMorgan Chase has placed in our ability to understand our customer base and offer financial services that build wealth in our communities."
This effort will help provide vital financial services, such as additional access to capital, connections to institutional investors, specialty support for Black-led and owned commercial projects and mentorship and training opportunities – all of which help these institutions expand, enhance their services and lend to more people and businesses in underserved communities. This fall, we will announce new investments and include Hispanic and Latino-led and owned MDIs.
Inclusive Access Drives Inclusive Growth

Collaboration across the public, private and non-profit sectors is the cornerstone to closing the racial wealth gap.

"It's the foundation of building more healthy and resilient communities," said Briggs. "It's giving people the tools and resources to manage their daily lives—everything from making transactions and building emergency savings to accessing short-term credit for managing some of that volatility."