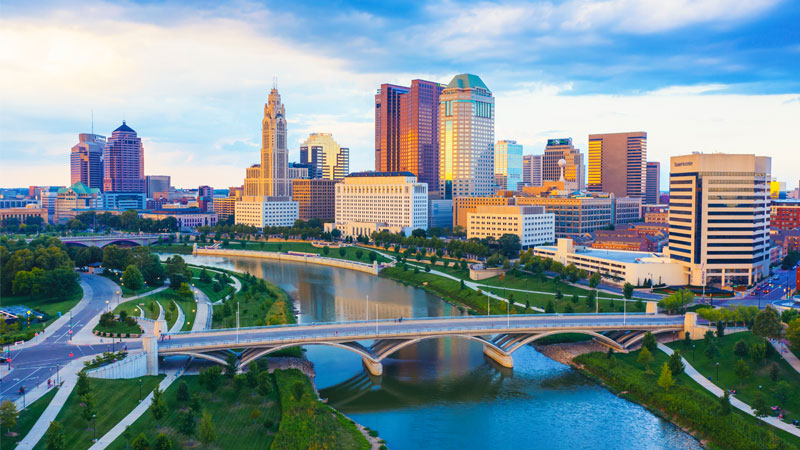 Stories
The State of Ohio: How JPMorgan Chase Drives Economic Growth
In Jamie Dimon's 2022 Annual Letter to Shareholders, the JPMorgan Chase Chairman and CEO shines a light on the State of Ohio. For over 200 years, the bank has been committed to the Buckeye State's government, education, people, businesses, organizations and economy. As JPMorgan Chase continues to deepen its investment in Ohio, we look forward to continuing to make a difference. Check out what he had to say about our commitment:
When JPMorgan Chase does business in a community, we do more than just open branches. We lend to small, midsized and big businesses; we hire, pay well and provide great benefits; and we finance hospitals, schools, grocery stores, homes, automobiles and governments. For more than 200 years, this approach has enabled us to make investments that have a lasting impact on local economies, families and neighborhoods while also supporting them in good and challenging times.
We have been in Ohio since 1812, and our experience there serves as a great example of how our resources drive growth on the ground.
Our support to government, higher education, healthcare and nonprofit organizations:
We serve approximately 150 government, higher education, healthcare and nonprofit clients throughout the state, and over the last five years, we provided nearly $9 billion in credit and capital to them.
Our clients range from University Hospitals Health System, Inc. to the Ronald McDonald House in Columbus and the University of Dayton in Dayton.
We are the primary treasury bank for Ohio State University and the primary bank for the city of Columbus; we also bank nearly 50 counties, cities and school districts across the state.
Our support to investment and middle market banking clients:
Our support includes $120 billion in credit and capital over the last five years for Commercial & Industrial clients such as energy, retail and auto businesses.
We have over 4,800 large and midsized clients in Ohio, up over 70% compared with 2019, which also includes emerging middle market companies owned by veterans, women, LGBTQ+ individuals and people of color. This gives us leading market shares in the state compared with other banks.
Our support to local financial firms:
We have provided nearly $20 billion in credit and capital over the last five years for financial institutions such as local banks, insurance companies, asset managers and securities firms.
Importantly, we bank 19 of Ohio's regional, midsized and community banks, helping them serve local communities and accomplish their other goals.
Our support to small businesses:
By the end of 2022, loan balances for small business customers in Ohio totaled over $800 million — funds being used to run and grow companies and create jobs.

Includes support for distribution of the federal government's Paycheck Protection Program (PPP) to help small businesses navigate the pandemic in 2020 and 2021

In 2022 alone, JPMorgan Chase helped over 160,000 small businesses thrive and grow through access to customers, capital and networks, giving us the second largest business banking market share in the state. We also offered some 106,000 hours of advice and support to small businesses.
Our support to consumer banking needs:
We operate nearly 225 branches and over 530 ATMs across the state.
To help Ohioans build wealth and be financially healthy, we have provided more than 4 million savings, checking and credit card accounts, enabling these consumers to gain access to resources such as free financial health services, as well as mortgage and auto loans.

Ranked as the second largest provider of consumer banking in Ohio with over 2 million checking and savings accounts and customer deposits totaling nearly $37 billion in 2022

In 2022, we oversaw more than $20 billion in investment and annuity assets for clients.
Our business and community investments:
The firm's national $30 billion racial equity commitment takes place very specifically on the ground. Since the program began, we have committed more than $260 million across the state, including:

Over $163 million in loans for Black, Hispanic and Latino households to purchase or refinance a home
$54 million financed through investments and loans for the construction and rehabilitation of affordable housing
$14 million in New Markets Tax Credit investments to support the Ronald McDonald House Charities in central Ohio
Over $12 million spent with Black, Hispanic and Latino suppliers

We've committed $45 million in philanthropic support across the state since 2018 such as:

$5 million to support The 614 for Linden, a CDFI and nonprofit collaborative, in Columbus, which helped catalyze a $20 million fund for affordable housing; create or preserve nearly 750 affordable housing units; provide 57 microloans to local entrepreneurs; support technical assistance for over 100 small businesses; and increase wraparound services for prenatal care, as well as facilitate access to healthy food
Our impact as a proud employer in Ohio:
Today, as the largest private employer in Columbus, JPMorgan Chase employs over 20,000 Ohioans throughout the state, including more than 2,000 veterans and 500 people with a criminal background who deserve a second chance.
We also support an additional 3,200 jobs for contractors in our branches and corporate offices across the state.
In Ohio, our average salary is $96,000, not including benefits. Our lowest starting wage is $41,000 (plus a comprehensive annual benefits package worth nearly $15,000) compared with Ohio's average salary of $35,0001.
Learn more about how we're making a difference in Ohio.