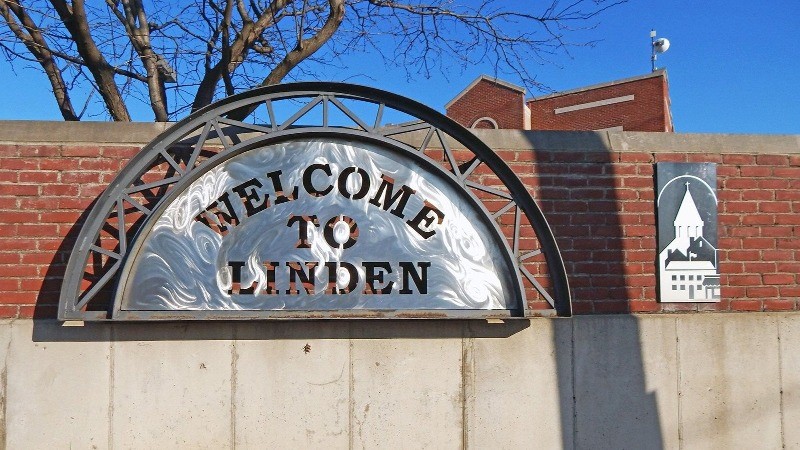 Stories
Building a New Community on Old Streets: The Resurgence of Columbus' Linden Neighborhood 
With support from JPMorgan Chase, this Columbus community worked together to expand housing options, support entrepreneurs, catalyze additional community investments and support resident health.
Founded in 1908, the northeast Columbus, Ohio neighborhood of Linden grew into a haven of affordable homes, small businesses and community amenities, eventually becoming a comfortable retreat for residents commuting to the city's downtown. Then, a combination of suburban subsidies, highway construction and deed restrictions drew more affluent homeowners away. Linden, like neighborhoods in many cities across the country, began a decades-long decline into unemployment, shuttered shops, decreasing population, and increasing divestments.
Until now.
In 2017, as part of Mayor Andrew J. Ginther's focus on Columbus neighborhoods, a comprehensive community planning effort, the One Linden Plan, outlined a roadmap back to the things that matter—safe neighborhoods, economic development, affordable housing, quality healthcare, education, and employment opportunities. That framework resulted in the 614 for Linden, so named for the collaborative effort of the six nonprofits and four community development financial institutions (CDFIs), whose focus is to rebuild the community in ways that serve existing residents and attract new investments to the area.
"The 614 for Linden is exactly what we hoped the One Linden Community Plan would do to bring additional investment to the community," said Carla Williams-Scott, Director of the City of Columbus Department of Neighborhoods. "This collaborative has played a key role in advancing important initiatives that are stabilizing and expanding housing options, increasing access to healthy food and strengthening small businesses.
Catalyzed by a $5 million philanthropic investment from JPMorgan Chase, the 614 for Linden raised more than $25 million of capital from the City of Columbus, CareSource, Robert Wood Johnson Foundation, Center for Community Investment and other institutions with a shared vision to help Linden thrive. JPMorgan Chase's investment is part of its $400 million, five-year commitment focused on promoting housing stability and improving housing affordability for Black, Hispanic and Latinos to counter the affordable housing crisis that has been unfolding for years, disproportionally impacting many households of color.
"Historically, Linden hasn't had much attention or investment," explains Courtney Falato, program officer for Global Philanthropy at JPMorgan Chase. "We saw that the area is not only a rich part of Columbus community but was ripe for investment, with the community already engaged in the big ideas identified in the One Linden Plan. And it's no small thing that all of the successes we've had throughout the three-year investment cycle happened during COVID. Despite the challenges, we were able to charge through and have considerable impact."
With this level of community engagement, the 614 for Linden has made headway in five major areas:
More Affordable Housing Options: To date, the collaborative has constructed 214 affordable housing units and has preserved or rehabilitated 230 affordable housing units. These new and rehabbed units will be made available to households earning at or below 80 percent of the area median income, providing a critical stock of affordable housing options amid a hot housing market.

Rapid Re-Housing: During the pandemic, the 614 for Linden reallocated some grant funds to provide emergency rent and utility assistance to local residents, helping people stay in their homes so they could focus on staying healthy and getting back to work.

Home Repair Assistance: Supporting existing Linden homeowners was a priority for the collaborative from the very beginning. The home repair grants for Linden offered the opportunity for homeowners to get much needed exterior repairs that they otherwise may not have been able to afford. The collaborative has completed 81 home repairs as of December 2022.
Fresh Food Access: The pandemic forced many families across the country to seek food assistance. The 614 for Linden provided support by rehabilitating a vacant grocery store into the Linden Fresh Food Market—a food pantry that feels more like a grocery store experience, with plenty of fresh fruit, vegetables and dairy products, as well as a free pharmacy. Attracting a traditional full-service grocery store to improve access to nutritional food is still a desired action item for families within the One Linden Plan geography.
Small Business Assistance: Small businesses were also hard hit by the pandemic, and many faced either a sharp decline in sales or an urgent increase in need. The collaborative provided technical assistance to help entrepreneurs navigate the crisis as well as micro loans to purchase equipment, scale production, or pivot operations.
As access to safe and affordable homes—which leads to better health, education, earnings, and other measures of well-being—takes root in Linden, former residents are moving back into the community. Along with a growing international population, they are spurring a reinvigorated small business corridor.
"Linden has always been a very engaged community. The folks here are interested in how we can build wealth in Linden, for Linden, and by Linden," says Aaron Murphy, the Vice President of Ohio Capital Finance Corporation, the lending affiliate of Ohio Capital Corporation for Housing, a founding member of the 614 for Linden collaboration.
"The success of the 614 for Linden relies on everyone involved sharing information and resources with each other," Falato says. "We're working together with the needs of the community—now and in the future—front and center."
Learn more about how JPMorgan Chase is making an impact in Ohio.