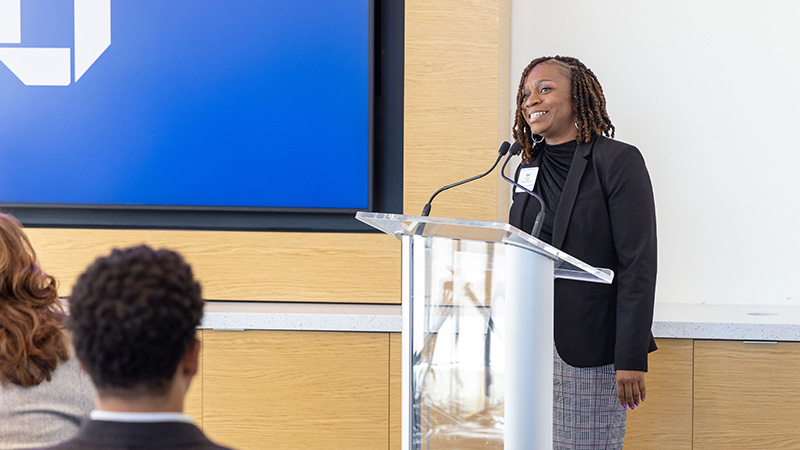 Stories
Celebrating Black History Month: Q&A with JPMorgan Chase Community Manager Gail Taylor
In celebration of Black History Month, we sat down with Gail Taylor in Detroit at JPMorgan Chase to discuss what Black History Month means to them, how the bank is advancing racial equity and Clark's goals for 2023.
Q. What does Black History Month mean to you and how are you celebrating?

A. Black history is about bringing awareness to the contributions African Americans have made in America. As a community manager for JPMorgan Chase, my work begins and ends with the community as I help offer greater access to affordable home loans, low-cost checking accounts, and financial health education workshops, especially in neighborhoods that have faced historical barriers. I want people who live and work in Detroit to feel welcome and included when they visit our branches. It's great to shine a light on the work being done during Black History Month, but I'm proud to work for an inclusive firm that focuses on this work year-round.
Black History Month is a time for both reflection and celebration across communities; a time where we honor the history, legacy and contributions of Black Americans to our society.
Q. How is JPMorgan Chase making an impact to advance racial equity?
A. Diversity, equality and inclusion have been an important part of the culture at JPMorgan Chase and we wanted to take a look at what else we can be doing. While our work to advance racial equity has been longstanding, in October 2020, we made a $30 billion commitment to advance racial equity that took a look at additional ways to address affordable housing, small business, financial health, among other critical financial needs within unbanked and underbanked communities.
Across the country, we've opened 14 Community Center branches, including our Corktown Branch at 1620 Michigan Ave. They're locally-inspired and built with extra space to host free community events and financial health workshops. We've also hired nearly 150 Community Managers who connect community members with the many resources we've created to support financial health education, first-time homebuyer education, and many other resources.
We're invested in making an impact in Detroit and are committed to supporting underserved communities, helping them reach their financial goals.
Q, How should other companies and individuals be thinking about advancing racial equity?
A. We all can make an effort to help advance racial equity within our community–including investing in or shopping with local diverse-owned businesses, supporting philanthropic efforts in our community, and participating in community events. Consider looking for diverse initiatives and business resource groups within your company that focus on supporting underserved or underrepresented communities, and asking if there are opportunities to support those initiatives or groups. For instance, JPMorgan Chase's Advancing Black Pathways initiative works to support the economic empowerment of the Black community globally. Through our Global Supplier Diversity program, we're using our purchasing power to build economic equity in diverse communities, foster the success of underrepresented business owners, and promote equity, inclusion and sustainability across the wider business community. We also have initiatives focused on other communities, and business resource groups that share our company commitment to equity and equality and create opportunities for employees to be engaged.
Q. Tell me about your connection to the Detroit community and opportunities for growth here?
A. I was raised on the west side of Detroit, where my father is a Pastor at the New Jerusalem Temple Church. Growing up in church, you meet a lot of people from the community with diverse backgrounds and experiences. This upbringing has given me an understanding and a sincere appreciation of our city and the people that live here. These people have influenced my life in so many positive ways.
I have worked in the city of Detroit for more than 10 years. Detroit is where ideas come alive. I have seen artist, entrepreneurs and everyday people bring their visions to life. We lift each other up and support one another every step of the journey. Businesses and people are moving here because there is a special grit, resilience and grind the people possess that is like none other. I'm proud to live and work in a city with a great history and a strong future. Detroit is an amazing place to live, work, serve and grow.
Q. What are your goals for this year, and/or, what are you looking forward to in 2023?
A. I am looking forward to great collaborations with organizations that are helping our next generation of great leaders, welcoming our new neighbors, and celebrating those who came before us.