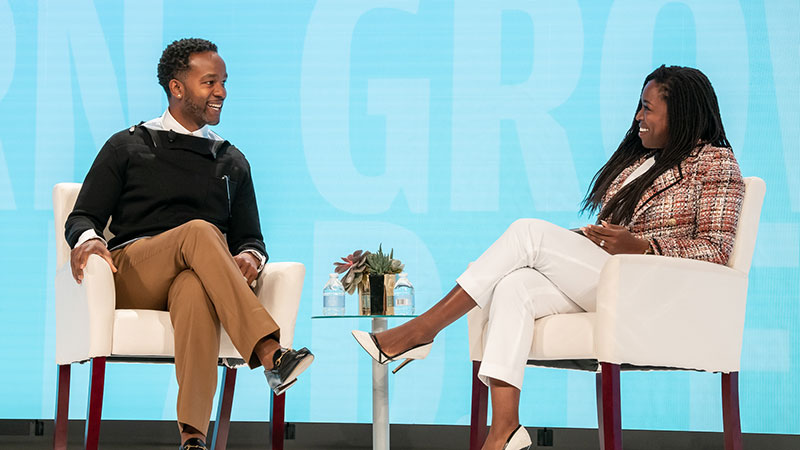 Diversity and Inclusion
Why Creating an Environment of Belonging in the Workplace Is Important
Ex-NFL player and recent activist, Wade Davis, encourages businesses that want employees to do their best work to create an inclusive environment.
"Belonging is an organization creating an environment for me to do my best work," says Wade Davis, inclusion strategist and former NFL player, during a recent panel hosted by JPMorgan Chase's Leadership Day.
For Davis, the first time he felt he truly belonged at work was when he was held accountable by a colleague after a moment of biased behavior. "I'm in front of you all now because someone believed in me and held me accountable. They made me feel like I was enough, like-- I could do something."
JPMorgan Chase is committed to the work involved in creating an environment of belonging. According to Davis, that work includes challenging the corporate tropes or boxes that employees have traditionally been expected to fit into. "We as leaders need to want culture adds, not culture fits. The corporate culture was created in the image of men, primarily white men. When you enter anything that is new into that culture, it's adding to it, it can't fit. Instead, we make it expand, and evolve."
You can hear more of the discussion on inclusive workplaces in the video above.
Interested in the diversity, equity, and inclusion work being done at JPMorgan Chase? Learn more about our DEI initiatives here and check out our career opportunities here.
BROWSE RELATED STORIES
The views and opinions expressed are those of the speaker and do not necessarily reflect the official policy or position of (or endorsement by) JPMorgan & Chase. JPMorgan Chase and its affiliates assume no responsibility or liability for the content, or any errors or omissions. The information shared by the speaker is provided on an "as is" basis with no guarantees of completeness, accuracy, usefulness or timeliness.