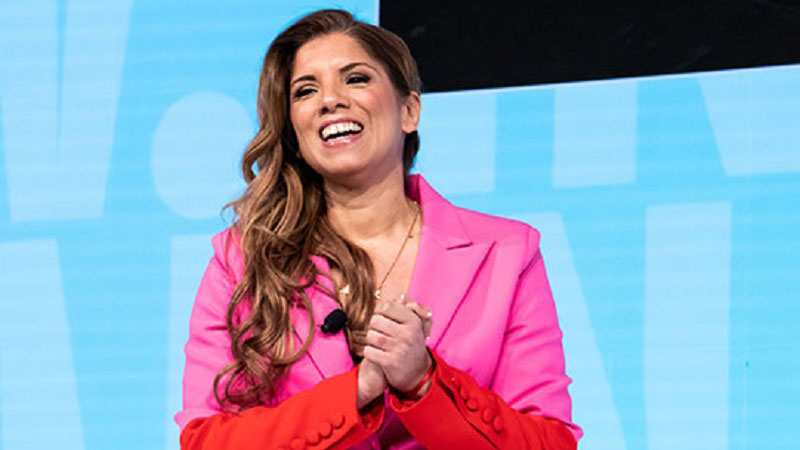 Diversity and Inclusion
How to Find Purpose According to Motivational Speaker, Gaby Natale 
Inspirational speaker, Gaby Natale, showcases how your uniqueness is a strength and can help you find your purpose.
At JPMorgan Chase's Leadership Day, motivational speaker Gaby Natale urged everyone to embrace their uniqueness. Your uniqueness is what equips you to uniquely identify the white spaces (opportunities) in your industry that others — not sharing your unique qualities, background, or experience — might not be able to see.
It's not always easy. Natale recounts arriving in the United States from Argentina and being automatically categorized as uneducated simply because of her accent.
Today, she is a successful public speaker. Natale attributes this largely to something she categories as the "Pioneer Spirit". According to Natale, when we look around and don't see ourselves proportionately or fairly represented (as she did when she was an aspiring journalist), we have two choices: the emulator mindset or the pioneer spirit.
The pioneer spirit is when you open yourself up to doing something that no one else like you has done before. "There are moments in life when you have to take a leap of faith, step into the unknown, and dare to be first." When Natale couldn't herself in the spaces she wanted to be in, she decided to start her own media company. "I wanted to be what I could not see at the time in media. A non-stereotypical, multidimensional Latina."
According to Natale, being a Pioneer is not about being born an extraordinary person, it's about ordinary people who choose to see themselves in an extraordinary way.
Here are the three steps she shares to start acting with a pioneer spirit: the first is to embrace your uniqueness and use it to your advantage. The second is to break barriers with something called the growth trifecta: excellence work, consistency in showing up long-term, and making sure there is visibility of your success and contributions. The third is to redefine what is possible by joining forces with others, specifically those people who are already in power and are committed to driving change with that power.
"Every single shift in human consciousness that has made this world a better place started in the same way, with a group of pioneers who got together to push an idea whose time had come."
Interested in the diversity, equity, and inclusion work being done at JPMorgan Chase? Learn more about our DEI initiatives here and check out our career opportunities here.
BROWSE RELATED STORIES
The views and opinions expressed are those of the speaker and do not necessarily reflect the official policy or position of (or endorsement by) JPMorgan & Chase. JPMorgan Chase and its affiliates assume no responsibility or liability for the content, or any errors or omissions. The information shared by the speaker is provided on an "as is" basis with no guarantees of completeness, accuracy, usefulness or timeliness.