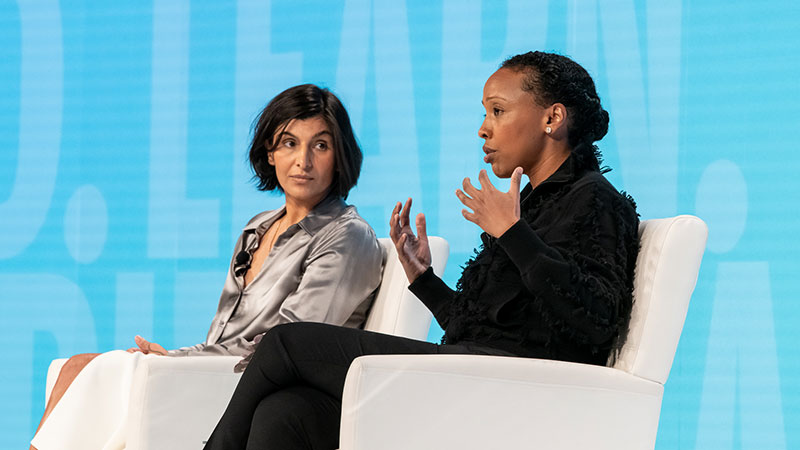 Diversity and Inclusion
Building an Equally Ambitious and Intentional Business
Two founders of major companies share how their shared passion for the food crisis drives both of them to create companies that demand change. 
Sara Menker, founder and CEO of Gro Intelligence — a company that connects ecology and economy to create a more secure future and Shazi Visram, founder of Happy Family — a company that introduced fresh, healthy, organic nutrition to a limited market, are passionate about their work.
Both entrepreneurs have dedicated their lives to different problems within the agriculture space. "Our interaction with our food systems and agriculture starts from the minute you wake up on your cotton sheets to the food that you eat, the fuel that's in your car," says Menker. "It is so embedded in our lives, and yet, we live ignorant of it." Menker saw a unique opportunity to take analytics and shine a light on the relationship between earth's ecology and our human economy.
But perhaps one of the most notable things about Menker's success is the fact that she's been able to build such success without sacrificing her mission. "We've built a significant business that is respected, without ever having to compromise our moral compass. It's never been a tradeoff for me about wanting to be very ambitious about the scale of the business I wanted to build and the ambition of the impact that we want to make, says Menker.
After realizing that the access to healthy, nutritious food for mothers and babies is far from equitable, Visram introduced her company with a mission to provide healthy food to babies, and make parents feel good about themselves. "There should just never be a time in our life that a baby doesn't get food when they need it," says Visram.
At JPMorgan Chase's Leadership Day, these two successful female entrepreneurs offered a bit of advice to anyone looking to lead a purposeful career: "Dream big, fight hard, take risks, make jokes. Try to enjoy your life while you're doing all that," says Visram. And Menker: "The greatest superpower I have is people always underestimate us and underestimate me. And there's something that either weighs you down, or it's something that motivates you. I use it as fuel."
Interested in the diversity, equity, and inclusion work being done at JPMorgan Chase? Learn more about our DEI initiatives here and check out our career opportunities here.
BROWSE RELATED STORIES
The views and opinions expressed are those of the speaker and do not necessarily reflect the official policy or position of (or endorsement by) JPMorgan & Chase. JPMorgan Chase and its affiliates assume no responsibility or liability for the content, or any errors or omissions. The information shared by the speaker is provided on an "as is" basis with no guarantees of completeness, accuracy, usefulness or timeliness.