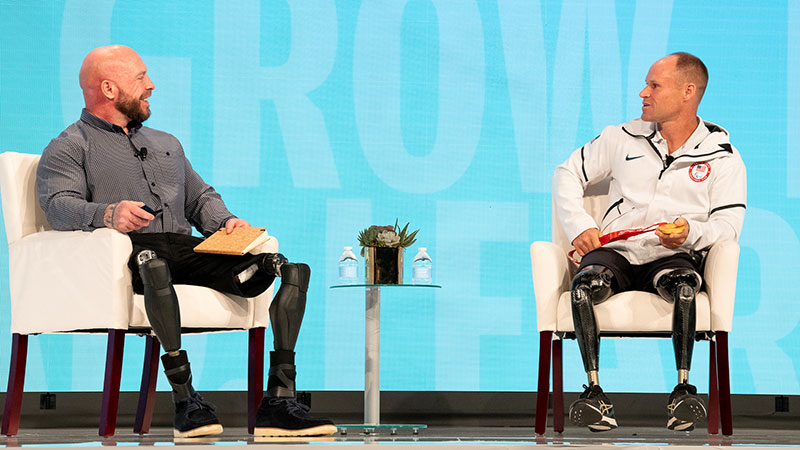 Diversity and Inclusion
A NAVY Seal Shares Three Tips on Becoming a Better Leader
Paralympic gold medalist and former NAVY Seal shares the leadership values he learned while serving, and how diversity on a team only makes it stronger.
Dan Cnossen knows about being a leader. While serving in the NAVY, he rose in the ranks to become an officer-in-charge of an 18-man SEAL platoon. He also knows about the grit and determination required to overcome unforeseen obstacles. After being wounded in service in 2009 and losing both legs just above the knee, Cnossen joined Team USA and became a seven-time Paralympic medalist. During JPMorgan Chase's Leadership Day, Cnossen shared three takeaways for anyone looking to be a better leader.
First, trust and delegate to your team members.
"You need to understand your role and responsibility. That can prevent you from micromanaging or stepping too far into the [jobs] of those on the team," says Cnossen. When you allow your team to thrive in their roles, things run smoother than being a leader with a hand in everything. "When I was a platoon commander oftentimes, I felt like, 'It's like I have nothing to do.' That's when everything's working perfectly. Everyone has their tasks, and they're handling it. This frees me up to be thinking about big picture, external assets, coordinating with other forces, these kinds of things."
Second, the importance of being a resilient leader.
"Waking up in that hospital bed after a ten-day medically induced coma, I learned that you often can't control what happens to you in life. Despite all the training and preparation, the goals I've set, the precautions I've taken, sometimes these things just happen," says Cnossen of his accident in Afghanistan in 2019. "What you can control as a leader is how you choose to respond in the long run: your response and your attitude, and your mindset and your perspective."
Third, building a diverse team.
While speaking about his time leading a platoon, Cnossen recounts that having members from different backgrounds was essential. He aimed to pull together people who were from urban environments for their unique street smarts, rural environments for their knowledge of living off the land, and people who grew up near the water and had a lot of experience in the ocean. "You want a variety of backgrounds, strengths, and capabilities. You also want a variety of thought," says Cnossen. "You don't want a bunch of 'yes' people around you."
JPMorgan Chase is committed to supporting veterans. Find out more about our Veteran Jobs Mission, a coalition of companies dedicated to employing talent from the U.S. military community.
Interested in the diversity, equity, and inclusion work being done at JPMorgan Chase? Learn more about our DEI initiatives here and check out our career opportunities here.
BROWSE RELATED STORIES
The views and opinions expressed are those of the speaker and do not necessarily reflect the official policy or position of (or endorsement by) JPMorgan & Chase. JPMorgan Chase and its affiliates assume no responsibility or liability for the content, or any errors or omissions. The information shared by the speaker is provided on an "as is" basis with no guarantees of completeness, accuracy, usefulness or timeliness.