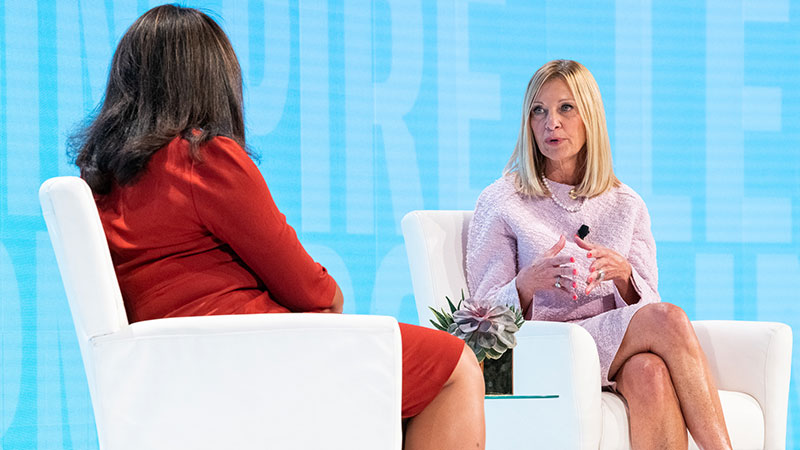 Diversity and Inclusion
CVS Health CEO Discusses Authenticity at Work, Intentional Communication, & Mentorship
CEO Karen Lynch shares her experience of learning to take up space in the male-dominated healthcare field.
Leading with intention and authenticity can be a challenge, even for seasoned leaders like Karen Lynch, CEO of CVS Health.
Recalling a time earlier in her career at this year's JPMorgan Chase's Leadership Day, Lynch recounts a time when the office elevator was out of service, so she walked up the seven flights of stairs as opposed to waiting for it to be fixed. This small action that seemed fairly meaningless to Lynch turned into the talk of the office amongst employees. "What it taught me was that people are watching. It's really important as a leader to recognize that your words matter, your actions matter. Thinking about that as you're making decisions is critically important," says Lynch.
As Lynch moved up the ranks, eventually landing her current role at CVS Health, she learned another key lesson: no one gets anywhere alone. "That's an important passion of mine: making sure that I'm giving back, that I'm sponsoring and I'm mentoring. I'm a firm believer that women need to help women. People need to help people in their careers, and none of us can do it by ourselves," says Lynch.
"There is a place where you can be authentically you. And go find that place."
JPMorgan Chase shares this value in mentorship, offering internal mentorship programs to employees that give senior team members the chance to advise those earlier on in their careers, including Women on the Move in Technology the Office of LGBT+ Affairs Navigator Circles,
Interested in the diversity, equity, and inclusion work being done at JPMorgan Chase? Learn more about our DEI initiatives here and check out our career opportunities here.
BROWSE RELATED STORIES
The views and opinions expressed are those of the speaker and do not necessarily reflect the official policy or position of (or endorsement by) JPMorgan & Chase. JPMorgan Chase and its affiliates assume no responsibility or liability for the content, or any errors or omissions. The information shared by the speaker is provided on an "as is" basis with no guarantees of completeness, accuracy, usefulness or timeliness.