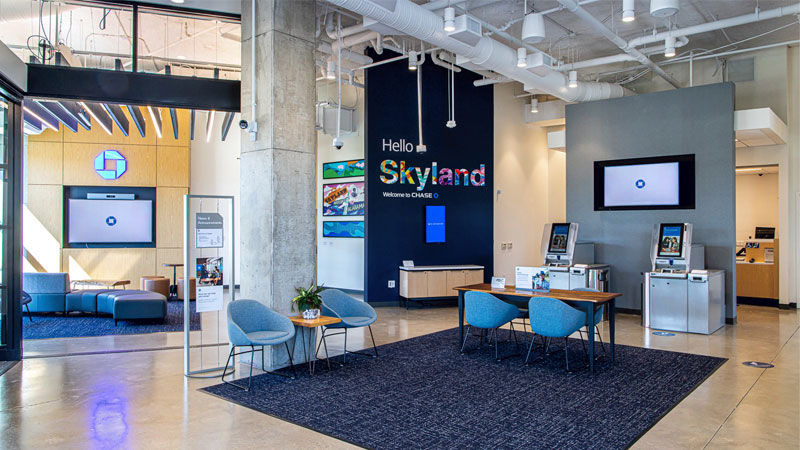 Stories
Expanding JPMorgan Chase's Presence in Greater Washington, D.C.
As JPMorgan Chase deepens its investment in Greater Washington, the bank looks forward to continuing to make a difference
With more than 50 years of experience in the Greater Washington region, JPMorgan Chase continues to expand its presence from Baltimore to Richmond. The bank is working with local leaders and organizations to uplift communities through small business growth, expanding access to housing and homeownership opportunities, and workforce development to strengthen the local economy.
Supporting a Stronger, More Inclusive Workforce
As the sixth largest metro area in the United States by gross domestic product, Greater Washington D.C. is a center of bustling economic activity. JPMorgan Chase helps to power a stronger economy by ensuring every resident can contribute to and benefit from its success.
In 2022, the bank opened a newly renovated Mid-Atlantic headquarters in Washington, D.C. It also operates offices in Tysons Corner, VA; Bethesda, MD; Baltimore, MD; Norfolk, VA; and Richmond, VA, employing 1,500 people in the region.
To help keep residents prepared in an evolving workforce, the bank has worked with Baltimore school districts, community colleges and employers from around the region to develop a pipeline of tech talent that is ready for the job market. Learn more >
Building Financial Health and Generational Wealth
Financial literacy is the foundation for strong households, thriving communities and resilient economies. JPMorgan Chase is working closely with community organizations to address the unique financial needs of people who too often get left behind in a growing economy–including low-income women, immigrants, people of color and the aging.
In 2018, the bank announced plans to open 70 branches across the region. Just a few years later, the commitment was doubled to 140 branches by 2025. Thirty percent of new branches will be in low- to moderate-income communities such as Wards 7 and 8 in Washington, D.C., Cherry Hill, West Baltimore, and Prince George's County in Maryland, and the Ghent neighborhood in Hampton Roads, Virginia.
JPMorgan Chase has provided over $100 million in New Markets Tax Credit equity investment in more than 15 diverse-owned or led financial institutions, including City First Bank, Industrial Bank, and the Harbor Bank of Maryland. These institutions play a critical role in the long-term growth of underserved communities by providing them with access to capital, expertise, resources, and training opportunities.
The bank opened its first ever on-campus branch at Howard University in March 2023. Chase has been Howard University's primary operating bank since 2021. New digital payment technology, increased cash flow, and improved cybersecurity systems are expected to save the university the equivalent of more than 20 full-time scholarships.
The bank's partnership with the Latino Economic Development Corporation helps residents across Greater Washington, D.C. and Baltimore build credit, increase savings, reduce debt and meet their mid and long-term financial goals. Learn more >
Empowering Entrepreneurs
Each day, JPMorgan Chase helps business owners overcome common obstacles such as access to capital, customers, networks, mentorship and other critical resources needed for growth and scale–which are often not equitably available.
The bank has committed $7.9 million to provide minority owned small businesses and real estate projects with flexible, low-interest loans, technical assistance and other critical resources.
Over the years, it's become clear that the right mentorship, guidance and advice can change a company's trajectory. That's why, among other initiatives, JPMorgan Chase has committed $3M in philanthropic capital to Congress Heights Community Training and Development Center in support of DC Entrepreneurship, Innovation & Venture Hub designed to support Black women-owned business owners and innovators with access to community, capital, and capacity building.
We've supported inspiring entrepreneurs like co-founders Pinkey Reddick and Chef MAC of Flavorture, who are sharing their passion for food with communities like Woodley Park and beyond. Learn more >
Learn more about how JPMorgan Chase is helping to make a difference for people across the Greater Washington, D.C. region.
For informational and educational purposes only: the opinions expressed in this article may differ from other employees and departments of JPMorgan Chase & Co. Opinions and strategies described may not be appropriate for everyone and are not intended as public advice/recommendation for any individual.