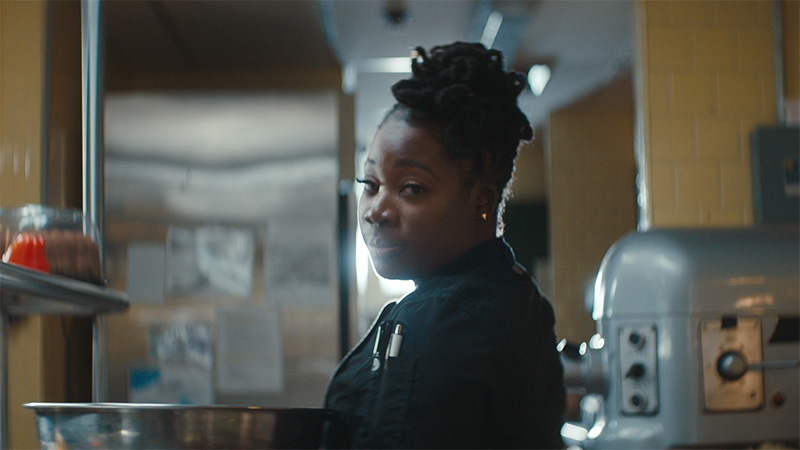 Stories
This Ward 7 Entrepreneur Caters to Her Community...And Beyond
Pinkey Reddick isn't afraid of the male-dominated food industry. And with the help of JPMorgan Chase, her business is becoming a lasting fixture in D.C.
Native Washingtonian Pinkey Reddick had a fantastic idea: her employer, a national restaurant chain, could offer catering-to-go, enabling customers to enjoy the best of its food in the privacy of their own homes. As a manager at the restaurant, she pitched her idea to her employer, who not only obliged, but eventually decided to introduce the new catering to-go concept nation-wide.

It was a success, and the idea earned Reddick a promotion, but it left her unsatisfied. She often reflects on her idea as the impetus for beginning the next stage of her life. "I didn't get paid for that, that was part of my job," she recalls. "It led me to ask, why don't I just start my own business?"
Taking a Chance
That's exactly what she did. Reddick left her job, taking a leap of faith to become the owner of Pinkey's Eats catering company. The Ward 7 business focuses on creating healthy, delicious meals that integrate a variety of cuisines, from vegetarian to soul food.
Reddick named her business after her unpredictable appetite, "I don't like eating the same thing every day. I might like Italian one day, I might want Asian food the next. So that's the way I cook; I cook based on what I feel," she says. "For my clients, I don't want to be restricted to just one concept," she adds.
For 33 years, Reddick has lived in Deanwood, a tight-knit community in D.C.'s Ward 7. She notes the shortage of food options in her neighborhood that persists to this day, "the only options we've always had were fast food spaces," she says. This, coupled with the desire for her children and community to eat healthier, drove her to start her business. "When I started off, my clientele was my neighborhood," she says.
Today, Reddick is serving clients across the district, from pop-ups at the Pentagon to school lunches in Dupont Park.
Building a Community
Supporting ambitious entrepreneurs like Reddick is key to JPMorgan Chase's efforts to help build a stronger Greater Washington D.C. community. As part of its $25 million investment to drive more inclusive regional growth, the company has invested $717,000 to the Coalition for Nonprofit Housing and Economic Development (CNHED), which works with universities and hospitals to increase the rate at which they contract and hire minority-owned firms like Reddick's.
These partnerships, Reddick emphasizes, have helped her make the right connections, so she's able to serve her food anywhere. Pinkey's Eats now regularly fills catering orders for Georgetown University, Sibley Memorial Hospital, and more. "It's good to have someone bidding on my behalf to say, 'Hey, try this amazing food,'" she says.
Even though Reddick has secured big contracts, she still strives to serve her community first and foremost. "I wouldn't have a business without the support of my community … that's who I'm selling the food to and for. And that's who I employ, too!" she exclaims.
Reddick admits that being a female, minority entrepreneur isn't always easy, but she still feels as though the sky is the limit. Her dream is to open her own restaurant in Deanwood. "The food industry is male-dominated, but that doesn't scare me," she laughs, "I call myself Superwoman."