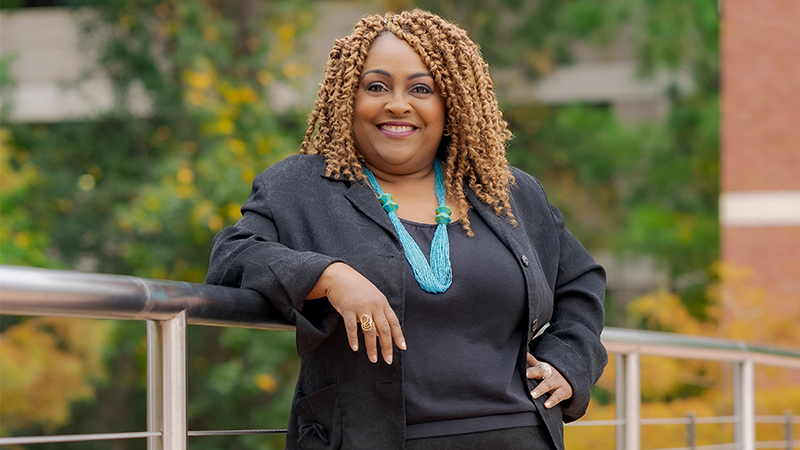 Stories
Terri's Story: How a Family History of Entrepreneurship Can Help Change a Community
Chase employee makes it her business to give back to the community that birthed her.
Entrepreneurship is embedded in Terri Thomas' DNA.

Her beloved uncle Bruce perfected the art of shining shoes for decades and is so renowned that he has a street in McKinney, Texas, named after him — Bruce Luster Place. And another uncle and aunt owned a neighborhood store that was well-known among locals for serving its community.
Growing up in a family of determined Black small business owners instilled a belief in this Dallas-based Community Manager that entrepreneurship is a vital way to uplift the Black community.
Her family's generational success is even more impressive given that, on average, it costs Black entrepreneurs $6,000 more to start a business than their non-Black peers.
The primary reason for the disparity? Insufficient access to financial tools and options.
"Our communities are starting behind the eight-ball due to a lack of access," Thomas says. "Families that have benefited from generational wealth are more likely to have better opportunities to finance their business by using family or personal wealth."
Extending Opportunity—and Resources
According to the U.S. Chamber of Commerce, 70 percent of Black entrepreneurs must rely on personal and family savings for much-needed financing to start and grow their businesses.
For these reasons, along with other socioeconomic and systemic barriers, Black entrepreneurs are more likely to struggle with securing access to capital and business credit, and tend to have less business equity than their white counterparts.
"The talent pool is equal but the opportunity to advance talent has limits," says Thomas. "That's where I come in: Where there are barriers and obstacles, I'm a vessel to guide business owners along the journey."
Today, in her Community Manager role with Consumer Banking, she serves customers by providing financial health education and tools, including connecting business owners with resources. Thomas' work supports JPMorgan Chase's Racial Equity Commitment, along with over 140 community managers across 16 locally-inspired Community Center branches, by providing entrepreneurs in historically underserved areas with one-on-one coaching, technical assistance and access to capital to grow their business.
Through initiatives such as the Special Purpose Credit Program, launched in 2022, JPMorgan Chase is able to extend credit to small businesses that typically wouldn't be approved. The bank has also hired more than 40 Senior Business Consultants to support entrepreneurs in local communities.
This work is important because thriving Black-owned businesses are a vital component to closing the racial wealth gap, according to a study by McKinsey & Company.
Helping a Community…One Customer at a Time
Thomas' work to help bridge the gap between access and resources began 20 years ago when, as a branch manager, she would approach every customer interaction by first asking herself, "How can I impact this customer?"
From the quick wins, such as coaching a customer with a 12 percent mortgage about the benefits of refinancing, to asking probing questions like "What does retirement look like for you?," Thomas has built relationships and made it her goal to help clients to leave the branch better prepared than when they entered.
"It's not just a job for me," says Thomas. "I found I really had an opportunity to impact communities, especially small businesses. When we work together and get it right, business owners become anchors in the community—they hire employees, buy homes and help other emerging entrepreneurs."
Serving the Underserved
A founding member of the Collin County Black Chamber of Commerce in Dallas, Thomas says she and her fellow board members realized the impact of the resource gap in the Black community.
To bridge the void, the Chamber hosts monthly meetings and networking events to help entrepreneurs engage with one another, gain valuable resources and learn best practices from experienced business owners.
Additionally, through the Chamber's Business Blueprint accelerator program, entrepreneurs learn about steps they can take to scale and take their business to the next level.
Thomas is proud to see the experience she gleaned through 17 years of service with the Chamber amplified through her work at JPMorgan Chase. The relationships she's fostered with the community have helped Thomas uphold the bank's commitment to build trust and provide resources to local businesses and families.
Helping local entrepreneurs achieve their goals by lending a hand in the community that inspired her passion to serve is personally satisfying to Thomas.
"The community birthed me—everyone knew who I was and had a hand in raising me," Thomas says. "My role enables me to give back to my community. I enjoy it because I can show how people like me who succeed can reach back and extend a hand to help others."
To learn more about JPMorgan Chase's Racial Equity Commitment and its work to close the racial wealth gap visit jpmorganchase.com/impact/racialequity.