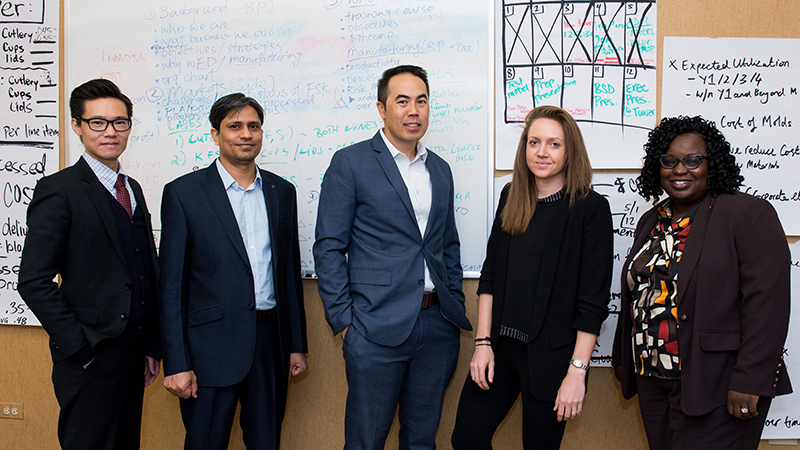 Stories
How Four Bankers Helped Launch a Chicago Nonprofit
JPMorgan Chase Service Corps program uses employee expertise to support local efforts to create jobs and invest in the community.
When Tony Chopp landed in Chicago for his JPMorgan Chase 2017 Service Corps experience, what struck him most about the city was its rich history. Unlike his native and sprawling Las Vegas, Chicago is a city steeped in centuries of history, a blanket of tightly connected neighborhoods that span 234 square miles.
The Service Corps program at JPMorgan Chase sends top employees from around the world to work with nonprofits in various cities. It is part of the company's broader approach to corporate responsibility – which combines philanthropic investments with the skills and expertise of its employees. They share otherwise costly, expert advice on ways to increase the power of the nonprofits' community impact. Together, Tony and his JPMorgan Chase colleagues – the global Service Corps team (Lucy Brash from the Corporate Investment Bank (CIB) Equity and Capital Markets in New York City, James Tung, from Asset Management in Taipei, and Rajpal Gahlaut from CIB Banking Operations in Mumbai) - would be working to support an organization in one of Chicago's underserved communities.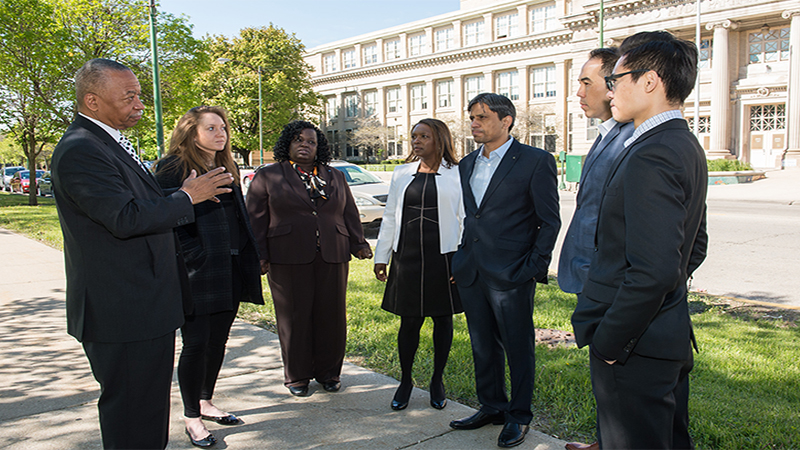 Dr. Bryon Brazier, a well-known Woodlawn community advocate, speaks to Tony and the Service Corps team about the history and vision of Woodlawn.
Their destination? Woodlawn, a South Side, underserved neighborhood that borders the affluent Hyde Park (home to the elite University of Chicago). There, he and three Service Corps teammates would be partnered with BSD (Building Self Determination), a social enterprise aiming to generate revenue for its parent nonprofit, the Arthur M Brazier Foundation (AMBF). The starting point for their work would be creating an expansion strategy with accompanying financial forecasts.
Through job training and certifications in robotics, BSD's goal is to provide valuable well-paying, high-tech jobs for 90 of Woodlawn's residents each year. They plan to train and hire employees from their neighborhood to work in their manufacturing facility that makes biodegradable plastic cutlery. Revenues from cutlery sales will pour back into their parent nonprofit AMBF, which then plans to inject these new funds back into the Woodlawn community.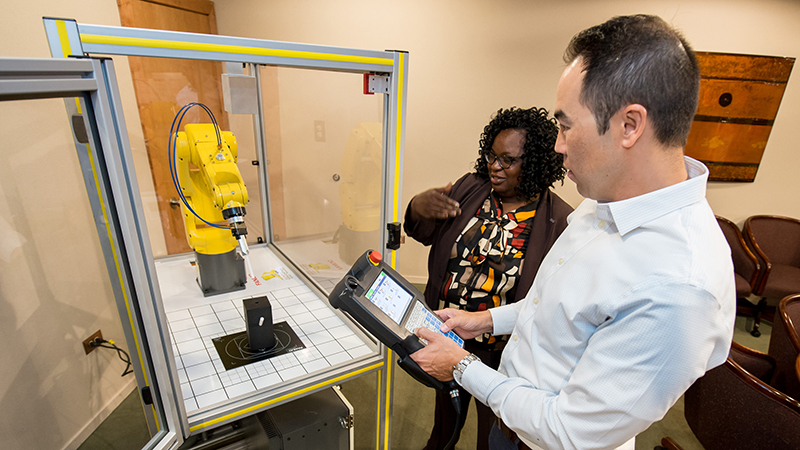 BSD Industries resident engineer, Trista Bonds is teaching Tony how to move a 6-axis industrial robot. These machines will be used to train Woodlawn community members to ready them with skills for high-quality and in-demand jobs.
However, upon arrival at BSD, the team quickly realized that there was a gap between initial project expectations and BSD's current business position. Before they could help BSD expand and improve operations, they needed to ready them to launch their yet-to-begin operations. This would require pivoting their focus to critical sales goal setting, financial planning and risk analysis to make that happen.
"We quickly realized that we were essentially working with a non-profit in startup mode," shared Chopp. "We underestimated what they needed from us most – financial modeling knowledge and plans for driving revenue." This led Tony and his team to regroup. They had to assess how their skill sets could best help BSD achieve its launch goals and ultimately bring jobs and revenue to its local community.
It was humbling, watching their scope of work shift dramatically during those first few days as they gained an understanding of BSD. They dug in, meeting with BSD's two full-time employees to get the information they needed to unearth where they could truly make an impact. "We weren't going to walk away," Chopp declared. "This was an organization with two full-time employees wearing 15 hats each. There were four of us and we were going to figure this out."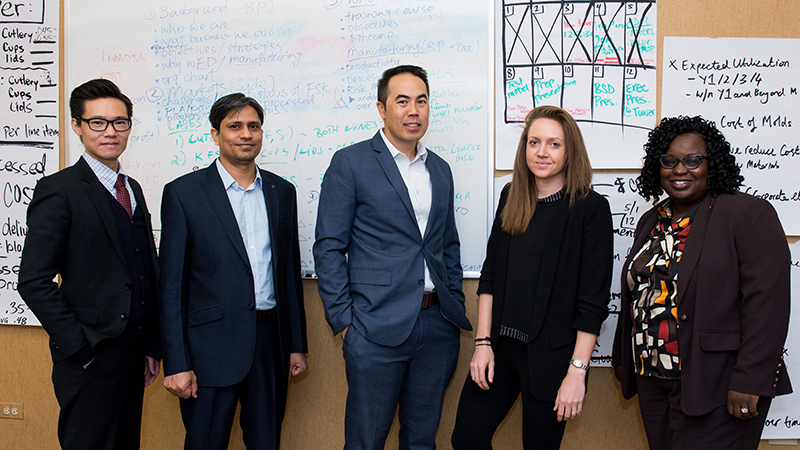 Tony (center) surrounded by his JPMorgan Chase Service Corps team and client Trista.
While Brash went to work on developing BSD's financial model, Tony and his other two teammates explored how they could lend value. Given the organization had already raised a significant portion of money through grants and local fundraising, Tony and his team wanted to make sure that money would last. This led Tony to explore the cost of materials they'd be using to create their cutlery.
The original price? $1.86 per pound. "That wasn't going to give them the kind of margin they needed to be sustainable," said Chopp.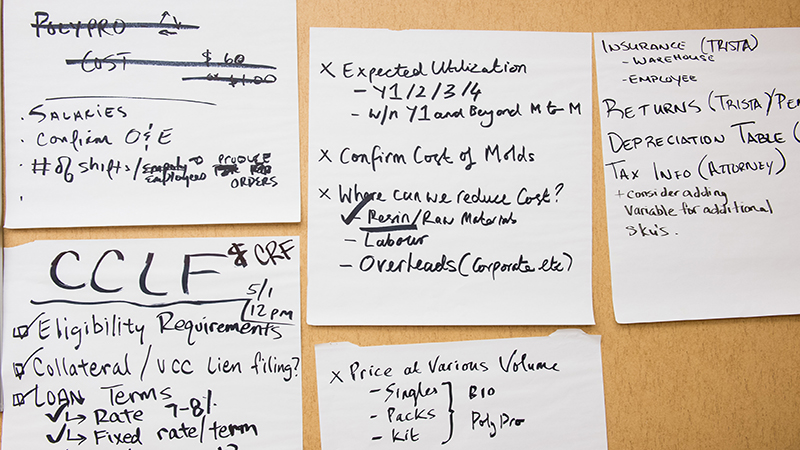 The Service Corps analyzed many of the potential partners and price points associated with BSD Industries production of plastic cutlery.
He made a few phone calls. Bringing his day-to-day procurement skills from Chase to the table, Chopp quickly identified a viable alternative primary material and negotiated the materials price down to $0.55 per pound – a staggering 67% savings. While a small win for someone like Chopp, this was a huge win for BSD, giving them even greater longevity for their hard-earned grant funds.
Over three weeks, Tony and his teammates worked to deliver a comprehensive set of recommendations that would empower BSD to raise awareness in the community, maximize use of their grant money until they could produce revenue, and professionally market their high-impact community initiatives.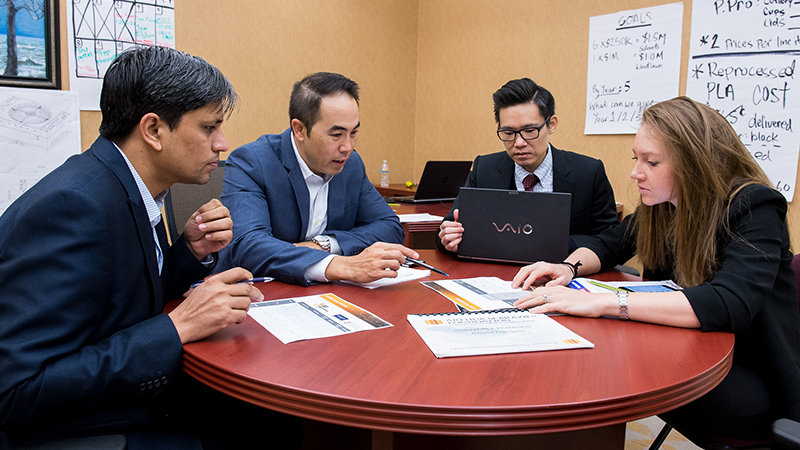 Rajpal, Tony, James and Lucy work on finalizing their deliverables to BSD Industries, getting ready to finish their three week assignment.
The entire experience brought Chopp back to thinking about his problem-solving experiences in the Marine Corps, and the different ways he's been trained to work with people through his years with Chase. "In the Marines, I oversaw logistics. You got an order; you made it happen," said Chopp. "Yet with community programs and volunteerism – much like business – it's all about soft skills."
Chopp credits his 14-year tenure with Chase for developing those soft, people-centric skills that made his time with BSD so rewarding. "My evaluations with Chase have forced me to look at how I work with people. Ask more questions. Figure out the 'whys'," Chopp shared. "Those questions and 'whys' really gave us an edge in helping get BSD on a path that would make them both profitable and sustainable."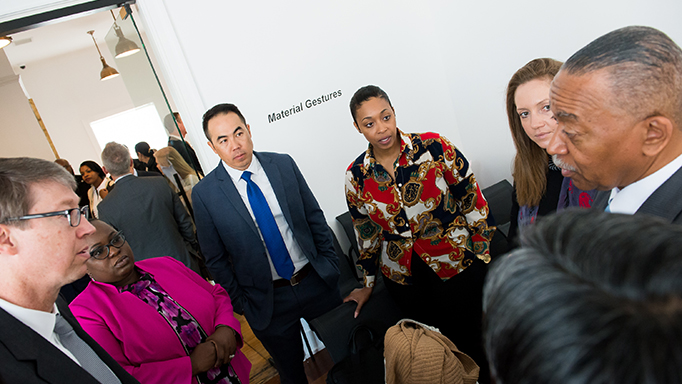 Chicago Service Corps team members Tony and Lucy listen to Dr. Byron Brazier from the Brazier Foundations and project executive mentor, Commercial Bank CFO Marcus Von Kapff discuss the BSD Industry project and Brazier Foundation's work in Chicago.
Now, this Woodlawn-centric program could move forward with confidence – financially and logistically – bringing both sustainable jobs and revenue to their local community and with a business model that wouldn't burn through their grant money before they could begin generating revenue.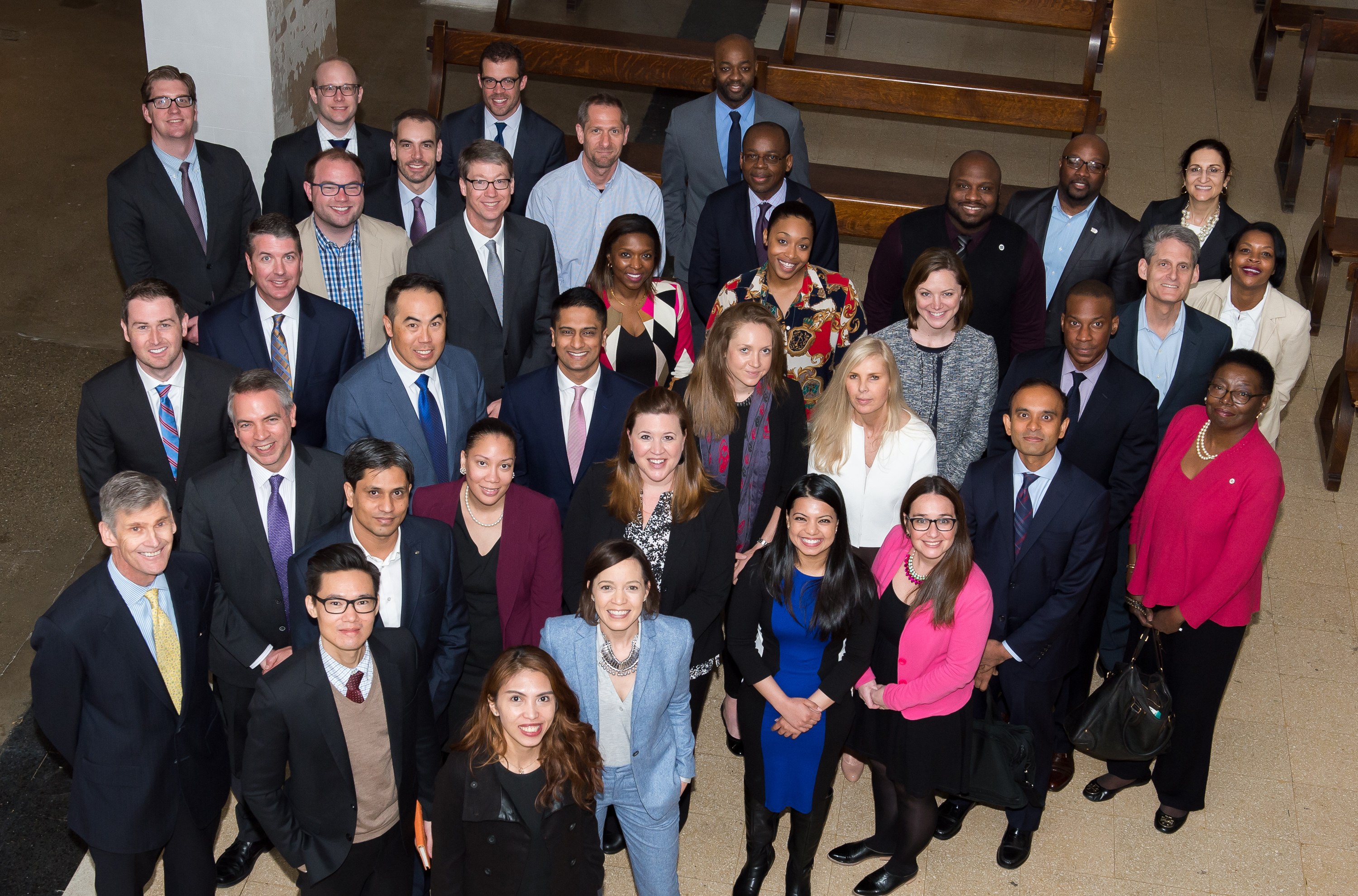 The Chicago Service Corps team, program representative and JPMorgan Chase & Co. executive sponsors gather after the team's kick-off event for a final picture before splitting off into project teams and beginning the work with local organizations.
As Chopp looked back on his experience, he said the impact of their work really hit home when he recently summed up his Service Corps mission and work with, not only his project team of four, but larger full cohort of sixteen, to a group of fellow Chase employees.
"I realized that I couldn't do justice to what we'd accomplished for BSD in a five-minute presentation," Chopp confided. "Not only was I proud of the work we had done, but I was inspired by how many fellow Chase employees came up to me after my presentation and asked for more details. I think that speaks to the impact we have as an organization. Not only do I have the camaraderie built with my 16 Service Corp colleagues, but the work we did travels with us from community to community. That's exciting."
---