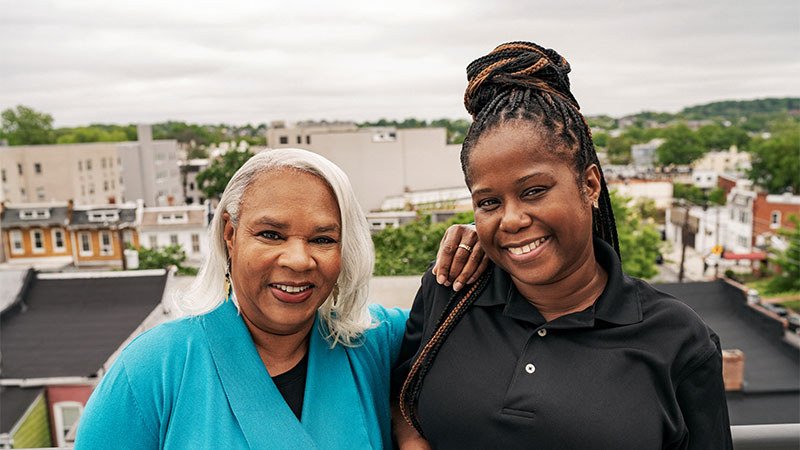 Stories
Community Developers Bring Affordable Homes Closer to Work
How JPMorgan Chase is supporting community developer Buwa Binitie's fight against the housing crisis and strengthening D.C.'s communities
When Buwa Binitie moved to Washington, D.C. 17 years ago, he couldn't find an apartment.
"It was hard for me, even with a good income, to find an affordable place to live," he recalls.
Binitie's story isn't unique–housing affordability is a significant challenge facing the Greater Washington region, where nearly half of renter households struggle with unaffordable rents. And, in the time since he moved to the area, the cost of housing in D.C. has almost doubled, far outpacing the growth of average household incomes.
Binitie's personal experiences led him to found Dantes Partners, a community-based development company with a focus on building affordable housing. Since 2006, He has helped close and finance 7,600 units. Binitie describes the communities that he builds as "luxury affordable housing"—affordable homes that are indistinguishable from market-rate housing, with amenities like penthouse fitness centers and communal outdoor spaces.
With more than 50 years of experience serving Greater Washington, JPMorgan Chase shares Binitie's conviction that affordable housing is an essential part of helping local communities thrive. It has collaborated with Dantes Partners on seven projects, providing Binitie's company with both debt funding and Historic Tax Credits. This reduced the cost and complexity of constructing buildings like the Todd A. Lee Senior Residences, a 38-unit, all-affordable building just half a mile from Rock Creek Park, where residents 55 and older pay far below market rents for a high quality of life.
With support from JPMorgan Chase, Dantes Partners has created or preserved 972 housing units. The projects were funded as part of the bank's $30 billion Racial Equity Commitment, which helps create more affordable housing, including in majority Black, Hispanic and Latino neighborhoods, and support business growth in the D.C. region.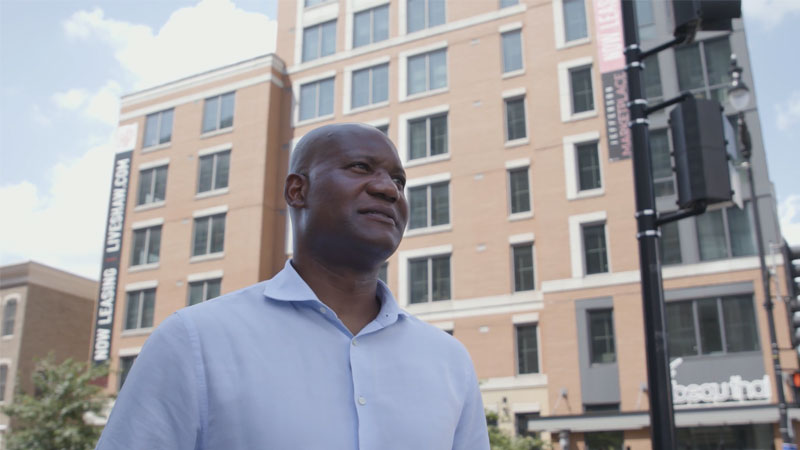 Buwa Binitie, CEO and Founder of Dantes Partners
Impact Beyond Buildings
Simplifying sources of funding is one of the best ways to speed along the construction of affordable housing, according to Brett Macleod, Executive Director of Community Development Banking at Chase. And research shows that expanding access to affordable housing can help reduce intergenerational poverty and boost local economies.
"Our goal is to accelerate the impact of Dantes Partners by simplifying their funding, helping to build local relationships and make these vital projects happen faster," says Macleod.
What is more, the impact of these buildings reaches beyond their residents.
"A Black-owned firm was the general contractor for this building," Binitie said of the Todd A. Lee residences. "We identify service provider firms that look like us. We look for ways to ensure that our communities are a part of our growth, it is the multiplier effect needed to help close the wealth gap."
Dantes Partners estimates that it has provided $90 million in contracts to other Black and Brown businesses in the last four years. In addition to their focus on the mid-Atlantic, Dantes Partners is working to bring its vision and experience to more communities around the country. With new projects on the horizon in Florida, New York and beyond, the company's mission has remained unchanged: give more people access to a quality, affordable place to call home.
With vision like that, it's easy to feel Binitie's warmth when he says, "The future is bright."
Learn more about how JPMorgan Chase is expanding economic opportunity in Greater Washington and community development banking.
Any mentions of third-party trademarks, brand names, products and services are for referential purposes only and any mention thereof is not meant to imply any sponsorship, endorsement, or affiliation unless otherwise noted. Participants compensated.