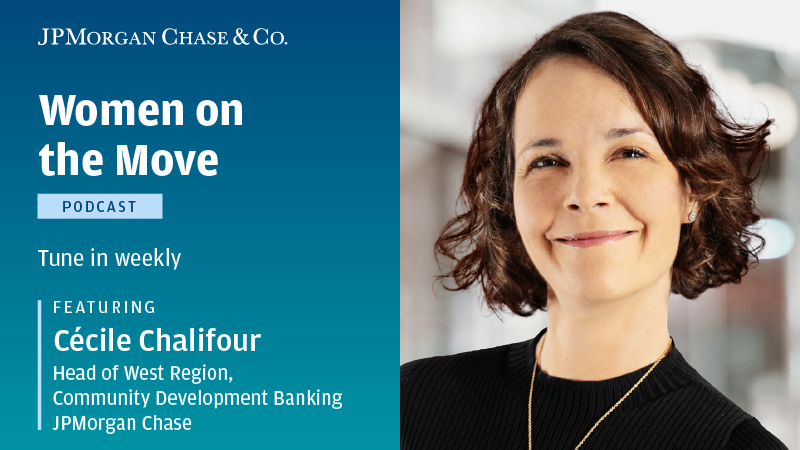 Talking racial equity with community development banking head
JPMorgan regional head on affordable housing, diversity, and advocacy
JPMorgan regional head talks supporting racial equity through affordable housing
Cécile Chalifour wants to see a big wave of advocacy for affordable housing. As Head of the West Region for Community Development Banking at JPMorgan Chase & Co., she works with partners across the spectrum to support the bank's racial equity commitment by helping to build additional affordable housing units in the Western United States. Here she joins Women on the Move host Sam Saperstein to discuss her passion for the mission and her hope of seeing see more innovation in the housing sector.
Finding her place in affordable housing
Growing up in France, Cécile attended law school and planned to practice law in her home country. But when her father suddenly passed away at the age of 50, she changed course. Deciding that she didn't want her life to be "the same," she headed to the United States for what she thought would be a brief but exciting experience. Although she spoke French, German, and Russian, she knew no English. She rectified that via a book on how to learn English in 90 days. "And then because I was going for a job interview in affordable housing, I learned about low-income housing tax credits—I read a whole book about low-income housing tax," she recalls. "My funny story is always that at the beginning, I was only able to talk about law and finance . . . and I could say nothing about everyday life."
With a family background in political activism and a personal belief in the common good, Cécile says the policy area of affordable housing was a natural fit for her. "Affordable housing is not just about brick and mortar . . . it's about potentially changing somebody's life trajectory," she tells Sam. "That means more opportunity, more ability to be healthy. Think about what it means for our communities. It means the better economy. It means all of us doing much better. Fundamentally, I believe that when you invest in affordable housing in our communities, we invest in ourselves—and that drives everything I do."
In her job in Community Development Banking, Cécile manages the company's affordable housing platform for the Western U.S. region, including construction and permanent financing for large multifamily apartment buildings. They provide the conventional debt in a public and private partnership. Her focus is on deeply targeted housing which is rent restricted and income restricted. Technically that means housing that is below 60 percent of an area's median income.
"So there is an actual threshold," she adds. "It can be homeless people. It can be people with a job. It happens to be a job that doesn't pay very well. A home for single mom, maybe her first home, a senior on fixed income who's been living in car, a low income family . . . people with special needs or veterans. So that's what we do. We finance those projects."
Maintaining a focus on diversity and advocacy
Coming from a racially diverse family, being a woman in the male-dominated field of commercial real estate, and as a mother to a neurodiverse child, Cécile says she strongly believes that diversity is imperative. She says that especially in the aftermath of George Floyd's murder, she worked hard to focus on her own understanding of privilege and bias. "One of the hardest things I did as a leader was to have a conversation with my team, make myself vulnerable, having a very open conversation about race, what it meant to all of us," she shares.
As far as advocacy goes, she says she tries to encourage everyone to realize they can make a difference. "A lot of people react to affordable housing from a place of fear," she says. "So please try to be an advocate when you can: don't be afraid to take risks, be willing to be uncomfortable."
Overall, she's proud of the work the bank is doing to help people and communities thrive. "The bank is doing quite a lot," she tells Sam. "And I'm very, very proud to work for a firm that's committing so much to my passion in many ways. Building on our investments, we are helping drive inclusive growth by committing 30 billion, by the end of 2025, to a variety of programs that are meant to encourage economy growth and opportunities for Black, Latino, and Hispanic populations."
"And that's the impact I'm hoping to have is to not just have been part of the status quo and deliver more projects," Cécile concludes. "But to be part of the creative thinking on innovation to bring new tools."


Cécile Chalifour
Head, West Region
Community Development Banking, JPMorgan Chase


Subscribe