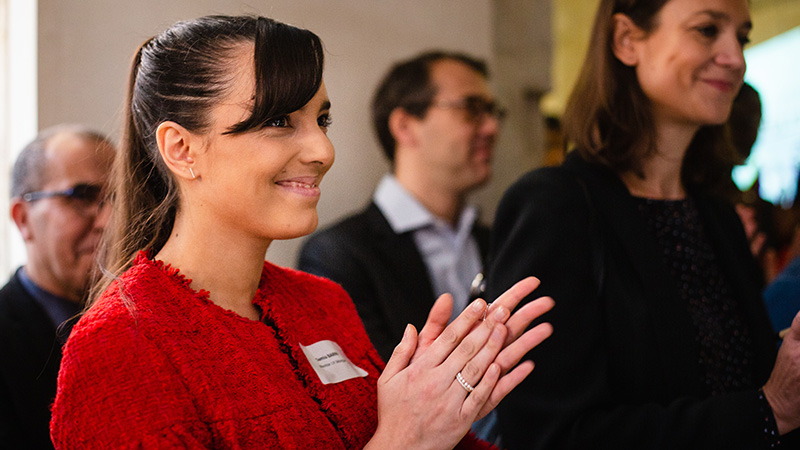 Stories
Breathing Life Into a Forgotten Neighborhood 
One J.P. Morgan employee is focused on breaking the cycle of poverty in her hometown outside of Paris.
Samia Barni is not a statistic, nor is she an average, typical product of her surroundings. Barni broke the cycle of poverty for her family, all the while providing an example for the youth of Seine-Saint-Denis, her district in Greater Paris.
Barni is no stranger to poverty. Growing up, higher education was an afterthought and she didn't have many options available for her future. After all, Seine-Saint-Denis residents are among the 1.5 million people residing in Greater Paris who experience some form of poverty, unemployment or homelessness. At an early age, Barni knew her potential for success was slim.
"For young people in Seine-Saint-Denis it can be a struggle to find a way to envision their options for higher education and a professional future," says Barni.
Barni's life changed when a local university, the Paris Institute of Political Sciences Studies, extended her an opportunity to pursue higher education. The powerful chance to attend a highly-regarded university shed light on the possibilities for her future. Four years later, Barni graduated with a bachelor's degree in political science and economics and subsequently received a master's degree in finance and corporate strategy.
We have a responsibility to give back," says Barni. "I was no different than these students when I was their age. It's incredibly special to be a bridge for them.
Now a private banking associate at J.P. Morgan in Paris, Barni hopes to guide and inspire young adults from her neighborhood to end their own cycles of poverty. In an effort to give back to her community, Barni now mentors with J.P. Morgan's Schools Challenge—a global program launched in 2016, focused on mentoring 14-15 year old students in low-income communities to help them learn the skills they need to compete for high-demand jobs.
As a mentor, Barni chose to work with students from her own high school.
"We have a responsibility to give back," says Barni. "I was no different than these students when I was their age. It's incredibly special to be a bridge for them."
Constantly impressed by how quickly the students learn and progress throughout the six-month program, Barni came to realize that simple access to the right tools and supportive mentorship can help students see their true potential.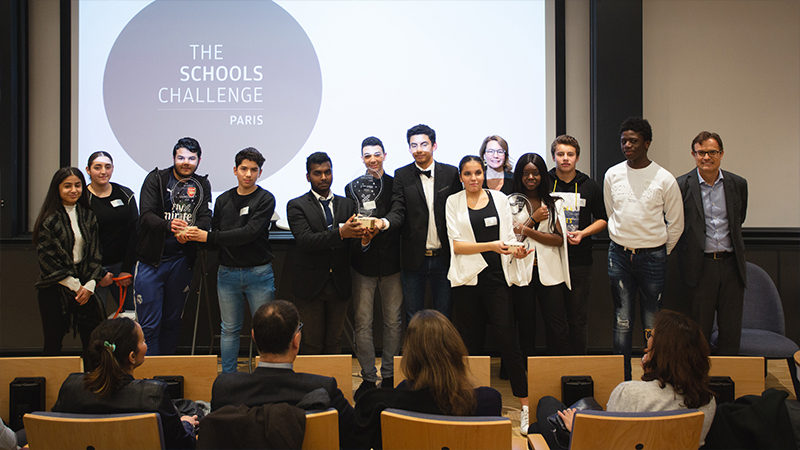 "Stories like these are why we invest in solutions that create economic opportunity for more people around the world," said Peter Scher, head of Corporate Responsibility at JPMorgan Chase. "Paris has a vibrant economy and, as a company with a long history in France, it is our responsibility to do everything we can to help more young people benefit from it."
As part of its AdvancingCities initiative, JPMorgan Chase announced a $30 million commitment to Greater Paris in 2018 to create economic opportunity, with a focus on small business growth and local workforce development initiatives in Seine-Saint-Denis and other underserved communities.
Samia Barni is remarkable because she is more than her neighborhood and circumstances and now, more than a mentor. She is a prime example of what can happen when opportunity is evenly distributed, and she is hoping to help others break the cycle of poverty and, in turn, breathe life back into her neighborhood.