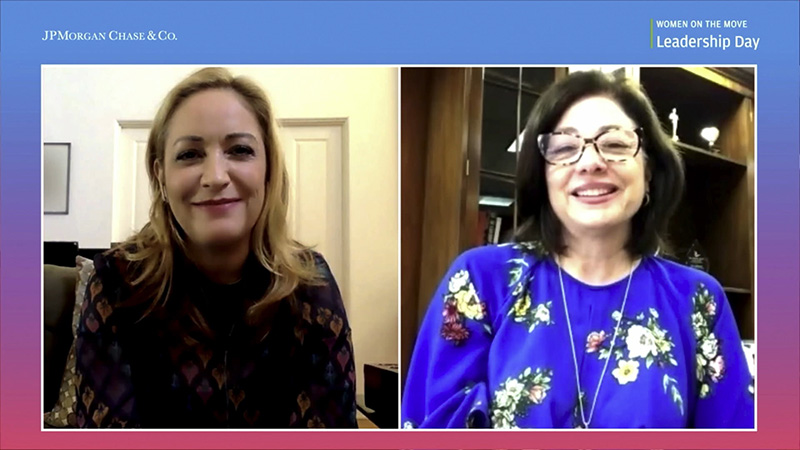 Stories
Building financial literacy at any age
The Latino community is one of the largest consumer demographics in the U.S., accounting for over 11% of spending—$1.9 trillion—in 2020.

1

 But despite being one of the largest groups with substantial buying power, Latinos still face significant financial challenges with money management and establishing long-term financial security.
Beatriz Acevedo, the founder of SUMA Wealth, has a solution. SUMA, a wealth-building digital platform, is tailored to the Latino and Hispanic community, with easy-to-understand and engaging content to help demystify and simplify complex financial concepts. "[Latinos] are going to be responsible for carrying the economy forward for all Americans," Beatriz said. "We need Latinos to do well so America can do well."

At JPMorgan Chase & Co.'s sixth annual Women on the Move Leadership Day, Beatriz chatted with Head of Community Impact Alice Rodriguez and shared her top three lessons on becoming financially savvy at any age.



The best time to start saving is today
For everyone—from a child just learning to count, to a college-aged student budgeting for the first time to an 80-year-old mother excited to buy stocks— the right time to learn about investing and saving money is right now.
But getting that education can be difficult, especially as you get older. Having the space and opportunity to learn about money without feeling judged is important. "For every generation, I think the most important message we want to convey is, 'It's never too late to start. Or never too early to start as well," Beatriz said. "There's always room to learn, to grow, to start building your wealth, no matter who you are."


Parents: Start talking about money with your kids now
The best way to tackle the stigma around discussing money at home? Tell the truth. "Just start early and be very honest," Beatriz explained. "I think we have to really change that narrative that we all grew up where money was a taboo, and just never spoke about it in our families."
By having candid conversations about monthly bills, budgets and short- and long-term goals, parents can teach their children about the true value of money. Beatriz explained how, as a parent, you are the perfect model for building healthy financial habits, so being open about those habits with your children is crucial to breaking those barriers. "It's never too early to get your kids involved."


Family participation is mandatory
Everyone in a household—young and old—should be part of financial decision making, Beatriz said. Whether it's making a household budget, grocery shopping or planning holiday gifts, exploring family spending habits together can jumpstart discussions and insights.
It's also a way to make teaching kids about money and responsibilities more enjoyable. "There's so much fun that you can have doing activities with your own kids and having these conversations early on that we didn't get to do when we were growing up," Beatriz said. "There's so many apps now where kids are able to invest and start learning."


Building financial legacies within the Latino community
Beatriz hopes that SUMA Wealth's accessible and witty content will help the Latino community improve its financial literacy. She said her ultimate goal is to help members of the community—particularly Latinas—break down barriers and feelings of anxiety that finance isn't for them, or that it's too hard to understand. "My personal goal would be that I get to see in my lifetime with SUMA is how we contributed to [closing] the wealth gap in our community," she said.
By leading with education and reinforcing the theme of saving and personal investing, SUMA Wealth is designed to help close the wealth gap. "I would feel incredibly satisfied with that as part of my legacy," Beatriz said. "I want to inspire other generations, I want to open as many doors as I possibly can for other Latinos in my community."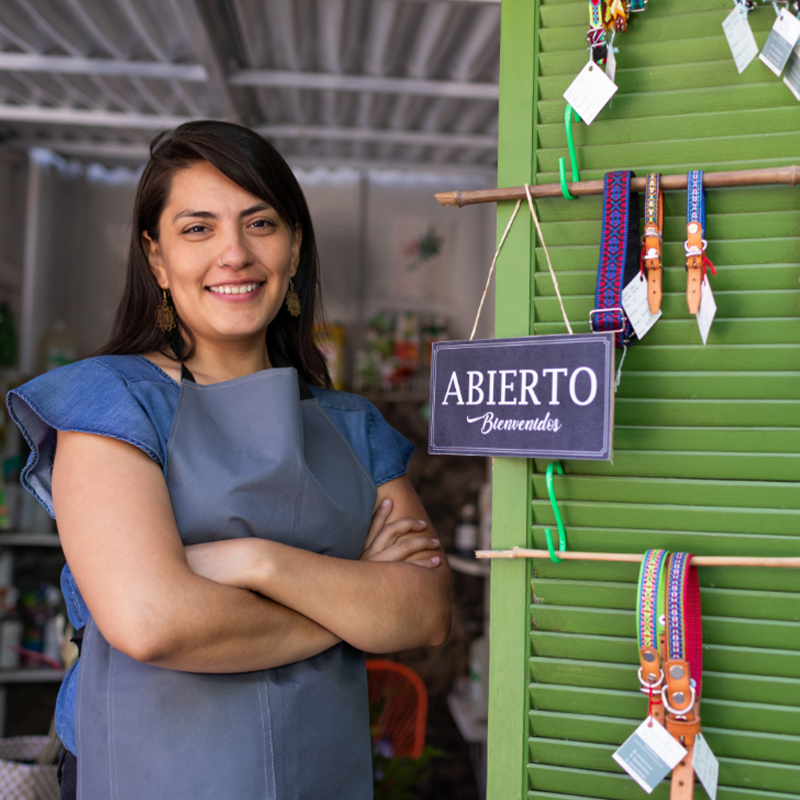 Women on the Move
Read more on how JPMorgan Chase helps fuel women's ambition and advance financial equality through Women on the Move.