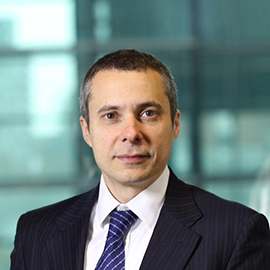 Takis Georgakopoulos is the head of J.P. Morgan Payments and a member of the firm's Operating Committee. As part of the Corporate & Investment Bank, J.P. Morgan Payments delivers treasury services and merchant services to corporate clients, financial institutions, governments, e-commerce retailers and small and medium-sized business. In this role, Takis oversees the Product, Client Service & Implementations and Sales teams globally.
Prior to this role, from 2013 to 2017, he served as the head of Strategy and Chief of Staff for the Corporate & Investment Bank, developing and executing the firm's strategic initiatives. Before that, Takis spent four years in London building J.P. Morgan's Global Corporate Bank, first as Chief Financial Officer and then as global head of Coverage for Multinational clients. Takis first joined J.P. Morgan in 2007 as head of Corporate Strategy. In that role, he worked on a broad range of strategy issues for the firm's Operating Committee.
Before J.P. Morgan, Takis was a partner at McKinsey & Company in New York, where he advised major banks and Asset Managers, and helped lead McKinsey's Asset Management practice.
Takis has a Ph.D. in Mathematical Economics, an MA in Mathematics of Finance and an undergraduate degree in Computer Science, studying in Greece and at Columbia University in the U.S. He sits on the boards of the Neuroscience Institute, the Program for Financial Studies of the Business School and the Graduate School of Arts and Science all at Columbia University.