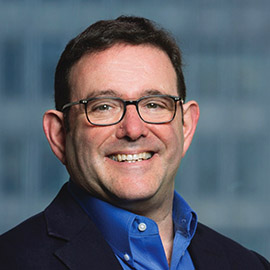 Peter L. Scher is the Vice Chairman of JPMorgan Chase & Co. and a member of the firm's Operating Committee. He leads a number of business and corporate functions.
Scher oversees the firm's global public policy and regulatory functions, including the JPMorgan Chase Institute and PolicyCenter, as well as its worldwide philanthropic efforts. He led the firm's business expansion in the Mid-Atlantic region – one of the largest economic regions in the United States – and recently assumed responsibility for the cross-business leadership teams in all U.S. markets. He oversees the firm's International Advisory Council, and Morgan Health, a business unit formed in 2021 focused on improving the quality of healthcare for the firm's employees and investing in new models for the delivery of employer-based healthcare throughout the United States.
Scher led the firm's $200 million economic development investment in the revitalization of Detroit, which has been featured on 60 Minutes, profiled by Fortune Magazine in ranking JPMorgan Chase number one on its list of companies "Changing the World" and chronicled by Harvard Business School as a case study for inclusive capitalism.
Business Insider named Scher as one of 10 people in the country "transforming how we think about capitalism" and Washington Life Magazine called him one of the most influential people in the U.S. Capitol. The Washington Business Journal recognized him as one of the top business executives in the Washington, D.C. region.
Prior to joining JPMorgan Chase, Scher was the Managing Partner of the Washington, D.C. office of law firm Mayer Brown LLP and earlier served as the Chairman of their Government and Global Trade Practice. He was selected by Chambers USA as one of its "Leading Lawyers," recognized for his "depth of understanding" about international markets.
Scher spent nearly a decade in public service. Nominated by President Clinton, he was confirmed by the United States Senate as U.S. Special Trade Ambassador and served as one of the lead U.S. negotiators on China's entry into the World Trade Organization. He previously served as the Chief of Staff for the U.S. Trade Representative and the U.S. Department of Commerce, Staff Director for the Senate Committee on Environment and Public Works and Chief of Staff to former U.S. Senator Max Baucus.
Scher is a co-founder and the Chairman of the Board of Directors of the Greater Washington Partnership, an alliance of regional, national and global CEOs, business, community and education leaders. He was appointed by U.S. Commerce Secretary Gina Raimondo to serve on the National Advisory Council on Innovation and Entrepreneurship. Scher is also a member of the Board of Directors of healthcare provider Centivo, the Council on Foreign Relations and the Policy Advisory Board of the Biden Institute at the University of Delaware School of Public Policy.
Scher received his B.A. from American University and his J.D. from American's Washington College of Law.