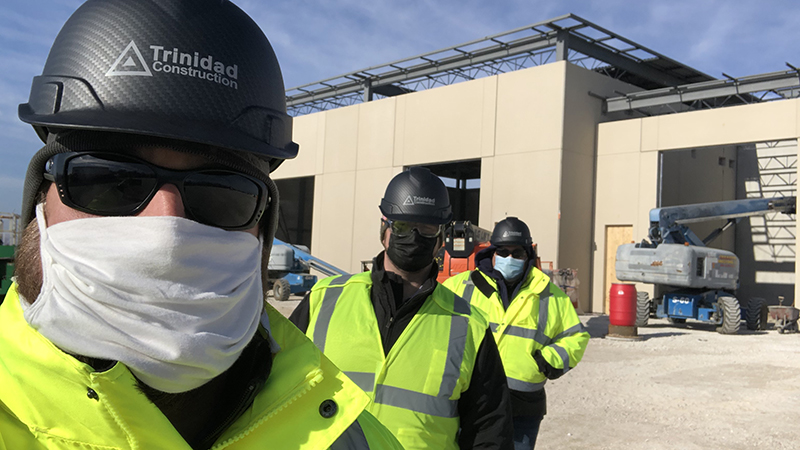 Supplier Diversity
Building Diversity into the Supply Chain, One Brick at a Time 
Brian Ortiz grew up in the construction business. When his father's family first came to the U.S. from Mexico, they became pipefitters, a trade Brian would end up apprenticing in as a teen.
Brian worked for his family's construction company in Chicago until 2005, when the company closed and he, his father and brothers all lost their jobs. He worked for a few years at another company before deciding to take his future into his own hands and start his own.

In 2010, Brian launched Trinidad Construction, a general contracting company. "It was a way for me to take control of my own destiny... If I succeeded, it was on me and if I failed, it was on me," Brian says. But it wasn't easy.

Hispanic, Latino and Black business owners face systemic barriers when it comes to growing and scaling their small businesses. Couple that with common obstacles that all construction companies have to face, such as extremely large insurance requirements, long payment terms and lack of a consistent work pipeline that facilitates planning and business growth. These challenges make it difficult to get a construction business off the ground, and even more difficult to become a part of a large enterprise supply chain, which is key to getting access to new business opportunities. But Brian had a plan.

A few years ago Brian attended a conference hosted by the Chicago Minority Supplier Development Council to create opportunities to grow his company. That's where he met Jim Flynn, a Supplier Diversity Manager at JPMorgan Chase. Within three months, Trinidad Construction was awarded their first project with the firm at the Chase Tower in Chicago.

When I met Brian and learned about his company, I was excited about the potential opportunity for Trinidad to work with us", says Jim Flynn, Executive Director, Global Supplier Diversity. "Our relationships with local and national business advocacy organizations like the Chicago Minority Supplier Development Council enable us to identify great companies such as Trinidad and incorporate them into our supplier base."

Today, Trinidad Construction provides interior and exterior remodeling and retrofitting at Chase retail branches.

"We're working for JPMorgan Chase all over the Midwest, even west of the Mississippi and some of the Western states. You get a little something and you prove what you can do or what you're capable of, then you get that next bigger opportunity," Brian says.

Supplier Diversity is one of the most direct ways to impact diverse communities and address racial inequity. "When we spend a dollar with a diverse owned business, we not only contribute to their revenue growth, but also to job creation, and increased wealth in the communities they operate in," says Bill Kapfer, Global Head of Supplier Diversity at JPMorgan Chase.

For almost 30 years JPMorgan Chase has been committed to building an inclusive supply chain by developing and engaging diverse businesses, like Trinidad Construction, with the ultimate goal of driving inclusive economic growth. As part of JPMorgan Chase's $30 billion racial equity commitment, the firm is spending $750 million with Black, Hispanic and Latino suppliers.

This commitment includes providing minority-owned businesses access to education, training and support from subject matter experts on business tactics that can help them be successful. The firm is also committed to help reduce common barriers to supply chain partnerships with large corporations

Certified minority-owned businesses generate $400 billion in economic output that leads to the creation or preservation of 2.2 million jobs and $49 billion in annual revenue for local, state, and federal tax authorities, the National Minority Supplier Diversity Council reports. And those numbers are steadily increasing. Diversifying supply chains is not only good for business, it's good for the economy.

"Diverse businesses are creative and agile", says Kapfer, "They not only provide corporations with innovative thinking and a fresh approach to business problems, but they also pave the way to growth for other diverse businesses".

As Brian's company continues to grow and work with larger-sized clients, he is committed to championing diversity across every organization he touches. "We need to bring diversity into construction projects, and small companies like mine need opportunities to grow. We all need to play a part," he says.

Learn more about the JPMorgan Chase diverse supplier program.