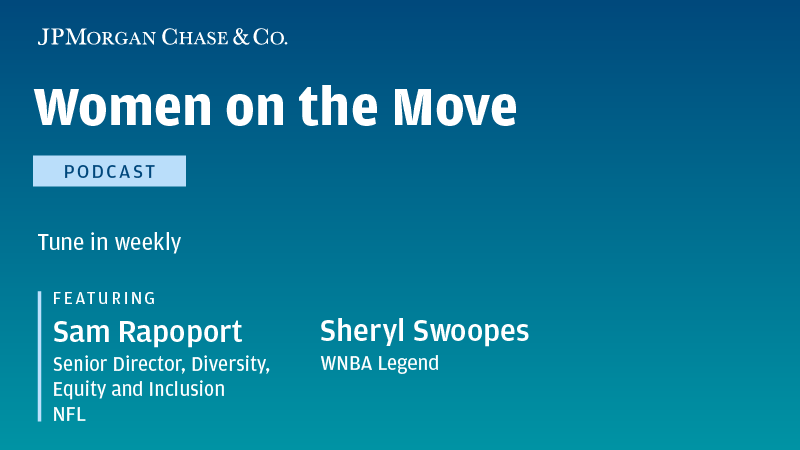 Making room for women in pro sports, with Sheryl Swoopes and the NFL's Sam Rapoport
In honor of JPMorgan Chase's seventh Annual Leadership Day, this episode features Lauren Tyler, Head of HR for J.P. Morgan Asset and Wealth Management, in conversation with two pioneers in the sports world: WNBA legend Sheryl Swoopes and Sam Rapoport, the NFL's Senior Director of Diversity, Equity and Inclusion. Together they explore themes of inclusion, motherhood, and diversity in sports.
Breaking through in male-dominated fields
Sheryl grew up with two brothers and began playing basketball at age 7. She emphasizes the impact that the federal Title IX legislation, passed 50 years ago this year, had on her early success and subsequent career. As a college basketball standout, Sherly couldn't understand why the women's' teams always had the smaller gyms. She brought up the inequity with her coach, who told her to wait and see: Title IX would have an impact on that.
Sheryl went on to be a pioneering force of that change: the first player drafted to the WNBA, then the first player signed—and the first active player to have a baby. "I take a lot of pride in who I am and what I've been able to do," she tells Lauren. "For every little girl out there who has had dreams of someday playing in the WNBA and to see that dream come to fruition, I honestly couldn't ask for anything better."
Sam, meanwhile, grew up playing tackle football and was a quarterback in the Women's League. She moved on to a role with the NFL 21 years ago. "And about six, seven years ago, I looked around at the NFL and I asked myself, Where the hell are all the women?" she recalls. "It was all men on the coaching side, on the scouting side, on the officiating side. And I decided that I wanted to be the one to change that. And so I did what anyone who had found their passion would do: I cornered my boss."
That boss was legendary NFL Commissioner Roger Goodell, who "handed me the ball, put me in touch with the right people, and a couple months later, the NFL Women's Forum was born." The Forum is a program where women in entry-level coaching positions get to meet with NFL head coaches, general managers, and owners. "We give them an opportunity to impress and potentially get hired," Sam explains. "At the beginning of the season, we went from zeros across the board for women in every category to 15 women in coaching positions."
Support from teammates and male leaders
Both women say they wouldn't have gotten where they are today without the extended hands of both their teammates and the male leaders who invited them in. For Sam, that started with Roger Goodell. It wasn't all a smooth ride after that—she recalls plenty of pushback, including Tampa Bay Buccaneers fans tweeting a petition to change the team name to the Tampon Bay Buccaneers after two women were hired to the coaching staff. But one by one, NFL coaching giants signed on to help with the Women's Forum.
She recalls courting Coach Bill Belichick, nervously thinking he was a longshot to help with the Women's Forum. But he emailed back within minutes, saying he'd be glad to help. She says he was enthusiastic and eager to help the female coaches he met with. "And at the end of the session, he gave all 15 coaches his personal email address, told them to email him questions, and they've all stayed in touch and continued to develop through Bill."
For her part, Sheryl says she credits her teammates with giving her the opportunity to shine. "Because I think to have a great team, you have to have different pieces and different players that are willing to accept their role," she tells Lauren. "And without those players, there's no way I would've been the athlete that I was."
She also acknowledges male NBA stars and tells a story about meeting her hero Michael Jordan when she was pregnant. "I said, I would be honored if you would let me name my son after you," she remembers. "And his response was, If he has a good jump shot. And my response was, He's gonna have a better jump shot than you ever had."
In the end, both women say, they're most proud of knowing that they played a role in paving the way for young girls to see themselves in male-dominated professional sports.


Sam Rapoport
Senior Director, Diversity, Equity and Inclusion NFL
Sheryl Swoopes
WNBA Legend
Subscribe