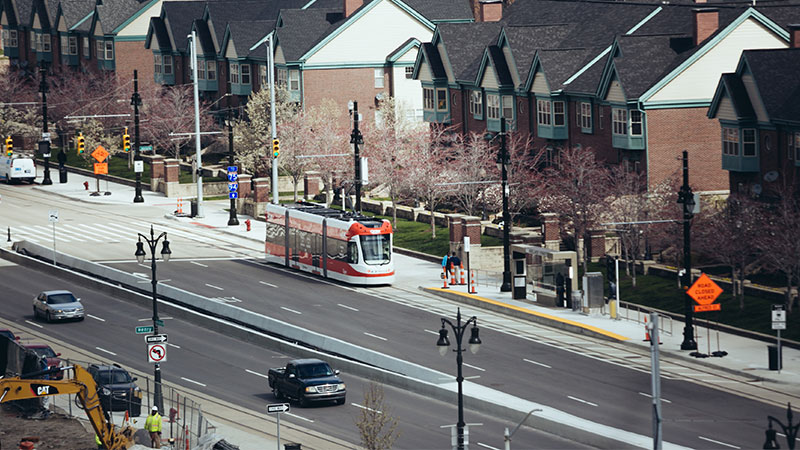 Stories
A Model of Recovery for America's Cities
Originally published by POLITICO on May 18, 2017.
Detroit has a way with comebacks. In 1933, the city began emerging from the Great Depression with a little help from public-private-partnerships. Spurred by the Reconstruction Finance Corporation, the federal agency mandated with stabilizing U.S. banks, the National Bank of Detroit was formed. On its opening day on March 24, 1933, customers swarmed the new NBD to open 562 accounts, bringing in bundles of currency and coins ranging from a few hundred dollars to hundreds of thousands. America's "Motor City" was on the mend.
Today, Detroit's revitalization bears some resemblance to the past. The great automotive era is over, yet Detroit's residents spend coins and dollars at a greater rate locally than in any other U.S. city. What's good for Detroit's communities, it seems, is good for its business.
This is also why public-private-partnerships continue to play a crucial role. In 2013, the Mayor's office and a range of local groups including JPMorgan Chase – which has been in Detroit for 80 years and acquired the NBD during that time – helped fuel a recovery focused on stabilizing neighborhoods, re-training the workforce for today's job market and bolstering local small businesses, all while attracting new investors. JPMorgan Chase was among the initial investors in this strategy, committing $100 million in 2014 with plans to expand that to $150 million by 2019.
For a city that was losing population just four years ago, the latest indicators are encouraging: Unemployment has nearly halved and 8,000 more Detroiters are working now than at this time last year. The downtown area, once blighted and abandoned, is flourishing with restaurants and businesses. Some 2,000 vacant homes are being rehabbed and reoccupied.
But Detroit's recovery is not just the feel-good story of America's Rust Belt – it's a lesson in urban revival. Revitalization was about more than access to capital. It was about inclusive collaboration and public-private-partnership. A thriving city meant thriving companies and an evolving, growing workforce that calls that place home.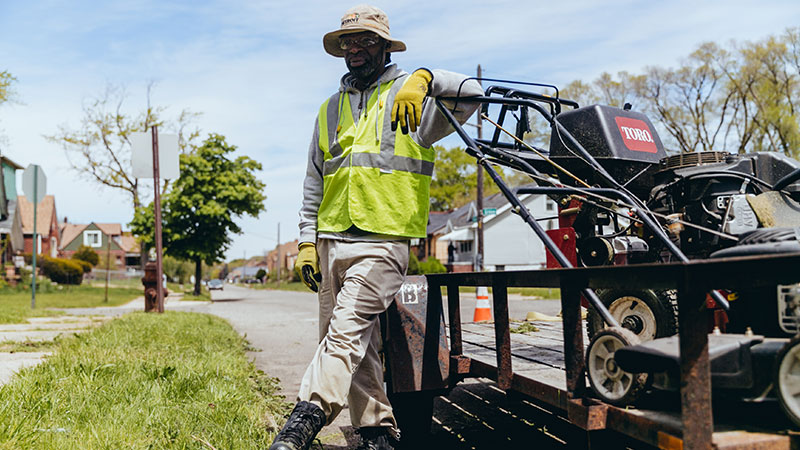 A Greening of Detroit employee rests while cleaning a vacant Detroit lot. The Greening – a local Detroit nonprofit – prepares adults and youth for careers in landscaping, forestry and urban farming. Their programs are tailored to meet the demands of the job market, while helping improve Detroit's neighborhoods.
Data-driven Workforce Development
While governments, planners and economists have long sought to help cities grow smart, there are few precedents for managing the ones that have shrunk. This is partly because of the evolving demands of the labor market. Here, Detroit's use of data is an example for other cities.
Detroit partnered with the Corporation for Skilled Workforce and JPMorgan Chase to research employment barriers. Their research produced two reports in early 2016 evaluating the city's untapped labor potential and potential solutions for increasing the employment rate. The reports helped inform a reconstituted Mayor's Detroit Workforce Development Board, a team of workforce professionals in Detroit that pinpoint high demand industries so training programs can tailor their offerings to meet the market demands. The board's efforts are also supported by the Workforce Intelligence Network in Detroit, which keeps track of open jobs by location and industry, to provide the city and trainers with actionable market data.
To date, 15,000 Detroiters have received career and technical training. One example is The Greening of Detroit, a nonprofit devoted to restoring the city's tree infrastructure while providing training for skilled jobs in forestry, urban agriculture and landscaping. By aligning its programs with available jobs and workforce data, the organization boasts an 83 percent job placement rate.
"We are helping to make these folks work-ready so they can get into the workforce and earn a decent living wage," says Devon Buskin, workforce development director, the Greening of Detroit.
Of course, a model for recovery not only addresses the workforce, it must be inclusive of the businesses that sustain it.
Welcome to Detroit
---
Explore how JPMorgan Chase investments are revitalizing Detroit's urban core and surrounding neighborhoods.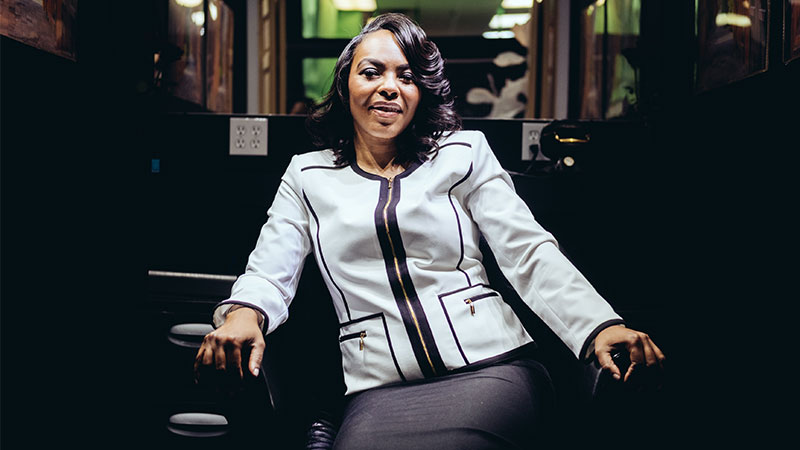 Marlene Brooks, Detroit small business owner, opened her hair salon, Dymond Designs, after receiving funding from the Entrepreneurs of Color Fund, which was founded by JPMorgan Chase and the Detroit Development Fund.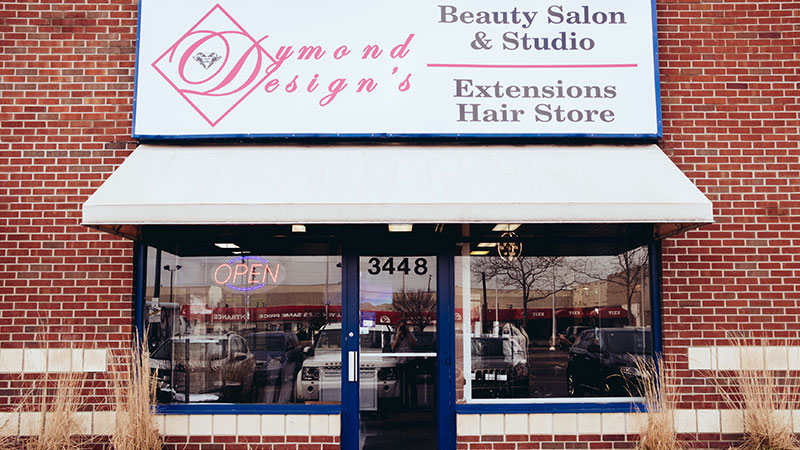 Dymond Designs is located just outside of downtown Detroit along the waterfront.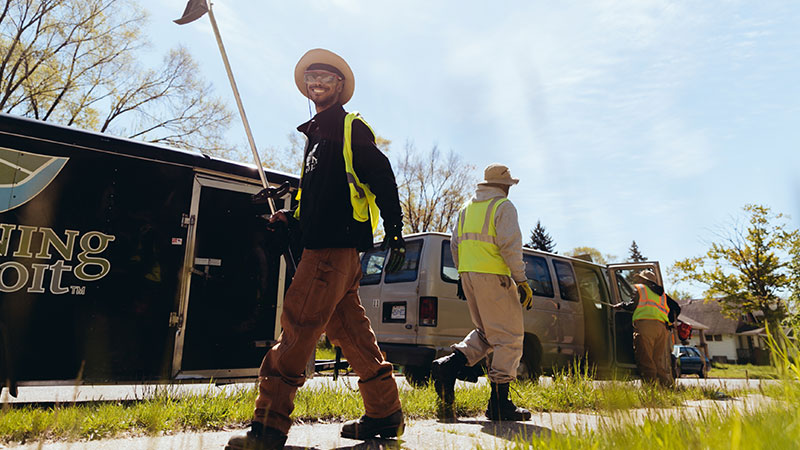 Local nonprofit, Greening of Detroit, trains Detroiters for careers in landscaping, forestry and urban farming, all while helping improve the landscape of Detroit's neighborhoods.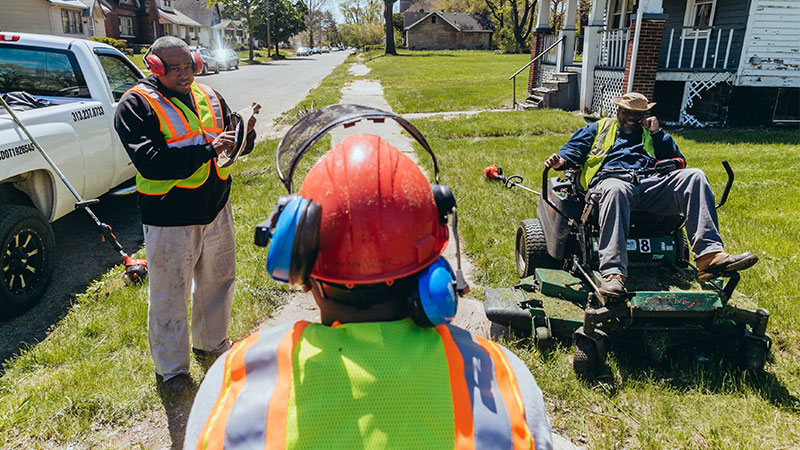 In 2013, Detroit had an estimated 91,000 vacant lots. The Greening of Detroit trainees and employees are tasked with clearing and improving the conditions of vacant lots.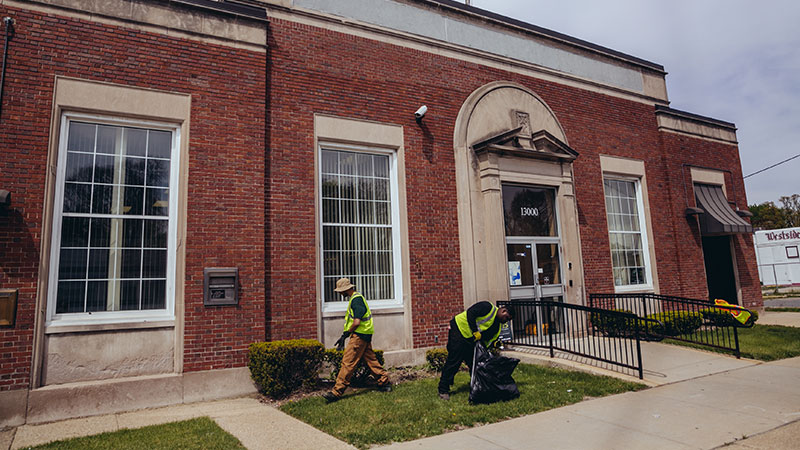 The Greening's training center is headquartered in an old bank building donated by JPMorgan Chase & Co. and is expected to eventually prepare more than 2,500 Detroiters for skilled landscaping careers.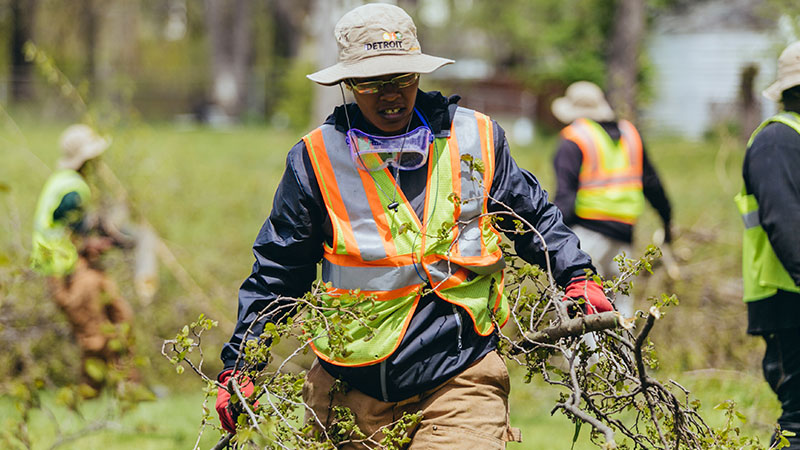 Greening of Detroit trainees and employees clear an overgrown Detroit lot.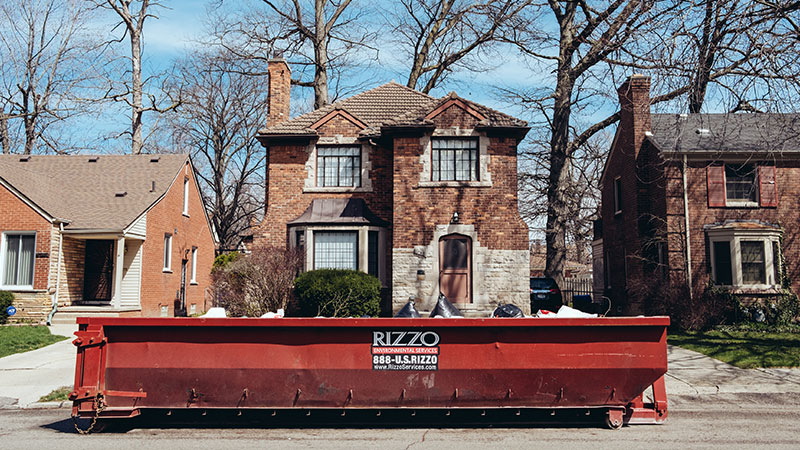 Through rehabilitation loan programs, such as the one offered by Liberty Bank, Detroit residents are rehabilitating run-down or abandoned homes in the historic Detroit neighborhoods of East English Village and Boston Edison.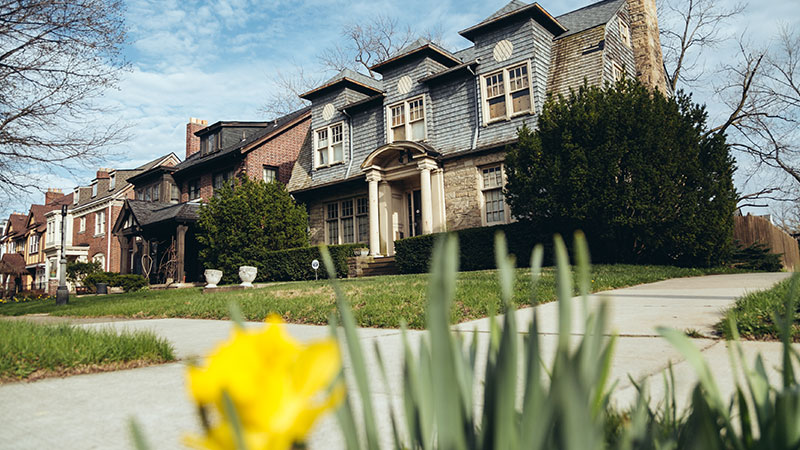 Tulips blooming around restored homes of the historic Boston Edison neighborhood.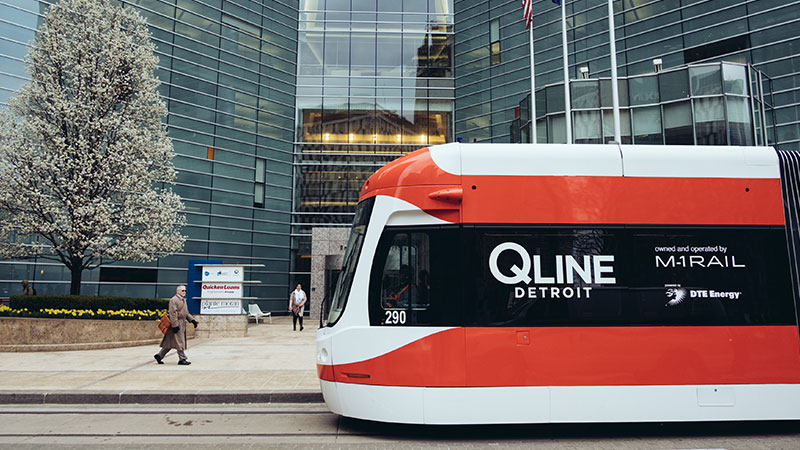 Detroit's new M-1 Rail, the "QLine", opened on May 12 and is expected to serve 5,400 riders per day.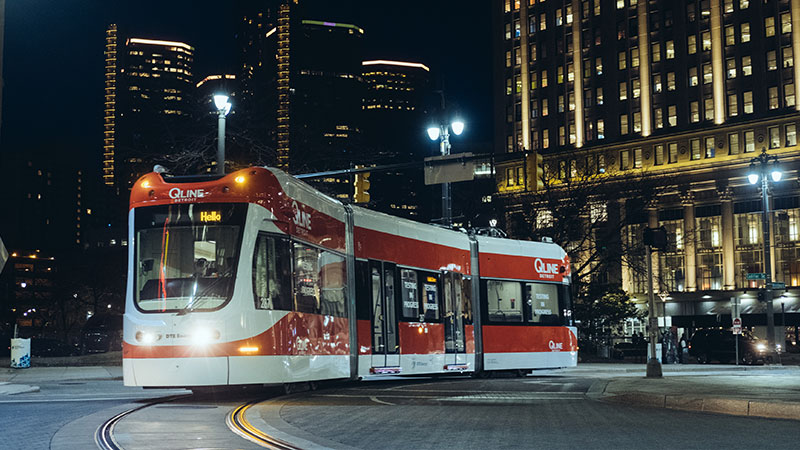 The Detroit M-1 rail runs 3.3 miles along Woodward Avenue, transporting residents between Detroit's downtown and the cultural district.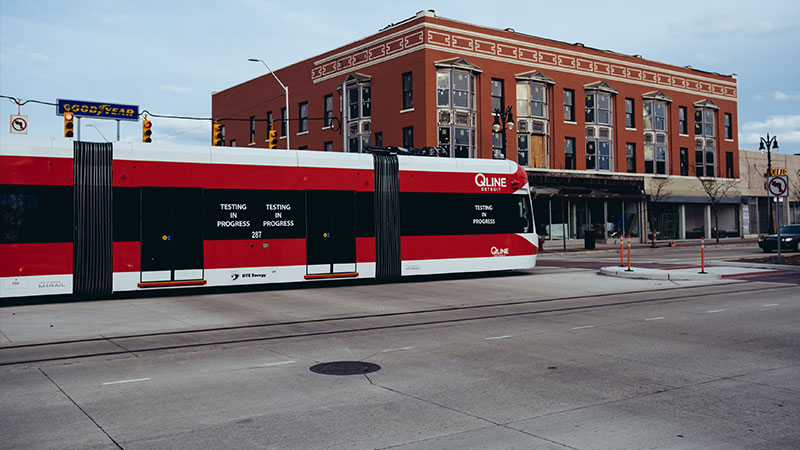 Construction has begun at the future site of the Shoppes at Woodward Park, which will serve as a new epicenter of small business retail on Woodward Avenue along the new M-1 rail line.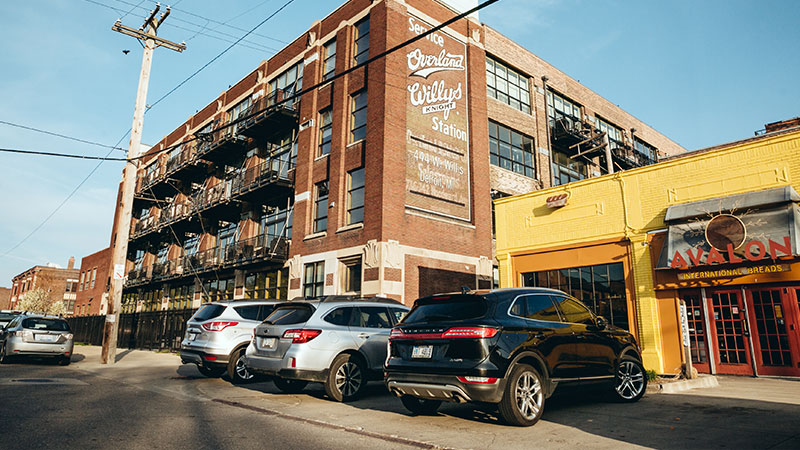 Once the home of Willys Overland, an iconic Detroit motor company, Invest Detroit's Willys Overland development boast modern residential lofts and local small businesses, such as Shinola Detroit, RUNDetroit and Jolly Pumpkin.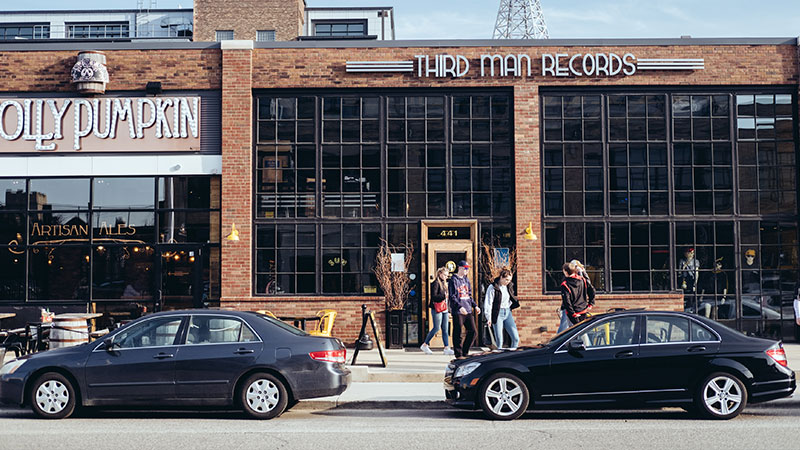 Detroiters enjoying local businesses in Willys Overland, including Third Man Records and the Jolly Pumpkin.
Open for Business
In Detroit, 43 percent of consumer purchases came from residents shopping in the same neighborhood where they live, according to 2016 research by the JPMorgan Chase Institute. Although this measure is higher than any other U.S. city, not all of Detroit's small businesses were thriving.
In 2014, when JPMorgan Chase made its initial $100 million investment in Detroit, they focused on growing incubators, such as TechTown and Eastern Market, to provide local ventures with the resources and skills training needed to succeed. The incubators spurred growth, but research soon showed that a portion of Detroit's most important small businesses were being left behind. Many of the minority-owned small businesses weren't expanding or even surviving because they couldn't get access to funding. Minority-owned construction companies, for example, couldn't bid on higher-end development projects because they didn't have the funds to get more employees or equipment. This deeper understanding of the city's needs led JPMorgan Chase to reposition its public-private partnerships with small businesses, a core part of their philosophy of testing and refining ideas over time.
Out of these circumstances emerged the Entrepreneurs of Color (EOC) program, a fund designed expressly to help minority-owned small businesses. It has awarded over 40 small businesses with $3.3 million in critical capital since it began making loans just over a year ago. Today, Detroit's minority-owned small businesses are expanding, not just surviving. Half of EOC loans have been to women minority-owned companies, like Marlene Brooks who was able to open a new hair salon, Dymond Designs, in downtown Detroit and Benkari, a plumbing company owned by the first African American female master plumber in Michigan.
"There are a lot of factors at play in Detroit," says Detroit Development Fund president Ray Waters, "A lot that needs to be helped. It's not just the lending that we do. JPMorgan Chase has gotten involved in the mortgage program to help more residents own homes. They've moved into education to help with education of young residents. This broad approach has ripple effects."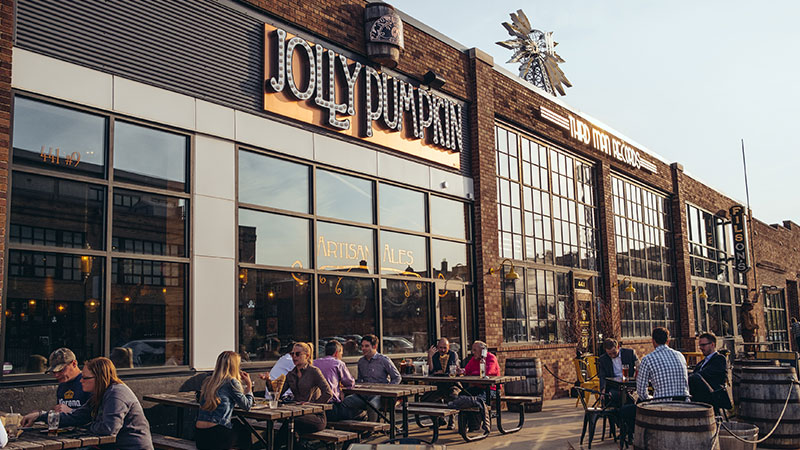 Detroit residents sit outside of Jolly Pumpkin, a local craft brewery, enjoying the spring weather and Jolly's locally-renowned brews. The Jolly Pumpkin sits in the new Willys Overland development, which was previously an abandoned warehouse of an old Detroit motor company. It is now the site of modern residential lofts and small business storefronts.
Stabilizing Detroit's Neighborhoods
One sign of strong communities is population growth and neighborhood development. And while the populations of big cities like New York, London and San Francisco have been growing, Detroit's was rapidly dwindling, due in part to failing neighborhood infrastructure. Like many cities, Detroit was overrun with unoccupied properties – approximately 91,000 vacant lots and 78,000 abandoned properties.
That's why JPMorgan Chase directed $50 million of its investment to building and supporting two new community development funds with Invest Detroit, a local community development organization, and Capital Impact Partners, a national organization focused on revitalizing neighborhoods. The funds finance community development projects in and adjacent to Detroit's urban core with the goal of creating livable and workable spaces that attract and retain residents.
These two development funds used the company's initial investment to leverage $147 million in outside investment, supporting over $270 million worth of development projects completed or underway in Detroit. These critical projects have created or preserved 800 units of housing, 800 jobs, and over 175,000 square feet of commercial space. One such project included converting an abandoned midtown warehouse of the iconic Detroit motor company, Willys Overland, into new residential and retail space. The now thriving community development proudly display's the original motor company's logo and boasts modern residential lofts and storefronts for local small businesses like Shinola Detroit, the Jolly Pumpkin and RUNDetroit.
The downtown and Woodward Ave corridors are also seeing development with the rehabilitation of the 1212 Griswold building in Capital Park and the creation of The Shoppes at Woodward Park, which will become an epicenter of small business retail along the new Detroit light rail.
To further stabilize Detroit's neighborhoods, JPMorgan Chase invested $5 million toward a new $30 million Strategic Neighborhoods Fund that will dedicate critical resources towards commercial and residential real estate, jobs and community infrastructure in several Detroit neighborhoods over the next decade.
The investment firm also partnered with the Detroit Land Bank Authority to expand the program's reach and help Detroit fight neighborhood blight. The Land Bank in turn partnered with a local Detroit entrepreneur, Jerry Paffendorf, and his start-up, Loveland Technologies. After 180 Detroiters took to the streets surveying over 376,000 parcels of land, the group launched the Motor City Mapping Project (MCM), an online map showing all of Detroit's property information. The information has since helped the city and community groups devise plans to remove blighted properties and rehabilitate abandoned ones.
The quality of life in Detroit's communities improves with each such development, and some 700 mixed-income housing units have since been created or preserved. At this pace, Detroit's population will continue to stabilize – and flourish.
Connecting Detroit: The M-1 Rail
Blighted neighborhoods were not Detroit's only signature challenge. The city's automobile legacy bears the consequence of a historically underfunded and under-prioritized public transportation system. Until recently.
In 2014, JPMorgan Chase provided $1.5 million in direct funds and facilitated raising $30 million in New Markets Tax Credits to complete the financing for Detroit's new light rail, a 3.3-mile project to connect Detroit's downtown to the cultural district. The light rail is expected to serve 5,400 riders a day, according to Michigan's Department of Transportation, and has brought in new investors to develop housing and commercial opportunities along the light rail's path.
In addition to this public-private partnership, the firm has sent over 100 employees to Detroit to advise on economic growth opportunities and helping the city expand its global footprint through trade.
Detroit's recovery demonstrates how targeted efforts fueled by data can work to solve a city's problems. Cities can't have small businesses if they don't have a workforce to support them. And a workforce can't thrive without stable communities and the means to get to and from them. While every city is unique in its own way and requires tailored solutions, Detroit's comeback is a model for other cities to follow.