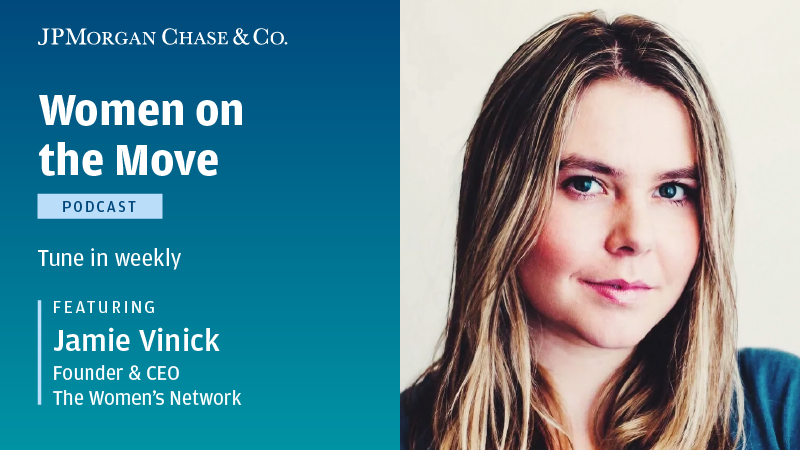 Celebrating women's ambitions, with the Women's Network founder Jamie Vinick
Women on the Move host Sam Saperstein kicks off the podcast's fourth year with a focus on the nuanced role that ambition plays in women's lives. Here she sits down with Jamie Vinick, founder and president of the Women's Network, the largest collegiate women's networking organization in North America. With a mission to connect women to each other, to industry leaders, to resources and to mentorship, the Women's Network grew from a pandemic-era launch at Syracuse University to a network including chapters on more than 120 college campuses in the United States and Canada with 45,000 members.
Filling a need on college campus
Jamie tells Sam that her inspiration for starting the Women's Network actually grew from an uninspiring event. After arriving at Syracuse University for her freshman year, feeling like she was "behind" her peers in terms of career focus, Jamie threw herself into attending campus speaker events, looking for inspiration. "There was one event in particular that really changed my college experience and has impacted my life," she says. "I left that event feeling very uninspired and I took that lack of inspiration to heart and thought a lot about it and launched the Women's Network as a club on campus eight months later."
Jamie was dissatisfied with this particular event because of what she thought was a missed opportunity. "Here was this incredibly powerful accomplished woman who came in to speak about her career, and there really were no topics or conversations that centered around gender or in particular gender in the workplace," she recalls. "And I felt like it was this tremendous missed opportunity to have nuanced, real, raw conversation on the challenges, the biases, the barriers that disproportionately often affect women more so than perhaps our male counterparts."
She also says she recognized a lack of community around women's ambition and being able to celebrate having career interests and meeting people in a non-competitive environment. "And it was a culmination of the lack of conversation, the lack of community, the lack of true mentorship regardless of what industry you were interested in pursuing a career in that culminated into this idea." By her sophomore year, Jamie was going dorm to dorm, knocking on more than a thousand freshman dorms to hand out flyers about the brand-new Women's Network. 
Expanding and building confidence
Throughout her time at Syracuse, Jamie remained committed to building the Women's Network. In the fall of her senior year, she turned down a full-time job opportunity, realizing that she wanted to focus on growing the network. In February, she chose five "random" college locations to launch proof of concepts. "We launched, and hundreds of people were coming out to these meetings, and then the next month COVID hits and everything was moved online," she says. "No one knew what Zoom was. My professors didn't quite know how to lead a virtual classroom, and so I just put my head down, decided I wanted to see where this could go, and I doubled down on the work and we just kept launching. So we went from one school to about five additional universities to 16 to 22 to almost a hundred, in a little under two and a half years."
Celebratory of ambition

Jamie explains how the Women's Network functions: "The chapters operate in the sense of hosting their own events," she says. "And then we also have national events open to members in the entire network. We host experiences such as speaker events, alumni receptions, networking trips, financial literacy workshops. Then, we also host more social events as well." She says the goal is to ensure members have access to the right networks, the right resources, and the right community.
Today, Jamie says, she's looking ahead to moving the Women's Network beyond college campuses to reach women as they're entering and advancing in the workplace. She notes that the mission really speaks to a broad range of women. "The concept of being very celebratory of ambition, which we talk all the time about in the Women's Network, has struck a deep nerve with a lot of people," she says. "A lot of people initially join to either meet ambitious individuals or to explore their own career interests, and then they often stay because they want to develop leadership skills, build more confidence, access better mentorship or resources specific to their career or industry, and to have vulnerable conversation." 


Jamie Vinick
Founder and President, Women's Network
Subscribe