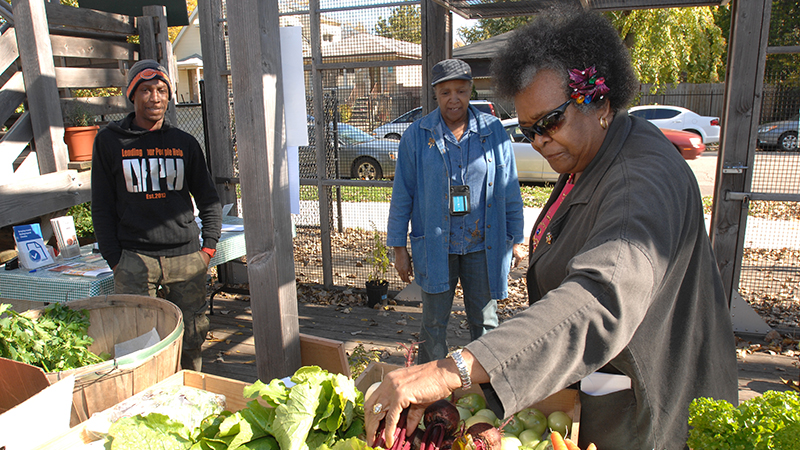 Stories
The Incubator Churning Out Entrepreneurs in Chicago's South Side
Gentrification isn't the only way to lift up a troubled neighborhood.
This article was originally published by OZY
To improve a neighborhood, you have to first give residents a reason to stay, and others a reason to visit. And you don't get a vibrant, desirable neighborhood without vibrant, desirable neighborhood businesses. So says Joel Hamernick, Executive Director of Sunshine Enterprises, a Chicago business incubator. To that aim, he is on a mission to give entrepreneurs in Chicago's more troubled neighborhoods all the support he can muster.
"With all the focus on E-commerce and tech companies, people forget there's still a need for neighborhood businesses," he laments.
Gentrification has demonstrated the power that local businesses can have in once-destitute zip codes. Sunshine is different, however, because instead of pushing out existing residents, it works to help locals lead their own rejuvenation. The organization has a long history in Chicago's forgotten neighborhoods; the Sunshine Gospel Mission started life in the inner-city Cabrini-Green housing project in the early 1900s. When the city tore down the projects, most residents, and the Mission, moved to Woodlawn, on Chicago's South Side. Though a thriving area through to the mid-1960s, the community suffered a mass exodus when manufacturing jobs dwindled, and until recently was better known for vacant lots and violent crime.
Seeing Woodlawn in distress, Sunshine broadened its mission to tackle joblessness. In 2012, Sunshine Enterprises launched to help local entrepreneurs start new businesses and kickstart community renewal. The nonprofit, now separate from but with its roots in Sunshine Gospel, today serves three additional under-resourced Chicago communities. North Lawndale, Englewood and Evanston's Fifth Ward. These areas had suffered average unemployment rates of 25 percent. But since Sunshine Enterprises launched five years ago, it has helped more than 500 Entrepreneurs and increased annual revenues, on average, by 80 percent.
"Talent is equally distributed across all communities and all people, but resources are not," says Charlie Corrigan, Relationship Manager for the JPMorgan Chase in the Midwest. To redress that balance, JPMorgan Chase is committing philanthropic support to Sunshine Enterprises so it can train business owners in management and provide coaching and access to capital, debt and credit counseling. It also plugs them into Chicago's business networks.
Improving local economies isn't just in the interests of those neighborhoods, according to Corrigan. Big cities prosper best when all their parts flourish. "A city is only as healthy as its least healthy community," he says. "You can't have a good part of town and a struggling side of town, because the whole of a city is intricately linked."
Iris Botanicals is just one business that's boomed under Sunshine. A line of hair treatment products that started in local Iris Patterson's kitchen, the product is now stocked in Whole Foods stores across Chicago. Another is Crystal Clear, a window-washing enterprise that was run as a side business by owner Calvin Brown, who after recently landing several contracts with the state of Illinois, has been able to quit his day job and hire staff.
Another goal of Sunshine is to reinvent Woodlawn's 61st Street as a buzzing commercial corridor. It has led by example, opening Greenline Coffee, a for-profit cafe that hosts local music acts and monthly "Coffee Conversations," where seasoned business professionals give advice to would-be entrepreneurs.
"We've seen fewer violent incidents since we established a presence here," Hamernick notes, showing that such a corridor not only creates income and jobs, but makes streets safer, too.
Today, Woodlawn in particular finds itself slapped with that label, "up-and-coming" — especially as the prestigious Obama Presidential Center is slated to open here in 2021. With this in mind, JPMorgan Chase employees are working with Sunshine to help them purchase property in Woodlawn that can be turned into what Corrigan calls "vibrant community hubs."
"We want those assets to be owned by an organization resident in the community, and not subject to price speculation," he adds.
And maybe that's why the renewal of Chicago's struggling neighborhoods could change the gentrification story — because an incubator that has long been part of the community is leading the charge.
"We don't just show you how to do a cash flow projection or make a marketing plan — we go out and help you secure business, we connect you to opportunities, we have ongoing relationships so you'll succeed," Hamernick explains. Because of those efforts, he says, "There's going to be a place for everybody in this community."
---
Read more about our commitment to expand inclusive economic growth in Chicago.
Learn more about our work to increase access to capital and mentorship for underserved entrepreneurs.