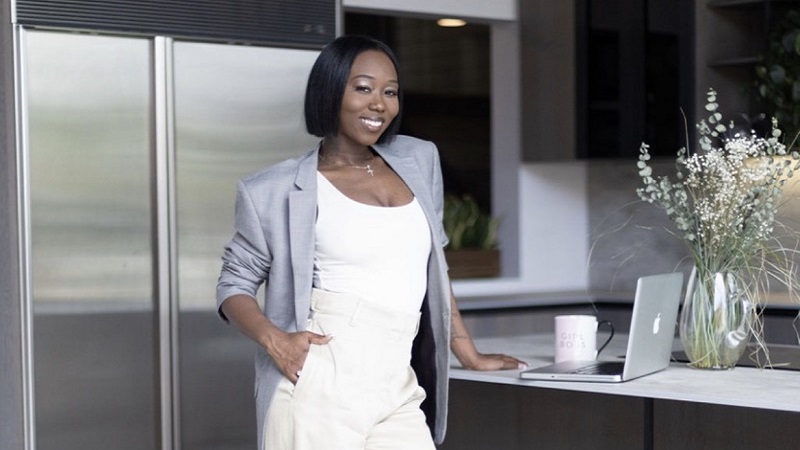 Helping Cincinnati Residents Meet Financial Goals Requires Authenticity and Access
Shannel Heath, a community manager for Chase, often sees people nervously stepping into her bank, their eyes filled with apprehension. To them, a bank can represent an intimidating, unknown world.
She knows exactly how they feel.
"I want to tell them, 'I started in the same position where you started. I was confused, I was worried — I had financial aspirations, and I didn't know how to get where I wanted to go,'" says Heath, who works in the Cincinnati metro area. "So I tell them my story. I say, 'Don't feel afraid. We all start somewhere.'"
A lifelong resident of Cincinnati, Heath uses her professional — and personal — experience to help people in her community who are looking for resources to improve their financial health. By being her authentic self, Heath creates a bond of trust and works alongside residents to address their specific financial needs. Whether it's meeting people at community events, hosting financial literacy workshops, or just engaging with people inside the bank, Heath nurtures relationships with individual customers, key community leaders, nonprofit organizations and small businesses.
At Heath's workshops, which are free and open to the public, she focuses on topics that include opening a bank account, building a budget, saving for a down payment and improving credit health — all while teaching people how to use the right products and services to reach their financial goals. One such service is Chase Autosave, a digital tool that automatically transfers money from a customer's Chase checking account to their savings account.
For Heath, the end result of her work goes far beyond helping people learn their way around a bank.
"We want to bridge the racial wealth gap that we're faced with," she says. "We want everybody to become homeowners. We want everyone to be able to purchase their first car. We want to allow everybody's' dreams to come true."
Heath is one of 150 community managers Chase is hiring across the country to increase access to resources, financial health tools and services, particularly in underserved communities. Over 80% of these community managers are people of color, and all live in the community they serve.
The hiring of community managers is part of Chase's larger $30 billion Racial Equity Commitment. That commitment includes goals related to increasing homeownership and affordable housing, growing and strengthening small businesses, and improving access to banking in Black, Hispanic and Latino communities.
To reach those goals, the firm is also opening more community center branches—targeting to have a total of 17 in 2022 — which are designed to collaborate with local organizations to offer free skills training and space for small business pop-ups. These branches have hosted some 1,300 financial health workshops across the country, reaching more than 36,000 people. Additionally, 47 of the 100 new branches opened by JPMorgan Chase this year are located in low-to-moderate income communities. JPMorgan Chase representatives and community managers have mentored more than 1,000 Black, Hispanic and Latino small business owners.
For Heath, the job enables her to pass along the lessons she's learned and applied in her own life.
"I tell people all the time: 'I stand here before you, 30 years old, and I was able to buy a house, I was able to lease a car — and I don't have a college degree,'" she says. "I'm not here to sell people something, and that's what's so unique and magical about this role. I have the opportunity to really hone in and teach the importance of maintaining a checking account, for instance, and support people in reaching their financial goals."
Heath continues: "At Chase, we are working to close the racial wealth gap. For me, that all starts with the person. If I'm focused on the person, I'm doing my job."
This story originally appeared in Cincinnati Business Courier.
Learn more about how JPMorgan Chase is contributing to an inclusive economy in the communities where we live and work.