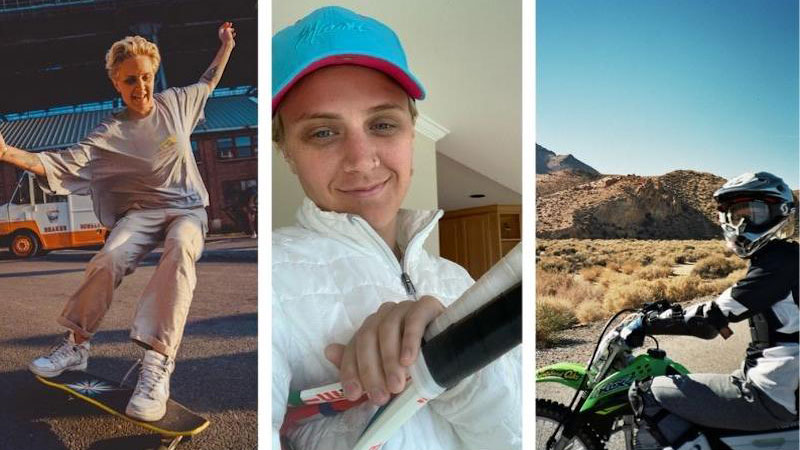 Stories
Aspiring Personal Stylist Finds True Creativity as a Software Engineer
Laura Krey shares how the Emerging Talent Software Engineers program helped her jumpstart a career in tech she once thought was not made for her.
Despite growing up in a family of technologists, Laura Krey never thought a career in software engineering could be for her. She saw herself as a creative-minded person, interested in fashion and music. Krey studied fashion business at the Fashion Institute of Technology and dreamed of one day opening a retail store or becoming a personal stylist. After college, she worked at an online music store for DJs and at an LA-based clothing brand. "I didn't identify with what most existing tech moguls looked like, so I never thought I could do a job like they did. I thought software engineering would be more cut and dry," says Krey. "Coming from a creative background, with different skills, allows me excel in areas that don't come naturally to the typical computer science graduate."
The JPMorgan Chase Emerging Talent initiatives aim to break the mold of the "typical" candidate and recruit people from diverse backgrounds and experiences to work at the firm. The Emerging Talent Software Engineers (ETSE) program encourages anyone with foundational coding skills to apply, regardless of their educational or training backgrounds, work experience, or life stage.
We sat down with Laura Krey, who participated in ETSE, to learn how it was an important part of her journey to becoming a software engineer, without sacrificing who she is outside of work. 
What was your path to becoming a software engineer? 
I grew up in a household full of techies. My oldest brother Peter was always building robots and later studied physics at one of the top institutes of technology. My other brother Matthew went on to found a health tech startup after working at a major consumer electronics company. My dad actually worked in technology for the Corporate & Investment Bank at JPMorgan Chase. Since joining the bank, I've learned just how accomplished he was here, solving problems that were way before his time.
I was always the more creative one. There weren't any public figures in the industry that I could relate to or that I saw myself as, especially as a queer woman who was interested in music and fashion. Then my best friend from childhood, who was also working in fashion, decided to go to a coding bootcamp and ended up working as a software engineer at a major tech company. I remember looking at her new job description, and I was mind blown. I asked her: How did you do this? Do I need a college degree? Do I need certain things to apply? Turns out, the answer was no. I started with free courses to try it out. From there, I enrolled and completed a bootcamp at the Grace Hopper Program, and started my job search. 
Do you find that non-traditional backgrounds are still a rarity in the software engineering field today?
I think non-traditional backgrounds are increasingly becoming more accepted in technology. 
Women in technology is definitely still an emerging demographic. That's another reason why I wanted to pursue this career, to encourage other women to do this. I never saw myself in this industry growing up because I didn't see an avenue for me to get here. If I had, I might have started sooner. 
How did you find your way to Emerging Talent Software Engineers? What made you want to apply?
I found the program through LinkedIn. These programs are really appealing when you're newly out of a bootcamp. It's easy to feel like you need to have a computer science degree from an Ivy League college to get a job in software engineering. A lot of bootcamp graduates think they can't get jobs at big companies. But programs like Emerging Talent Software Engineers says, if you're a hard worker, we'll teach you what you need to know. It gives you a chance to prove yourself if you have a non-traditional background.
What is the application process like for the Emerging Talent Software Engineer program?
It's a pretty unique application process as the final round is a hackathon, so you get to meet the other people that are applying. You're broken up into teams to come up with technology solutions to an overarching problem. One of the big things I saw being evaluated besides technical skills was communication: How do you communicate? What do you do under pressure? How do you handle situations where not everyone's coming from the same technical background?
What other opportunities does ETSE offer its participants? 
The biggest advantage is the network of people it gives you. Typically when you start a new job, you're not part of a cohort of people that are going through the exact same orientation for the same job as you. In this program, you're connected to this group of people in the same boat who are going through the same onboarding as you. You don't feel like you're all alone when you show up on day one. This program also gives you a lot of opportunities to learn and advance along the way. There's really no cap to your career growth here, the opportunities feel endless.



When did you start to feel like you could picture yourself at JPMorgan Chase?

There's actually a mentor available during the hackathon for one-on-one meetings, and the woman I spoke to, a software engineer at JPMorgan Chase, really made me feel at home. I asked her every question I had about being a woman in tech at the company and diversity on the team. She told me something that really stuck with me: if you don't feel welcome at any point while working here, you have a right to that feeling, to speak up about it, and have it remedied.
You are staying true to your creative roots while working as a technologist. How does JPMorgan Chase support you bringing your authentic self to work?
There are a bunch of employee resource groups available here. I'm a part of the Women on the Move, and PRIDE, which had a whole organized event for employees in June. I thought it was so cool that I could wear a Chase t-shirt and march in the New York City Pride Parade.
How important is it for you to work for a company that's making an impact?
I had a big internal debate when applying for jobs. I was thinking a lot about what type of company I wanted to work for. Should I work for a nonprofit, whose entire goal is to help fix issues within the LGBTQ+ community, or should I work somewhere with less queer representation? Working at a large corporation might be outside my comfort zone, but there's definitely a need for more representation and diversity within the tech industry. Just by me being here, I'm making an impact.
Can you share advice for those thinking about a career change? 
There's no time like the present and half the battle is mental. If you decide this is something you can do, no one can stop you. For me, society had built up these imaginary walls that said I couldn't do something, and I allowed that to stop me from trying. But everything is impossible until somebody does it. And my motto is, why can't that be me? Don't let anyone tell you that you can't do something. Stay focused. Keep going.
To hear from other ETSE participants like Laura Krey, click here.