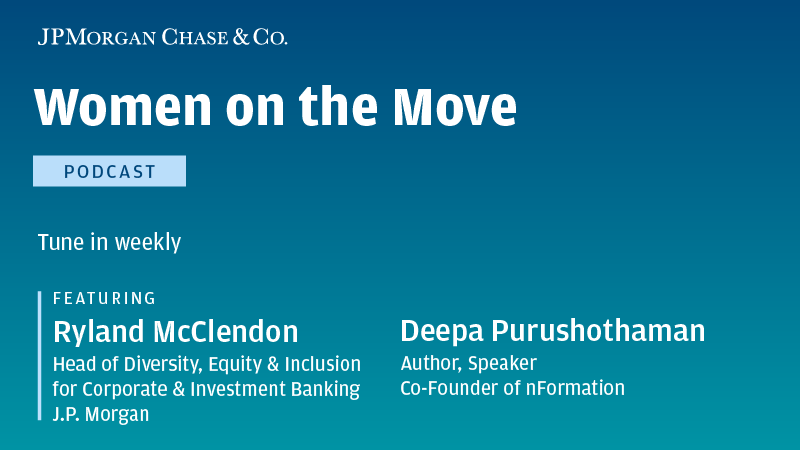 Carving their own path: DEI leaders talk the power of storytelling and redefining ambition
In this episode, Women on the Move Host Sam Saperstein sits down with two leaders in the diversity, equity and inclusion (DEI) space. They discuss the experience women of color have at work and how, through storytelling, they illustrate this experience for others who don't look like them.
Deepa Purushothaman is the author of The First, the Few, the Only: How Women of Color Can Redefine Power in Corporate America, and the co-founder of nFormation, an exclusive community for high achieving women of color. Ryland McClendon is the Head of Diversity, Equity & Inclusion for Corporate & Investment Banking at J.P. Morgan. Both women had early career success and followed slightly circuitous paths toward their current roles where they focus on driving the conversation on DEI and optimizing the work experience for everyone.
Find a home in the DE&I space
Deepa attended Harvard University's Kennedy School and the London School of Economics while planning for a career in policy and politics. She landed as a consultant at Deloitte, where she stayed for 21 years, leaving during the early stages of the pandemic to focus on women of color research and topics. She tells Sam that "not quite fitting in" has been a part of her experiences her whole life. Growing up as one of only a few families of color in her hometown, she later found herself the only woman of color in many professional spaces throughout her career, especially her decades of consulting in the tech and telecom sector.
Ryland, meanwhile, wanted to be a singer when she was young. She also wanted to move away from her hometown of Atlanta, so she went to Duke University where she majored in economics and public policy. Ryland started her career in corporate banking at a regional bank and, frustrated by a lack of opportunity, moved to J.P. Morgan about 12 years ago. She had an opportunity to explore the human resources space a few years into her career and then knew that supporting the firms talent was the right place for her. That ultimately led to her current role as head of diversity and inclusion.
Stories and storytelling
Both women agree that listening to stories and encouraging others in their own storytelling is critical to growth in the equity and diversity realm. "Unless you tell stories to really impress upon people what different experiences you can have—depending on your dimension of diversity, whether that's race, whether that's gender, whether that's having a disability—the storytelling is the most powerful tool we can use," Ryland says.
In the process of founding and running nFormation, and writing The First, The Few, the Only, Deepa listened to the stories of hundreds of women of color. She said she often hears women say that they hadn't realized how much they would be representing their race at work. They describe the pressure of feeling that everything they do—what they eat, how they speak, even what objects they keep in the workspace—is under a microscope because sometimes they are the only people of color their colleagues know.
"You take on a lot outside of the job you were hired to," she says. "I think that's kind of the dialogue that we need to get to, and those are the stories we need to tell, and that's how I have the conversation."
The role of ambition
The conversation also veers into the territory of ambition, a top theme for the Women on the Move podcast in 2023.
Deepa describes how her own definition of ambition changed over the course of her career. "I think it started probably when I was a teenager. I was highly ambitious. I would say more competitive. I think I'm more comfortable with that word than ambitious, because I think ambitious is a little bit more vaguely defined, but I was always competitive, and always really good at everything I did." Then, after leaving her career in consulting, her perspective shifted. "It's less about ambition. That word doesn't even mean anything to me anymore. It's success. I have really stepped back and defined success really differently."
Ryland also describes herself as ambitious and says she wants to change the negative perception that's often attached to the idea of an ambitious woman. "Last year a senior person used that word to describe me in the minute as a compliment and I was taken aback by it, but I'm gonna say yes, I am ambitious," she says. "I want to reclaim that word. I want to make it a positive word."



Deepa Purushothaman
Author, Speaker Co-Founder of nFormation
Ryland McClendon
Head of Diversity, Equity & Inclusion for Corporate & Investment Banking at J.P. Morgan
Subscribe