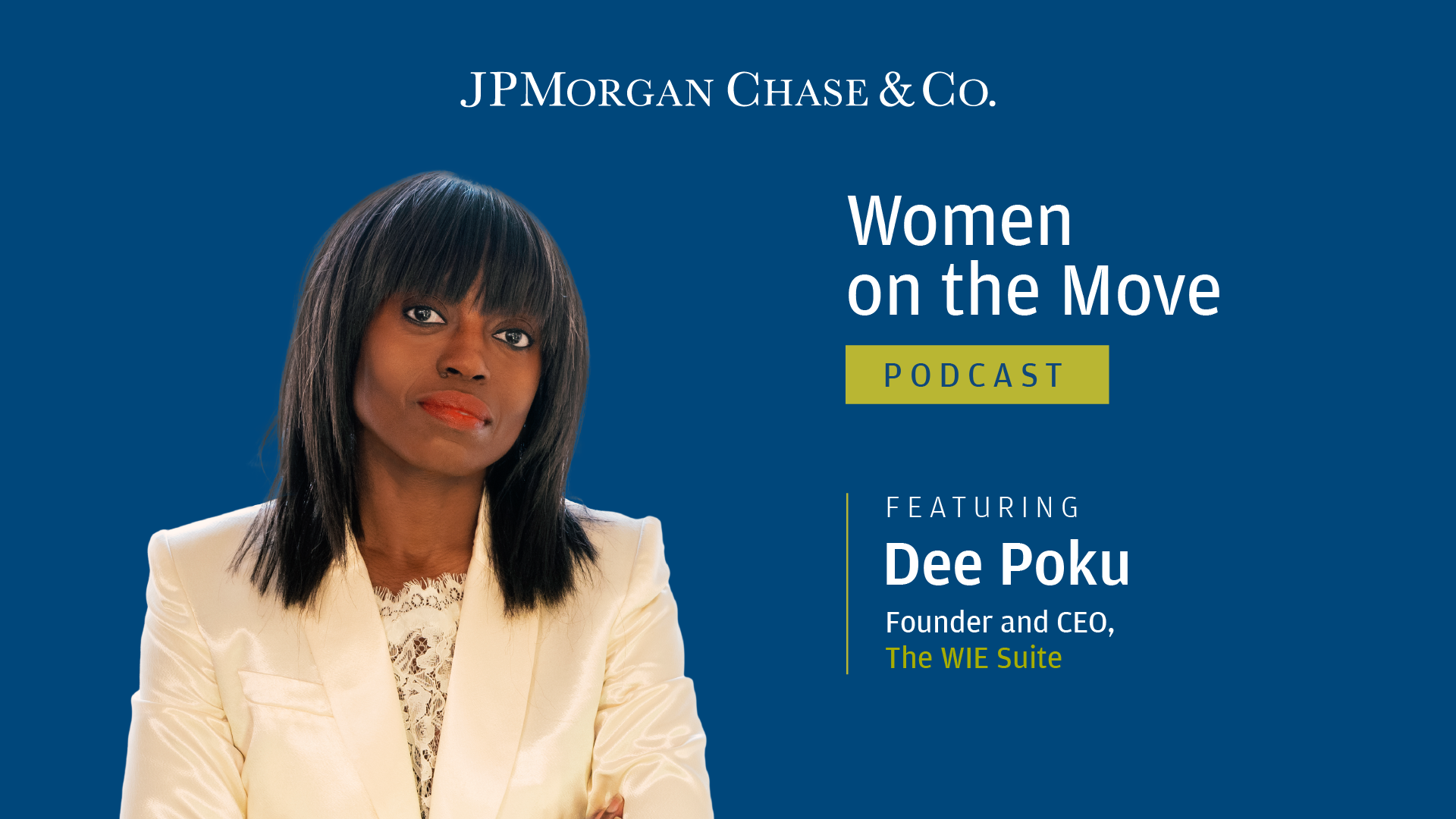 Stories
WIE Suite founder talks community building and helping other women advance
Dee Poku founded the WIE Suite to bring together ambitious women leaders and creators who work to drive action for themselves and for each other. In this episode of the Women on the Move Podcast, she sits down to discuss community building and why she encourages women to be more transactional.
The WIE Suite
Dee first recognized the need for an organization like the WIE Suite many years ago. "There are so many wonderful women's conferences, but as someone who cares so deeply about women's advancement, what I felt was missing was that sort of true deal making that would really sort of catapult us to success" she says. "When I look at someone like my husband, within five minutes of meeting someone, they've exchanged business cards and they found a deal to do. And I think that to broadly generalize with women, we're relationship builders, it takes us a little bit longer."
She realized that instead of large, anonymous conferences, women would benefit from more intimate, curated spaces. She started the WIE Suite as a sort of "informational exchange." When members join, they fill out a form about their goals, and they get placed in a cohort that meets every four to five weeks. "We're very thoughtful about how we put women together," she says. "There are these sort of invisible lines in the sand that we [women] draw around conversations about business and money. And I just wanted to get rid of all of that and create a space where women have permission to ask."
She describes the ethos of the WIE Suite as providing a space where women can be more actionable and transactional in their relationships. "It's a lot of referrals, introductions, check writing," she notes. "It's very, very transactional in that way. And I feel like people just get truly tangible results. It's basically like having your own personal advisory board."
Lessons from the entertainment industry
Dee didn't set out to be an entrepreneur or to create spaces for women to grow. As a math major in college, she was on the hunt for a way to express her artistic side. She began her career in marketing and soon worked her way up in the entertainment business, becoming Director of International Marketing for a large film company.
In that intense landscape, Dee says she learned about intentionality and community building. Today, whenever she has an idea, she thinks first about the people she can reach out to for help bringing her idea to fruition. "And so when we hosted those early conferences, we were very successful at getting some really huge names," she tells Sam. "And it was very much the same strategy of thinking about who comes first and then who follows."
Dee describes herself as a big believer in intentional community, by which she means being thoughtful and intentional about who's in her life. "I think that so many people just kind of stumble around, and it's really about who just happens to be [there]," she says. "I think that the most successful people are really intentional about how they build their careers and who can sort of support that."
Community building practice and advice
One way that Dee has put her intentions into action was creating an initiative called 2 Million Mentor Minutes during the pandemic, which lets women (WIE members and nonmembers alike) donate time to mentor other women, especially those forced to leave the workforce during the pandemic. She notes the pandemic impacted everybody but especially women—and specifically Black and Brown women. "Everybody wanted to do something," she recalls. "We all felt so helpless. Just being able to just post to your platform or send a note to your network to say, Hey, I have 60 minutes to give or 120 minutes to give, take advantage. I think was just a simple, effective idea."
Dee advises women just starting out in their careers to be intentional from the beginning about building their community. "I think it starts early. So often when we are thinking about building relationships, we're looking sort of ahead, like who is important or like who can bring value," she says. "It's really about building that community around you, being thoughtful and intentional about having good people around you, people who build you up and make you the best version of you, people who you share ideas and who inspire you."



Dee Poku
Founder and CEO, The WIE Suite
Subscribe