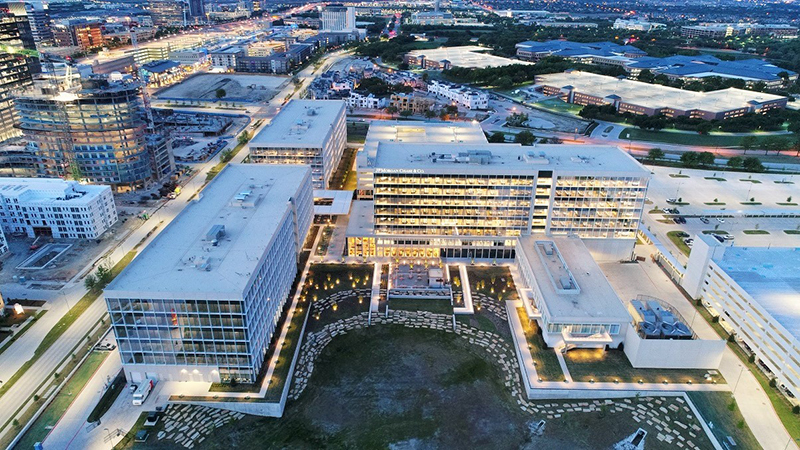 Driving Inclusive Economic Growth in Dallas-Fort Worth
As JPMorgan Chase continues to deepen its investment in Dallas, it is helping to provide Texans greater access to the resources they need to strengthen their economic futures.
With more than 105 years serving the Dallas-Fort Worth region, JPMorgan Chase is helping to create a stronger, more inclusive economy by supporting skills training for high-value, in-demand jobs, uplifting communities through small business growth, and expanding access to housing and homeownership opportunities—now and into the future.
Building Careers and Skills Pathways
As one of largest employers in the region, JPMorgan Chase is focused on fostering an inclusive culture for employees and helping more Texans compete for well-paying jobs and successful careers. To support this effort, it has:
Opened more than 190 branches and hired over 16,000 local employees—including more than 3,300 veterans—since 2014.
Hired more than 3,000 technologists in the Dallas area, including software engineers and developers specializing in critical areas like cybersecurity, artificial intelligence and machine learning.
Committed $10 million to local workforce training efforts that bring the public, private and non-profit sectors together in underserved communities across the state, with an emphasis on building more inclusive career pathways for young people and adults.
Helped thousands of Dallas students earn a college degree and secure well-paying jobs through a $3 million investment in Dallas County Promise.
Supporting Business Growth and Entrepreneurship
We're committed to uplifting the people of Dallas Fort-Worth by serving local businesses. Each day, we help business owners overcome common obstacles such as access to capital, customers, networks, mentorship and other critical resources needed for growth and scale – which are often not equitably available. Our efforts include:
Supporting over 216,000 local businesses with the financial investments, educational resources, advocacy, and coaching they need to grow.
Making a $110K philanthropic investment in the Center for Transforming Lives to help accelerate development and expansion for low-income minority-owned businesses in East and Southeast Fort Worth.
Providing $1 million in philanthropic capital to the Dallas Entrepreneur Center to help strengthen local small businesses and foster inclusive growth for underrepresented business owners.
Promoting Financial Health and Generational Wealth
Financial health is the foundation for strong households, thriving communities and resilient economies. JPMorgan Chase works closely with community organizations to address the unique financial needs of historically underserved communities and create long term-wealth creation opportunities by:
Opening the Chase Oak Cliff Community Center branch, which serves as a connector in the neighborhood and makes financial services and education more accessible in South Dallas. The branch hosts events, financial health workshops, skills training, and offers small business advising. Learn more about how Chase Community Managers help empower customers on their financial journey.
Investing $6M in philanthropic capital to The Real Estate Council (TREC), a commercial real estate organization focused on south Dallas neighborhoods that are vulnerable to rapid transition. TREC works to ensure more accessible homeownership for low-income families and that property remains in the hands of the community.
Learn more about how JPMorgan Chase is making a difference in Dallas-Fort Worth.