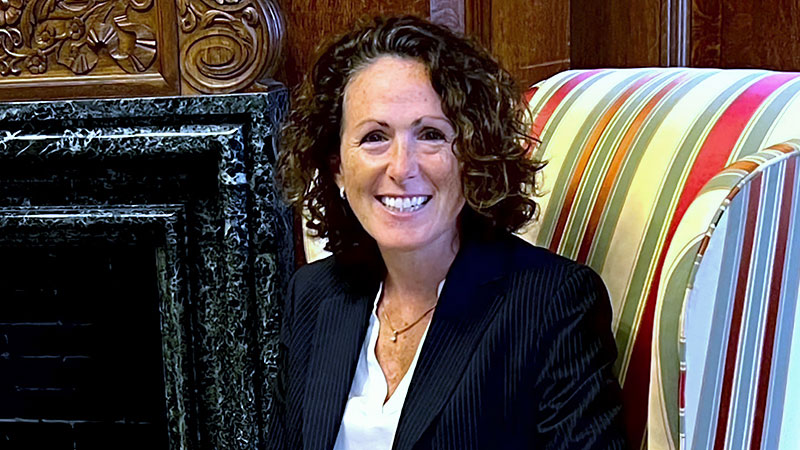 Stories
Antoinette Kenmuir-Evans: Pride Means Love, Acceptance and Resilience
For Antoinette Kenmuir-Evans, coming out has meant being authentic—and being an active part of her community. Here's how Pride has become part of her life…and the identity that she shares with the world.
In our ongoing celebration of Pride, we're putting the spotlight on workers across JPMorgan Chase. Meet Antoinette Kenmuir-Evans, a Private Client Advisor based in New York.
Who has had the biggest impact on the person you've become?
I've always been inspired by my mother. She's one of the strongest people I know. After my father died when I was young, I watched her raise four children on her own. My mother taught me how to have a strong work ethic and that I could do and be anything I wanted.
What inspired you to come out?
In the past, people in the LGBTQ+ community have faced a lot of challenges that made it hard to come out, and I wanted to be part of the change. I got involved with organizations like Empire State Pride Agenda and Immigration Equality that were pushing for equal rights in our community. From those experiences, I knew it was important to come out in all aspects of my life.
Although I was already out to my family and friends, it was after I became an advisor that I came out to my colleagues. I wanted to forge deeper relationships with them and my clients. I no longer wanted to hide who I was or be guarded when people wanted to get to know me.
How did you find your community in the workplace?
When I first started my career at a biotech company, it was a different time. I spent a lot of energy not bringing my whole self to work, which didn't serve me well. Now I prioritize being my authentic self, which takes a lot pressure off of me. It's also allowed me to focus on building meaningful relationships with my colleagues. It's been such a freeing experience.
How are you celebrating Pride month this year?
Pride Month in general is fun. I love seeing everyone come together to celebrate love.
Pride is also a time of reflection to see the progress we've made and unfortunately the challenges we face in the current environment. This year, I'm celebrating by going to the parade, attending a few events hosted by the firm and fundraisers around New York City which benefit our LGBTQ+ community.
What makes a good ally?
A good ally is someone who is open minded, listens and champions diversity. They make sure everyone has a seat at the table and most importantly, they take action! They speak up when others are silent.
What advice would you give to help others bring their authentic self to work?
Don't be afraid to be yourself. When you bring your true self to work and aren't holding back, you remove a lot of anxiety and unnecessary pressure off yourself.
Showing up as your authentic self can help you make more meaningful connections with co-workers, clients and people in general, and then you find that you're not that different from them after all.
What song would make the perfect theme song of your life?
"Glorious" by Macklemore
If you didn't work in the financial industry, what career path would you pursue?
I'd start a foundation that helps women start businesses in marginalized communities.