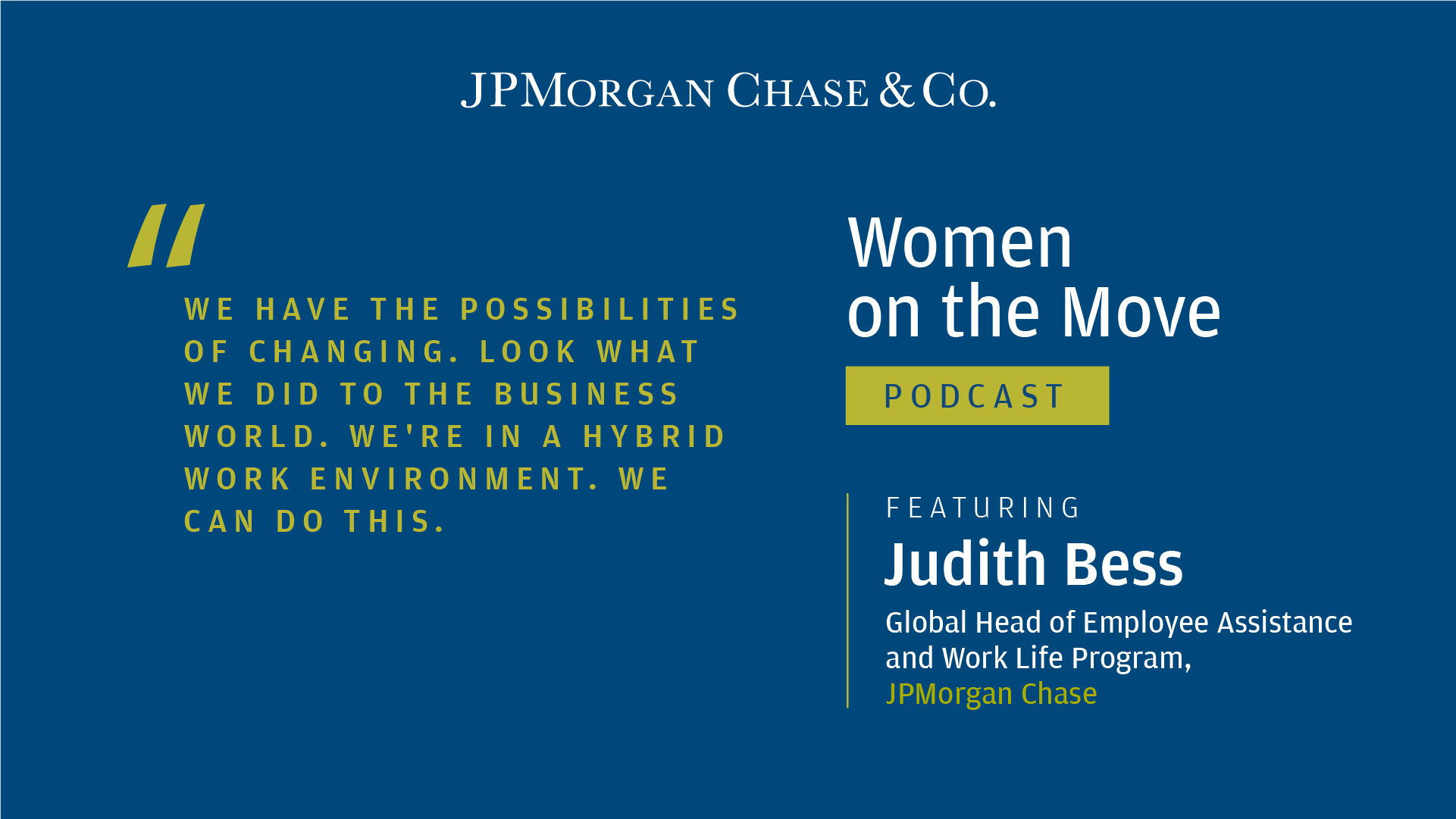 Stories
Global Head of Employee Assistance and Work Life Program, JPMorgan Chase
This podcast is for informational purposes only. The content is not intended to be a substitute for professional advice, diagnosis, or treatment. Always seek the advice of your mental health professional or other qualified health provider with any questions you may have regarding your condition.
JPMorgan Chase Global Head of EAP talks about prioritizing mental health and encouraging connection

There's no doubt in Judith Bess's mind that the past two years of pandemic living have been traumatic for nearly all of us. As global head of the employee assistance and work life program at Chase, Judith has been privileged to witness and assist Chase employees as they navigate the impacts on their mental health. In this episode, she sits down with Women on the Move host Sam Saperstein to discuss her journey to leadership, how the pandemic gave people permission to be vulnerable, and how connections with others are so critical to our wellbeing.

Two leadership lessons

With a social work background, Judith started at JPMorgan Chase early in her career expecting to stay for a short time. Instead, she fell in love with the work and the firm and has stayed for nearly three decades. She's found her background a perfect fit for the employee assistance and work-life programs she heads. "When you're working within an industry like ours, every management triangle is a family. And so you can apply the same systems that you would in a family, right to the corporation," she tells Sam.
Judith discusses her transition from being an EAP counselor to heading the firm's global program, and she shares two invaluable lessons she learned. The first was from a senior HR leader who told her, as she was taking over the management position, that she could build on what had been working well but she could also assess what wasn't working well and what she wanted to do differently; she gave Judith permission to make changes.
The second lesson came from outside the firm, from a book by Hillary Clinton's presidential campaign marketing director. "Her book really talked a little bit more about how for Hillary Clinton, they marketed her like they would market a man and they left off her female characteristics, her warmth, her familial attention, her endurance, her ability to bring the community together," Judith recalls. "And I thought, you know what? I don't have to do it that way. I can come into this with me being a woman and being okay, but being a woman of color and coming into this role."
EAPs and the pandemic

Assuming her leadership role just before the pandemic broke out means that "COVID kind of took over my first two years," Judith says. For one thing, the pandemic highlighted the importance of the assistance program that had been in place for decades. "Once COVID hit in 2020, I think the recognition of the impact to our mental health and our wellbeing became so very clear, and the need for something to really help us learn and not isolate and be able to heal and find coping tips along the way, shot EAP out of a cannon," she says.
One response to the increased need brought on by the pandemic was the introduction of Coping Connections, an online group support model. "We came into Zoom rooms—and still do every week—to support one another, to allow for people to come into the room and say, you know what? I'm not doing great today. And how are you doing? And to really share with one another and break the seal on having to feel like we had to pull it all together all the time," she describes. "And I saw thousands of people come through. It was amazing."
As employees return to the office, Judith hopes the increased focus on and awareness of the importance of mental health will continue—and that more employees will recognize and utilize the convenience of the EAP. She hopes employees will bring with them the lessons learned from remote work: "You may have 20 things on your to-do list, but how can you listen to good music while you're doing it? Or how can you bring a little bit of sunshine into your day?"
In the future, she says, we all have the possibility of changing. "Look what we did to the business world," she notes. "We're in a hybrid work environment. We can do this. We can make sure that we have an adjustment to our life and our lifestyle, and we can get things done yet push the envelope on what might have been something that was just antiquated at this point. COVID taught us that we could do anything anywhere. So I'm really, really hopeful that we can get creative about what our needs are. How do we bring more joy into everything we do?"

Judith Bess, JPMorgan Chase
Global Head of Employee Assistance and Work Life Program


Subscribe