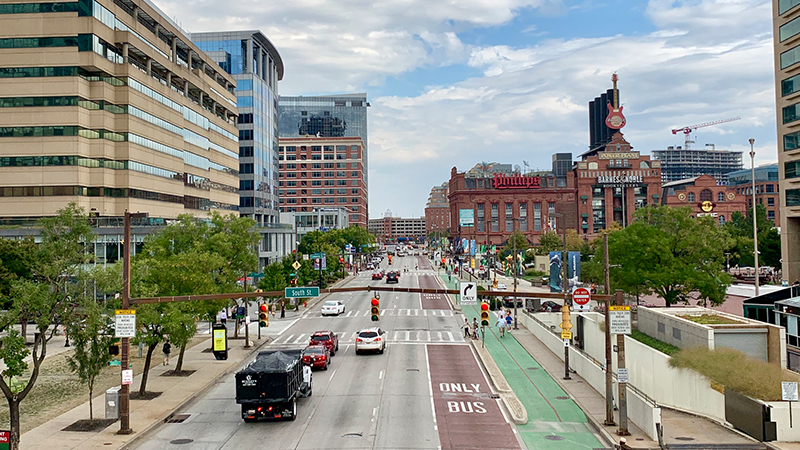 Stories
JPMorgan Chase Applies to Open Its First Downtown Baltimore Branch
(August 25, 2022 - Baltimore, MD) The largest retail bank in the U.S. is coming to Downtown Baltimore.
JPMorgan Chase & Co. will open a branch at 100 S. Charles St. sometime next year, said Carolyn Evert, a spokesperson for the bank. The branch will be located at the corner of West Pratt Street and South Charles Street, in a spot that previously held a branch for Bank of America, before the company departed 100 S. Charles St. for new offices in Harbor East, closing the building's branch in the process.
Chase (NYSE: JPM) filed an application with the federal Office of the Comptroller of the Currency on Aug. 12 to open the location and if approved, the branch would be the bank's first in Downtown Baltimore. The move comes amid a shuffling of bank branches near the waterfront and as Chase continues to aggressively expand in the region.
In addition to the closure of the Bank of America branch, Wells Fargo also plans to relocate its downtown branch from 7 St. Paul St. to 100 E. Pratt, about a block from the planned Chase branch. A spokesperson for Wells Fargo told the Baltimore Business Journal earlier this month that the St. Paul Street branch will close on Dec. 6 but that an opening date for the Pratt Street branch had not yet been set. Wells Fargo is also moving its offices from its longtime home at 7 St. Paul St. to new digs in 111 S. Calvert St.
Chase's planned downtown branch comes after the bank announced earlier this year that it plans to open another 70 branches in Maryland, Washington, D.C., and Virginia by the end of 2025. That would increase the number of planned branches in the area to 140, double the goal Chase set when it announced plans to move into the region in 2018. Back then, Chase said it planned to open 70 branches from Baltimore to Richmond, Virginia, including 20 in Greater Baltimore, by the end of 2022. Earlier this year, Chase officials said the bank was on track to meet that goal.
The downtown branch would be Chase's seventh in Baltimore City. The bank already has locations in Roland Park, Harbor East, Charles Village, Brewers Hill and Cherry Hill and its planned Mondawmin Mall branch will open in November, Evert said. Overall, Chase has 13 branches open in Greater Baltimore, including an Ellicott City branch that opened last week and marks the bank's first location in Howard County. Chase will also open branches in Glen Burnie and Annapolis in September and November, respectively, Evert said.
This article was originally published in The Baltimore Business Journal.