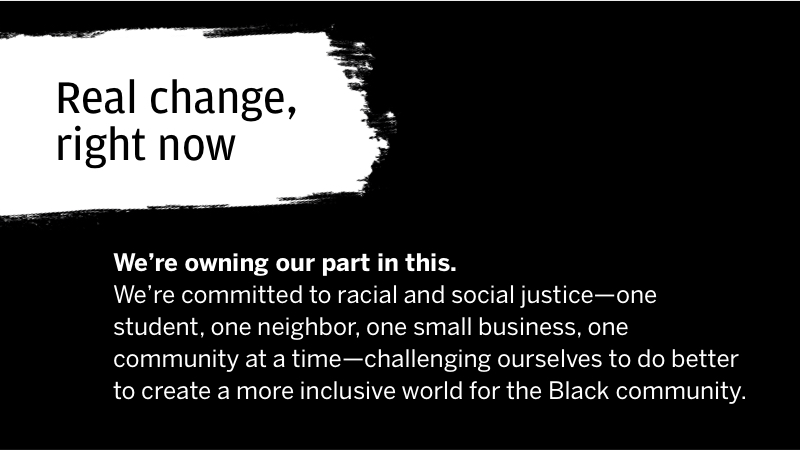 We have a collective responsibility to stand up and take serious action to address centuries of structural racism. We can all do better and do more. Our words and actions matter.
Jamie Dimon, Chairman and CEO JPMorgan Chase & Co.
JPMorgan Chase is extending on our multi-billion dollar investments to address racial and economic inequality, particularly for the Black community. We're building on programs like Advancing Black Pathways, financing affordable housing in hard hit cities, supporting minority-owned small businesses, and pushing for broader criminal justice reform that helps people with criminal backgrounds access good jobs. We're looking at ways to advance this work to further address racial and economic inequality, including most recently providing additional philanthropic support for several civil rights organizations and diverse-led local nonprofits.
What We're Doing
Hiring and mentoring Black students
We are hiring more than 4,000 Black students in full-time positions, apprenticeships, and internships at JPMC over the next five years and over the next 10 years providing, 1,000 young men of color through The Fellowship Initiative with the skills they need to succeed and access greater economic opportunity.
Advancing policies to help advance racial justice
According to the Bureau of Justice, Black Americans are incarcerated at nearly six times the rate of white Americans. The JPMorgan Chase PolicyCenter is advancing policies to help lower barriers to good jobs for people with criminal backgrounds. This includes advancing policies that restore Pell grants to people with criminal backgrounds, "banning the box" on job applications, reforming clean slate laws so anyone with minor offenses on their records can more easily qualify for jobs, and establishing an intentional hiring pilot program in Chicago for returning citizens for jobs at our company. Last year, we hired more than 3,000 people with criminal backgrounds.
Making homeownership more accessible to the Black community
We work with key industry, community and government entities to help support and create thriving and inclusive neighborhoods. We've committed more than $28 billion to lend and invest in affordable housing over the last decade, resulting in nearly 350,000 affordable housing units. For consumers, our DreaMaker product has become one of the most competitive and affordable products in the market, allowing buyers to put down as little as 3%, including reduced mortgage insurance and more flexibility around credit score. In addition, there is a $500 assistance grant with completion of homebuyer education, which we believe is critical to sustainable homeownership. There are no income limits to qualify when buying in LMI communities.
Expanding access to capital for minority-owned businesses
The Entrepreneurs of Color Fund expands access to capital and advisory services for minority entrepreneurs. Launched in Detroit in 2015, the program has since expanded to Chicago, San Francisco, the South Bronx, and the Greater Washington region. Through 2019, we committed over $17 million through EOCF, resulting in $17 million in deployed loan capital that created or retained over 3,000 jobs. And in May 2020, we began deploying $150 million in flexible, low-cost loans to underserved small businesses and nonprofits that aren't being served by existing programs or have additional needs.
Investing in thriving, inclusive cities
We are investing $500 million to drive inclusive growth and create greater economic opportunity – such as affordable housing, small business expansion, neighborhood revitalization – in cities around the world, including Detroit, Chicago, the Bay Area, the Washington DC region, and the Greater Paris area.
Bringing our branches to underserved communities
One-third of our branches are located in majority-minority communities, and we expect 30% of new branches to be in LMI communities as part of our expansion.
Supporting civil rights organizations and diverse-led nonprofits
We are committing $1.75 billion through 2023 to create economic opportunity and drive inclusive growth around the world. Recently, the firm made an additional $3 million philanthropic commitment and is matching employee contributions to promote racial and social equality by supporting the Leadership Conference Education Fund, N.A.A.C.P. Legal Defense and Educational Fund, Inc., the National Urban League, Inc., and the Equal Justice Initiative and diverse-led local nonprofits.
Driving a diverse and inclusive culture for our employees and our business
Everything has to start at home, where we're working to drive our diverse and inclusive culture into every corner of our firm. Leaving no stone unturned, we're looking at our diverse recruiting practices, training, our products and services, and supplier diversity.