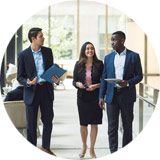 How We're Supporting Our Employees
At JPMorgan Chase, our people's safety and well-being is a top priority.
In light of the COVID-19 pandemic, we implemented alternative work arrangements and now have a majority of employees globally working from home. Around the world, our employees continue to work tirelessly to serve our customers, clients and communities, and we are deeply committed to supporting them during this time of crisis.
Support for Onsite Employees
Many frontline employees in our branches, operations and call centers, and other key sites continue to go into their office or branch each day. These employees are essential to our mission of continuous service, and we are grateful for their efforts and dedication.
To help meet challenges related to issues like childcare and transportation, we made a special payment of up to $1,000 to full- and part-time employees whose job requires them to continue working onsite and generally have annual cash compensation of less than $60,000.
We're continuing to pay employees for their regularly scheduled hours, even if their hours are reduced or their branch is temporarily closed. We're encouraging employees to stay home when appropriate by providing 14 days full pay for precautionary situations. In addition, for employees who feel they are a higher risk employee and cannot work, we have provided an extended leave.
We're reinforcing both basic and enhanced personal and office hygiene measures to keep employees, their colleagues and their clients safe by modifying business operations, staggering shifts, changing seating, closing buildings to non-essential visitors and providing additional equipment where possible. We're also enhancing nightly and daily cleaning globally in our offices and branches that remain open.
Extra paid leave for all
All employees have been provided five additional paid days off to help manage personal issues, which may include dependent care, child care or other needs.
Essential advice and resources
We have internal and external medical resources available to answer employee questions about COVID-19, inform on policies and assist with directing employees to testing or other medical facilities. Additionally, our U.S. Medical Plan is covering COVID-19 testing and associated testing costs at 100%, with no employee copayment or deductible. For U.S. benefits-eligible employees as well as family members enrolled in our Medical Plan, we are also offering free at-home test kits if they have COVID-19 symptoms and don't otherwise have access to testing.

Employee matching campaign
We also matched employee donations to these COVID-19 relief efforts dollar-for-dollar. Employees had the opportunity to contribute to the COVID-19 Solidarity Response Fund supporting the World Health Organization, Feeding America's COVID-19 Response Fund, GlobalGiving Foundation's COVID-19 European Response Fund, Off Their Plate or the China Foundation for Poverty Alleviation.
Keeping You Informed
Review our latest news, insights and information on COVID-19 and how to navigate through economic uncertainty.