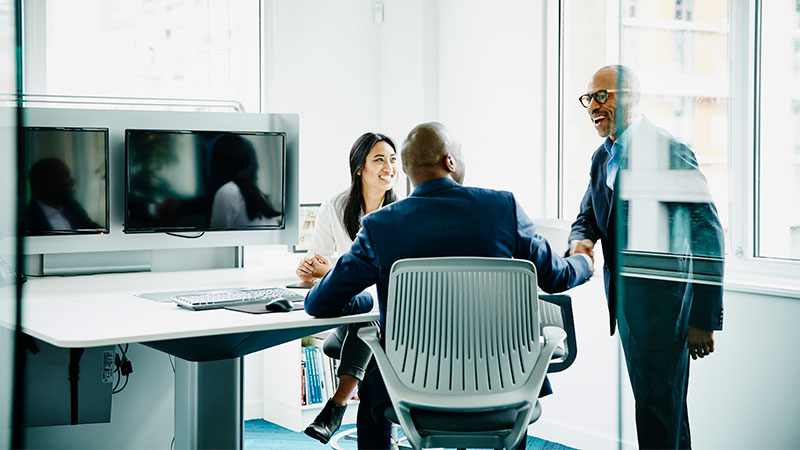 Stories
What the Future of Work Looks Like in D.C
With help from JPMorgan Chase and Urban Ed, Durrell Hammond is getting the skills he needs to take his career to the next level.
Working as a Computer Repair Technician at a computer sales and repair shop in Fort Washington, Maryland, Durrell Hammond felt the future passing him by. Watching the growth of the tech field in nearby Washington D.C.—and the ample opportunities it offered—he knew that it was the job path for him. The only question was how he could get the IT skills and the A+ certification he needed to take his career to the next level.
Hammond's appraisal was right on point. According to a recent survey, 95 percent of leading tech firms in the nation's capital plan to hire IT employees, and 64 percent plan to expand their tech teams. On the other hand, 85 percent1 say that it's a challenge to find tech talent in the area.
Given Hammond's existing knowledge, he was in a great position to fill one of the region's in-demand IT positions—if only he could gain the skills he needed.
A Door to the Future
That's when one of his coworkers told him about Urban Ed, a D.C.-based nonprofit that offers technical training in IT, cybersecurity, and job placement for youths and adults. Hammond realized that Urban Ed was the perfect place to give him the edge he needed in the job market.
Located in Anacostia, an area with an unemployment rate of almost 25 percent, Urban Ed has been part of the D.C. community for nearly 20 years. It reaches over 250 individuals per year, particularly in the low-income Ward 8 area, providing them with the skills training and career opportunities they need to get long-term, secure employment. What's more, with a placement rate of 90 percent, Urban Ed is also a significant source for the highly skilled tech workers the district so desperately needs.
Building a Workforce
Of course, Urban Ed doesn't operate in a vacuum. To achieve its goals, it has connected with many businesses in the area—including JPMorgan Chase.
As part of its expansion in the region, JPMorgan Chase is working to help improve career prospects for residents throughout the D.C. area. A big part of that mission involves supporting skills training programs like Urban Ed, which are training talented individuals for the future of work.
Urban Ed's founder and President, Roxanne J. Williams, says the financial support from JPMorgan Chase will help her organization expand its reach. "[It] will allow [Urban Ed] to open doors for many more young people who might otherwise not have had a shot at a promising career and economic security for themselves and their families," she says.
Stepping Into a New Job...and Beyond
After studying with Urban Ed, Hammond earned his A+ certification and landed a position as a desktop technician. "I make more money now than I did at my old job in the field that I want," he says.
With the resources he found at Urban Ed, Hammond feels equipped to take on his professional goals. "I am definitely able to work toward my ambitions building a career in cyber security," nods Hammond, adding, "I am currently studying for my CCNA and CCENT certifications."
For Hammond and many young people in Urban Ed's skills and professional development training, this is just the beginning.