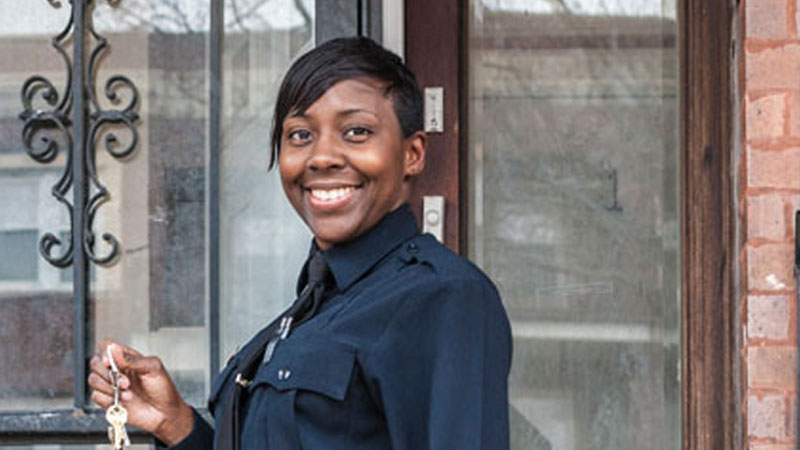 Stories
How to Bring Back a Crumbling Neighborhood
Keona Tate saw promise, where many could not. In the south side Chicago neighborhood of Woodlawn, she was happy to find a vacant, two-family brick home within walking distance of both her job and her son's high school. Tate purchased the property with the help of a local homebuyer assistance program and plans to live in the building's first-floor unit while renting out the other one. She hopes to move in within a few months but, for now, she's looking forward to fixing up the place.
"It just needs some tender love and care," the 34-year-old University of Chicago police officer said.
The home buyer program benefiting Tate is one of many community revitalization efforts funded by PRO Neighborhoods, a $125 million, five-year initiative by JPMorgan Chase & Co. to help bring economic opportunity to distressed neighborhoods across the country. One component of PRO Neighborhoods' work entails commissioning research that identifies challenges facing various communities in an effort to arm local Community Development Financial Institutions (CDFIs) as they form collaboratives to tackle those challenges. That commitment to data and analysis is a significant component of the firm's model for impact, which helps develop inclusive growth through strategic philanthropic investments in crucial pillars of economic development.
In Chicago, that meant working to improve the crumbling housing stock in the city's less affluent neighborhoods. The Chicago Collaborative, a partnership consisting of three CDFIs, seeks to address the issue by providing capital to would-be homeowners and investors on the condition that they rehabilitate properties to meet the collaborative's high standards. Early signs point to the notion that its working, with the Collaborative leveraging JPMorgan Chase's support to lend out nearly $25 million and help preserve nearly 600 units of low income housing, and acquire more than 400 more in key low-income communities.
Woodlawn, with its convenient location near the University of Chicago as well as the affluent neighborhood of Hyde Park, was a perfect target for the program, according to Jack Crane, the director of lending at Community Investment Corporation (CIC), one of the Chicago Collaborative groups. "What you've had in Woodlawn is either vacant or mismanaged apartment buildings and literally hundreds of vacant or buildings in poor condition, but given its location, it really doesn't make sense," Crane said. "There's a tremendous opportunity there to attract the people who work in Hyde Park and at the university."
Using PRO Neighborhoods funds, CIC purchased 35 properties in the neighborhood with the intention of reselling them to Chicago-area residents who work nearby. Keona is one of their first homebuyers -- the first, they hope, of many.