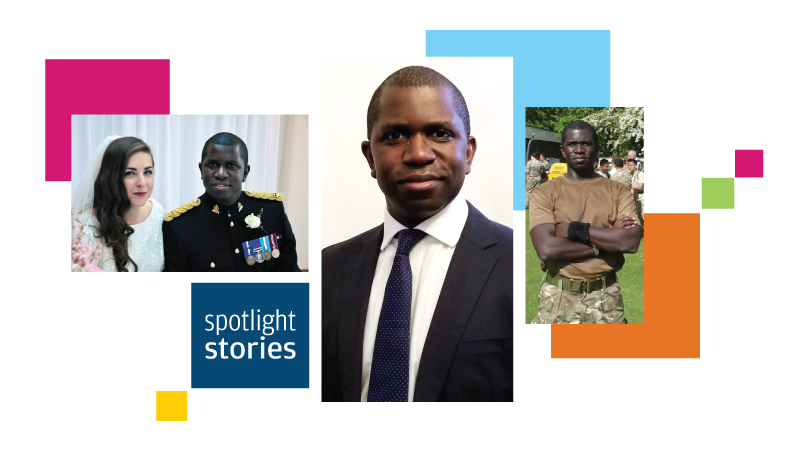 Stories
From Battlefields to Banking through the JPMorgan Chase Military Transition Program
When Mickel Mark-Richards signed up for the UK's Army officer training program at age 24, he was looking for two things: "I wanted to help people and I wanted to see more of the world."
When he left almost two decades later, Mickel had checked both boxes. He had served in the Middle East, Eastern Europe, Germany and other regions, literally helping people around the world. He also built a family: "I was married, had a four-year-old son and another child on the way," he says. "We wanted to settle down and build a stable life."
Along the way, the former Major had also picked up some very useful skills, including overseeing millions in funds, and commanding hundreds of soldiers under battlefield pressures. The only questions were how he could apply those abilities to a civilian job, and how he could match his civilian job search to his timeline for leaving the military. He found an answer in JPMorgan Chase's Military Transition Program (MTP), which he joined in early 2020, as part of the UK military's career-transition partnership with the bank.
Transitioning From the Military
As a chartered accountant with plenty of experience managing finances, budgets, audits and large teams, Mickel was familiar with much of the mechanics of managing money. What he was less familiar with, however, was how corporate banks function—and the MTP gave him a crash course.
"I had to learn what different divisions and lines of businesses actually do and how it all fits together operationally," he says.
For Mickel, a key part of the learning curve was mastering JPMorgan Chase's information technology systems. "Technology was not a new subject matter for me," he says. "However, the developers at JPMorgan Chase are all at the top of their game in their fields, and I was just trying to hang on to their coattails to understand what they were doing, and how I can help them do it as a project manager."
MTP taught Mickel how to integrate the skills and experience that he had gained in the military with the projects and teams he worked with at JPMorgan Chase, which gave him more confidence in his transition from military to civilian life. "You learn that you can do it by actually doing it," he says. "And by doing it every day, you gain the knowledge and the confidence you need."
MTP also helped allay Mickel's concerns about timing his transition from military life to a civilian career. "Leaving the military is not like in a civilian workplace where you might decide that you want another job, you apply to a few places, and then you get one and you leave," he says. "In the military, you announce that you're leaving and then, a year later, you leave whether you've got something or not."
The MTP provided flexibility, allowing Mickel to work at JPMorgan Chase just after leaving the military, enabling a smooth transition from one world to the other.
The Power of Human Endeavor
Eight months after Mickel started with MTP, JPMorgan Chase offered him a full-time position as a Vice President of Project Execution in Technology in London. He soon found himself project managing a wide array of programs. Many involved technology and application modernization efforts, infrastructure upgrades or platform replacements for trading and foreign currency transactions. "These are really cool, cutting-edge projects with real impact on businesses, which I found incredibly engaging and exciting to be a part of," he says.
Mickel's military training and experience proved crucial in every aspect of his transition. "One of the most valuable lessons, which you learn early and then relearn again and again, is to never underestimate the power of human endeavor and dedication," he explains. "People are given important, critical tasks and responsibilities with serious repercussions, and you have to step up, work as a team, find solutions and execute—all the time." The soft skills he honed in the military—managing individuals and teams, handling communications and strategic thinking—come into play every single day at JPMorgan Chase.
The teamwork Mickel learned in the military has also remained a part of his civilian life: He has also become active in helping others handle the military/civilian transition that was such a challenge for him. "The biggest pain point is the uncertainty once you've made your decision, he says. "What I've found myself, and in talking to others who've done this, is that once you've crossed over and settled in, you thrive."
JPMorgan Chase is not responsible for views expressed other than our own
See how a mortgage-free house opened the door to financial security for a veteran family.
Spotlight Stories: Celebrating the stories of inclusivity, passion, and resilience of those who rise to the challenge and inspire us every day.