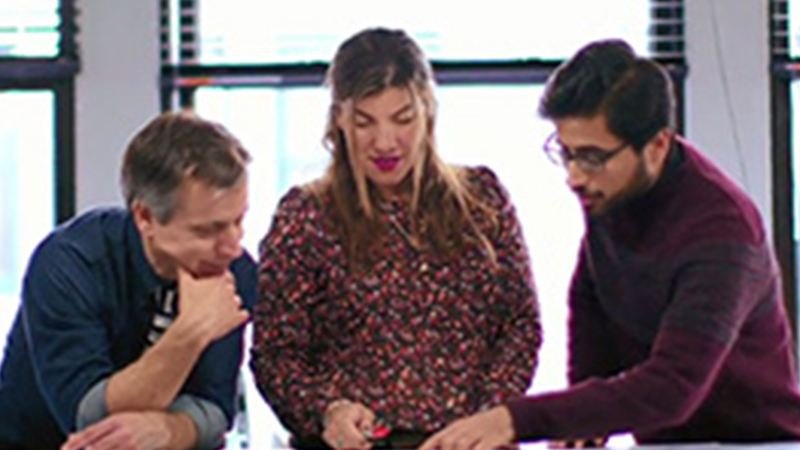 Video
Spotlight: Bandujo
Supplier Diversity Spotlight: Bandujo Advertising + Design
♪♪ (string orchestra) 
On screen: White text on a black screen: "JPMorgan Chase & Co. Large metropolitan buildings and white text: "Global Supplier Diversity partnering with Bandujo Advertising." In an office, Jose Bandujo, a man with salt and pepper hair and light eyes. Text appears: "Jose Bandujo. Founder, Bandujo Advertising. 
Jose: Hi, I'm Jose Bandujo. I'm the founder of Bandujo Advertising and Design. 
On screen: Jose walks through the Bandujo building. 
Jose: I started Bandujo in 1993 in my dining room and we've grown to about 25 people now in New York. 
On screen: Close-up of Jose. 
Jose: We provide strategy and creative to help clients develop marketing programs and help launch those programs across all media. 
On screen: Jose walks through a New York City park. Behind the surrounding trees, skyscrapers. Cut to Jose walking along a crowded Manhattan street. Pedestrians cross the street. Bicyclists ride by. Jose sits at an outdoor table and writes in a small pad. 
Jose: I love New York just because of all of the diversity, so many different cultures, and that just exposes us to ideas that I really need in my business as I try to be creative for my clients. 
On screen: Close-up of Jose. 
Jose: Fifteen years ago now we started working with JPMorgan Chase. We actually started like we do with many of our clients, with one small project. 
Text on Screen: Damian Brady. COO. Toynbee Hall.  
Amanda: We started out doing a lot of direct mail, direct marketing, and then we've really grown to working on a ton of digital work. 
On screen: Screen shot of a Chase webpage featuring a picture of a mobile device and the text "Chase. Welcome to your new Chase Checking account. See what's possible with your new account. Like depositing checks, checking your balance and paying bills - right from your phone." A blue button with white text: "Get Started." Cut to a close-up of Jose. 
Jose: Having JPMorgan Chase as a client has definitely made a big difference in helping me grow my business. 
On screen: A montage of Chase-related Bandujo advertising designs, including:  webpages  brochures  packaging  kiosks. 
Jose: One of the things I'm most proud of in our relationship as one of their advertising agencies is that they have looked to us as a partner in helping them push themselves in how they approach their marketing. 
Text on screen: Allison, J.P. Morgan, New York. 
On screen: Bob Brothers, a man with a denim shirt and beard. Below him, Text appears beside him: "Bob Brothers, Creative Director, Bandujo Advertising." A montage of designs from Chase campaigns featuring Serena Williams and the Rockettes. An image of a woman looking pensive in a board room. Text on the picture: "In 2020 the average retirement will last 35years. Will my retirement savings have the endurance to keep up?" Next, a picture of a young woman with short black hair. Text on the picture: "Like you, the Chase Private Client Debit Card Has Officially Arrived. 
Bob: They've challenged us to kind of broaden their customer base. Everything from Millennials to midwestern people, African-Americans. 
Text on screen: Martin Clark. Deputy Chief Executive, Alia. 
On screen: Close-up of Amanda. 
Amanda: Since we've taken on the JPMorgan Chase account, I've watched it grow tremendously through the years. 
On screen: Close-ups of Jose. Hand on his chin, he sits at his office desk and down jots notes with a thin marker. Then, at a large table, he lays out sheets of papers with graphic design lay-outs and reviews them with his team, a woman with long brown hair, and a man with glasses and a dark beard. 
Jose: When I started in advertising, I realized early on that supplier diversity is really important to a firm like Bandujo because when you're looking for photographers, market research firms, production companies, you're always looking for individuals that can reflect the very diverse community that we are marketing to. 
On screen: Close-up of Bob. 
Bob: Now that we've become more of a diverse agency, that really makes our work so much better than anybody else's. 
On screen: A montage of the Bandujo creative team at work:  A smiling man and woman look at a computer screen.  A young man draws on a white board.  A man with a light brown beard speaks with a short-haired man.  Employees at their computer stations.  Close up of Jose, smiling.  Jose sits at a large table.  Amanda reviews design lay-outs with Jose and her dark-bearded co-worker.  Jose speaks to a group of employees, in front of a large wall monitor that displays the word: "Bandujo."  Close-up of Jose.  A glass door with the word "Bandujo" on it.  
On screen: Dan, a man with brown hair and a sweater. 
Jose: I'm really excited about the future of the partnership with Bandujo and JPMorgan Chase because it definitely helped Bandujo open doors to new clients. We as a team have really been inspired to see if we can do more. I'm really lucky to have a great team that inspires creativity for all of us because it is bringing together such a diverse group of people that ultimately drives that creativity. 
On screen: Black screen with white text: "J.P.Morgan Chase and Company. Global Supplier Diversity. Global Supplier Services. www.jpmorganchase.com/supplierdiversity.