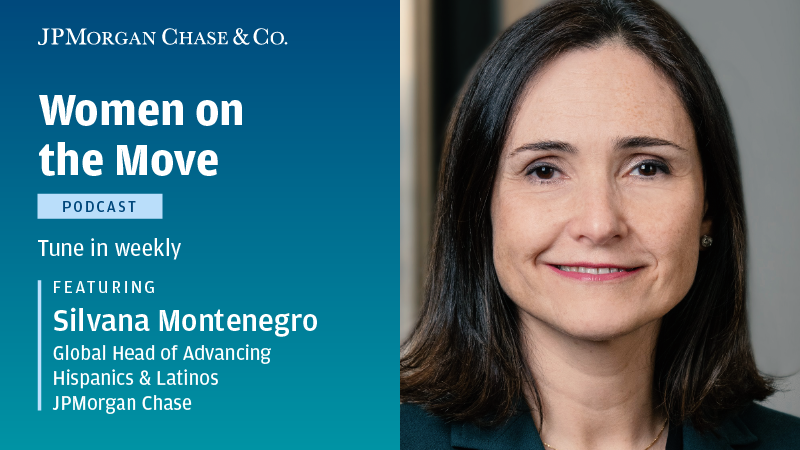 On a mission to recognize and support Latino success, with JPMorgan's Head of Advancing Hispanics & Latinos
Silvana Montenegro was a college student in Brazil when she applied for an internship in human resources at JPMorgan Chase & Co. She had no idea what human resources even meant, but she knew she wanted to see the world, and JPMorgan Chase & Co. seemed like a good first step. It's 25 years later, and today she's the firm's Global Head of Advancing Hispanics & Latinos, and was recently named by Latino Leaders magazine as one of the country's top 100 Latinas. In this episode, Silvana sits down with Women on the Move host Sam Saperstein to discuss her career, the importance of being curious and creating personal connections, and her thoughts on the future of the Hispanic and Latino community.
Growing up in Brazil, Silvana was influenced by a father who wanted his children to see the world and appreciate history, and a social activist grandmother. She says she always dreamed of an international career, so she jumped at the chance to intern at JPMorgan Chase & Co. And although she started out knowing nothing about human resources, she was quickly drawn in when she realized it was all about lifting people up. "And because of my family background, I have always been very curious," she tells Sam. "I went to university to study psychology. So the way I learn and I relate to the world is by learning about people's stories over the years, it gave me an appreciation of how can I be most impactful to lift people up."
Changing the narrative
Silvana describes her role today as centered around creating access and opportunities for the Hispanic and Latino community. One critical factor to that mission, she says, is helping to change the narrative of how the community is perceived in the United States today. "I think we're probably better known for some of the barriers that we face and continue to face as well as the culture, right?" she notes. "When we see Latinos on TV, they're not presented in the most positive ones. I want to see more movies and more TV shows that actually portray the families as they are. The Latinos from the most affluent to those who actually face significant barriers."
She notes that she knows her team's mission and the journey ahead is important, but for now it starts by portraying a more holistic narrative of the community. One key part of the narrative that she wants to emphasize is the Latino impact on the U.S. economy. She notes that Latinos make up nearly 20 percent of the U.S. population, and are also the youngest demographic.
Providing the tools and services for community success
A second component of Silvana's goal is to do more to support Hispanics and Latinos to have the tools they need to grow and thrive. She says she sees opportunities in several areas. One is simple talent mobility and helping Latinos succeed at work. Another is promoting financial health education, particularly on both sides of the U.S.-Mexico border, with so many people working in the United States to provide for families in Mexico. "How can we think about cross-border products so that we can support the need?" she asks. "From the U.S. side, I think it's doing more to demonstrate to the community that we're the bank for Hispanics. And it's the little things. It's being in the community, partnering with organizations that have trust in the community so that they can see and feel that we're there for them."
One product where Silvana sees big growth potential is digital account opening. "Because Latinos are very digital and that's how they engage," she tells Sam. "And they tend to go to untraditional financial places to actually send money to their families. And the fees that they're paying are very high. So how can we help them send money to their families and do that banking seamlessly and not as expensively?"
Looking forward, Silvana's excited to build on the success of initiatives already underway both internally at JPMorgan and with external partners such as the U.S. Hispanic Chamber of Commerce. "The funding that we provide actually enables the local chambers to provide coaching to the small businesses there," she notes. "And we also have the opportunity to connect these businesses with our local business consultants. It's a very holistic approach. And right now we are in 11 markets, we're reaching 5,000 businesses, and we're making real change, giving them the tools they need to grow and thrive."
Disclaimer: The speakers' opinions belong to them and may differ from opinions of J.P. Morgan Chase & Co and its affiliates. Views presented on this podcast are those of the speakers; they are as of September 1, 2022 and they may not materialize."


Silvana Montenegro
Global Head of Advancing Hispanics & Latinos, JPMorgan Chase


Subscribe