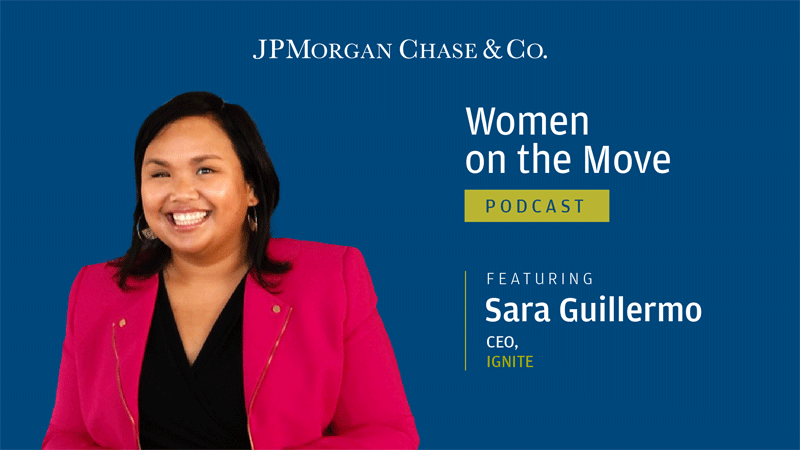 Preparing young women for political leadership, with Ignite CEO Sara Guillermo
Sara Guillermo wants to build a pipeline of young women who are ready and eager to become the next generation of political leaders. As the CEO of Ignite, the largest young women's political leadership organization in the country, she's fulfilling that goal: Ignite has already trained 20,000-plus young women from all over the country. In this episode she sits down with Women on the Move host Sam Saperstein to discuss what she loves about her work and how she sees the future of women in politics.
From kindergarten organizer to CEO
Sara started running for office in the first grade. Her elected role as Class Organizer was everything she'd dreamed it could be: she got to hand out all the classroom papers, make sure all of the colored pencils were in their particular bin, and most impressively, join with the leaders of the older grades to plan schoolwide events. Her excitement was two-fold: the excitement of being a leader but also the thrill, as an immigrant from the Philippines, of representing people who looked like her.
Sara says that experience in first grade launched her career in leadership. It also got her thinking more and more about how who sits at the table is important. "I kept running [for leadership positions] all through my education and actually now serve on a community board here in my county," she tells Sam.
She earned her master's in social work and began working with after-school school programs in San Francisco in the late 2000s. She met Ignite's founder, Ann Moses, before the nonprofit was even established. "But she was starting to share this idea," Sara recalls. "And I was like, okay, cool. Well, I ran for office, I'm a student leader. I can do that here. And so Ignite was quickly embodied into our after school programs." She started with Ignite as a program facilitator in Oakland schools and moved into a full-time position in 2015 before moving up to Executive Director, and then becoming CEO in 2021.
Many sides of political leadership
Sara talks about how being a leader not just during a pandemic but also at a time of such intense civil unrest has really opened her eyes to how eager young women are to claim their political power. "I just spent an entire day yesterday in Sacramento with middle schoolers and high school students and college women from all across the state of California to identify the policies that matter to them and advocate on those policies," she recalls. "One of the questions I asked yesterday is, What is something you want to change in your community? And it's everything: I want to feel safe riding the bus. I want to make sure that I have access to clean water. I do not want to pay a hundred thousand dollars to go to college."
Throughout Ignite's first ten years, Sara says, they were hyper-focused on preparing young women to run for office. "And what we discovered from the 2016 and the 2018 election is that young women were really joining other forces," she tells Sam. "They were joining campaigns, they were getting on commissions at the most local level. They were mobilizing voters and then they were policy makers. And what we discovered is that all of those roles paired with candidates and elected [officials]."
Women's political participation
Sara and Sam also discuss the barriers that continue to prevent more women from entering the political sector. One important aspect is intersectional issues such as lack of visibility of many women, and especially women of color. Another barrier is a lack of knowledge—young women simply aren't aware of the variety and levels of political offices and participation.
And a huge barrier, both Sara and Sam agree, is the doubt that many young women face: doubt of their abilities or about their place at the table. "And I think a lot of what I've learned in policy and political leadership and campaign work prior to my work at Ignite is like, you just have to be consistent as change [happens]. Unfortunately it doesn't happen overnight and you have to keep pushing for it, whatever role you want to play. And we can all tap in and out of our roles throughout a generation, but we're gonna need all of us in order to move this movement forward. And that is really the critical need to support this particular generation of gen Z young women."


Sarah Guillermo
CEO, Ignite
Subscribe