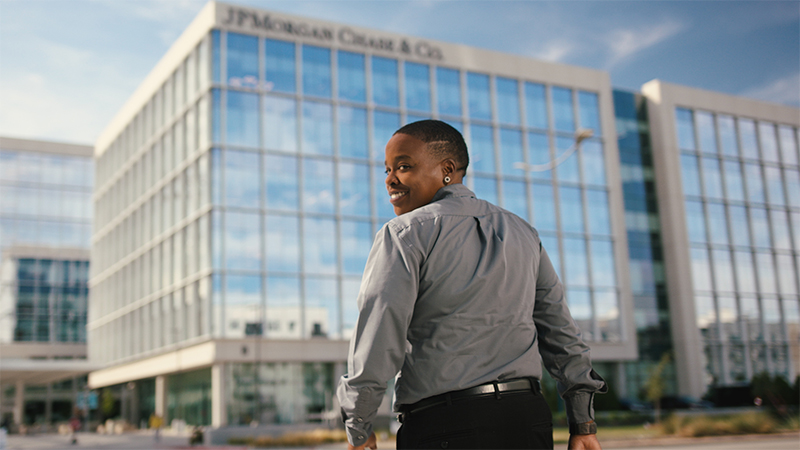 Stories
Realizing Potential Through Perseverance
From living on the streets to working at JPMorgan Chase, Ashley Wigfall's perseverance is helping her build the life she wants.
Before she joined the Texas National Guard, Ashley Wigfall's future was far from certain. "When I was 17, I was pretty much on the street, like a homeless person," she recalls. Despite the challenges she faced, Wigfall finished high school, but she still didn't have a steady place to call home. An ROTC member in high school, she decided that the military could provide some of the stability that she needed. She enlisted in the Texas Army National Guard, and spent two years in Austin after basic training.
After her godson was born in 2008, Wigfall decided that she wanted to live closer to him, so she sought out opportunities in the private sector. Within a year, she had successfully transitioned back to civilian life, landing a corporate job.

Finding a Community

Working at a large company gave Wigfall the stability she needed, but it wasn't exactly what she was looking for. When she was approached by a recruiter from JPMorgan Chase, she was intrigued.
JPMorgan Chase is committed to working with veterans like Wigfall. In 2011, it cofounded the Veteran Jobs Mission initiative, part of its $45 million investment in programs to help military families. A coalition of over 200 companies committed to hiring and professionally developing veterans, the initiative is designed to help former service members bridge the transition from the military to corporate culture.
Since its creation, the initiative has facilitated the hiring of more than 500,000 veterans, including over 14,000 at JPMorgan Chase alone. Looking to the future, its goals are even more ambitious: it hopes to hire one million U.S. military veterans.
Room for Diversity
Wigfall is currently an Associate Business System Analyst at JPMorgan Chase in Dallas. After over four years at the company, she still is struck by the inclusivity she has found in the corporate community, from team members to executives, "They've all supported my goals and they reach out to me, trying to understand where I'm trying to go so they can help me get there," she says. "I can be me. I can be me and still thrive."
That support and inclusion is not always a given outside of the office, Wigfall says. "I'm Black, I'm a female and I'm a lesbian," she explains. "Some people might push back because of who I am."
But Wigfall doesn't let those barriers stand in her way. She points to her time in the Army National Guard and her current experience at JPMorgan Chase as key elements that continue to drive her forward. "It definitely has inspired me to continue to push the envelope to work hard and go past where I thought I could go," she says.
At home in Dallas, Wigfall continues to build her career at JPMorgan Chase. "I feel nothing but success and growth from here," she says.