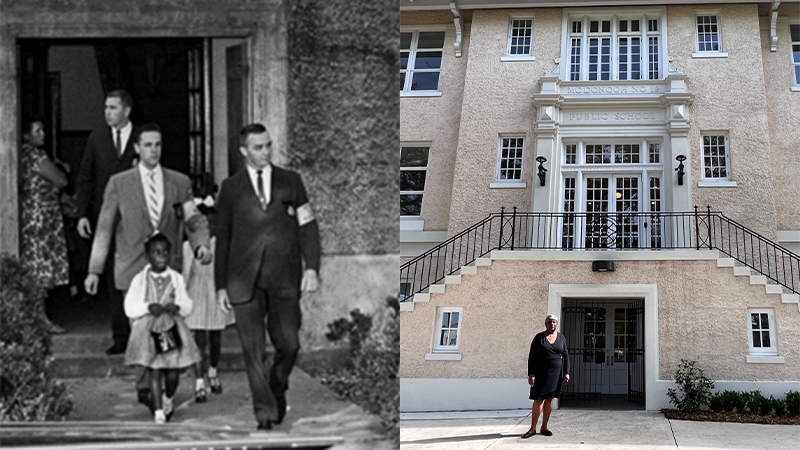 Stories
Civil rights pioneer works toward a more equitable future
In November 1960, Leona Tate was one of four Black students desegregating schools in New Orleans. Tate was only six years old when she climbed the stairs at McDonogh 19 Elementary School with U.S. Marshals by her side. Now, she climbs those stairs again with a new purpose. She's leading the redevelopment of the building as a space to drive racial equity through education with her foundation, the Leona Tate Foundation for Change (LTFC).
Sixty years later, LTFC fought to preserve, own and transform the school campus into the Tate, Etienne, Prevost (TEP) Center – making real the foundation's dream to have a space dedicated to education on public school desegregation, civil rights and restorative justice in New Orleans.
Today, the TEP Center features an educational interpretive center, space for anti-racism workshops and affordable senior housing. These elements drive forward the foundation's mission to promote racial equity through education and also empower and enrich its community.
"This is the place where I first learned about racism. I feel good knowing that our work can help stop racism here now," said Tate.

A milestone for civil rights
When Tate's family was preparing her to transfer schools, she knew life was about to change. She was one of six students selected from hundreds of applications and ultimately one of four students in New Orleans to take this integral step in civil rights history. On her first day, Tate thought Mardi Gras had come early with the crowd outside of the school. What she didn't realize was that they were gathering to protest her presence.
On that day, Leona Tate, Gail Etienne and Tessie Prevost, the "McDonogh Three," began first grade together at an all-White school in the Lower Ninth Ward, while a fourth girl desegregated another school across town. They faced threats and protests, becoming the only students in the building for the rest of the year as parents took all the White students out of the school one by one.
Tate remembers having had a great teacher who made them feel comfortable, while safety precautions required the classroom windows to be covered. At night, police guarded Tate's house as she fell asleep to bobbing flashlights through her window.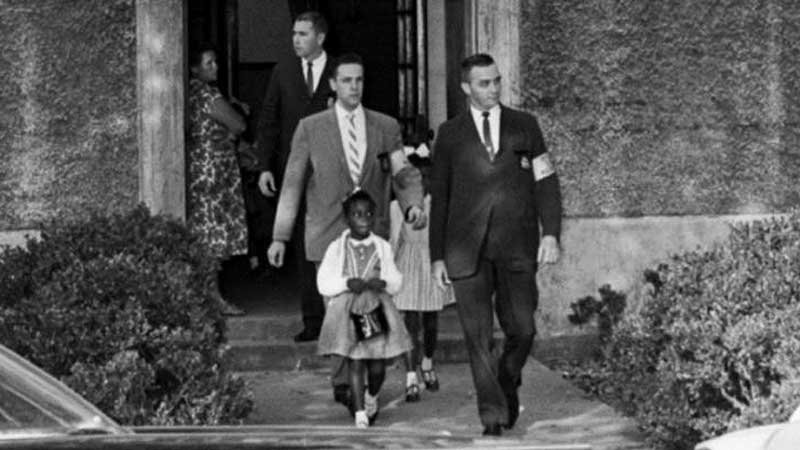 Standing up to preserve McDonogh 19

McDonogh 19 was closed in 2004 due to low enrollment and damaged by flooding from Hurricane Katrina a year later. Tate knew that she wanted to save the building. She spoke before the Orleans Parish School Board about the history of the McDonogh Three at the building and helped prevent its sale at auction. She was introduced to Alembic Community Development and engaged them in her vision.
Alembic worked with LTFC to secure a range of private and public funding sources to redevelop the property, including federal Historic Tax Credits (HTCs) that later resulted in an investment from Chase.
"We're proud to support the McDonogh 19 redevelopment and help advance the firm's Racial Equity Commitment," said Tim Karp, Executive Director of Historic Tax Credits at JPMorgan Chase. "It's rewarding to use HTCs to finance the evolution of a building with a strong civil rights history and a promising future in anti-racism education."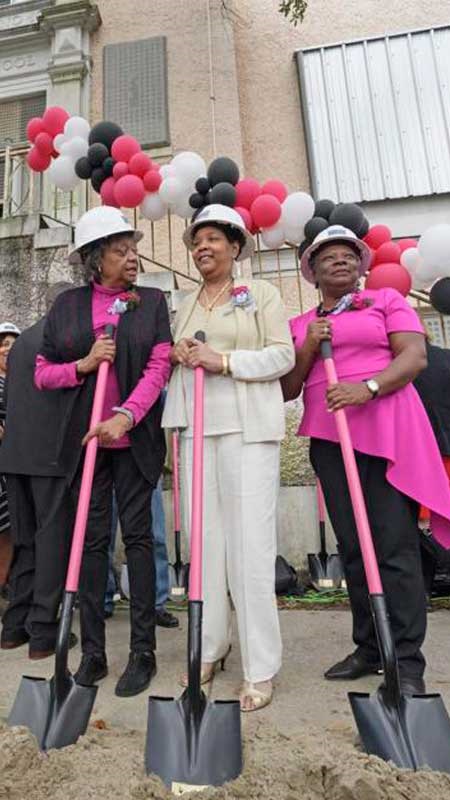 Looking to the future, with more work to do
The former elementary school campus is now open as the TEP Center, offering 25 affordable apartments for seniors and serving as the headquarters of the People's Institute for Survival and Beyond, Beloved Community and the Leona Tate Foundation for Change.
While completion of the building renovation is a significant milestone, LTFC continues its fundraising for fabrication and installation of exhibits to bring the TEP Interpretive Center to life. Sharing the story of the civil rights struggle for equal access to public education in New Orleans is Tate's goal, and the Interpretive Center will do just that.

Visitors will be able to walk the same hallway as Leona Tate did and sit where she sat on a bench waiting to join a segregated classroom for the first time. Preservation is about more than physical spaces: It's about the events and stories those spaces contain, and whose stories are allowed to be told. Through the TEP Center, Leona Tate is using this space to tell hers.
To learn more about the Leona Tate Foundation for Change and the TEP Center, visit leonatatefoundation.org and tepcenter.org.
Chase's Historic Tax Credit equity platform helps restore and preserve historic properties to strengthen and support communities across our national footprint. Visit www.chase.com/cdb to learn more.
To learn more about our racial equity commitment go to jpmorganchase.com/racialequity.