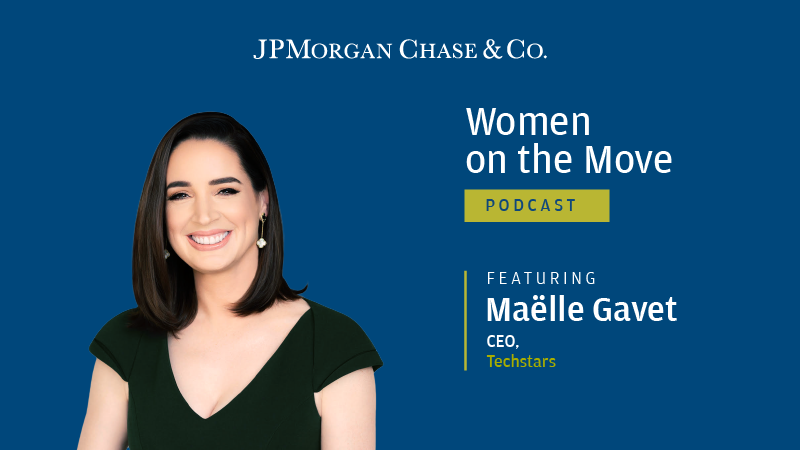 An ecosystem system approach to investing, with Techstars CEO Maëlle Gavet
When Maëlle Gavet became CEO of Techstars last year, she brought a background in both entrepreneurship and consulting—and a commitment to diversifying tech funding. One of the largest seed investors in the world, Techstars has nearly 3000 companies in their portfolio this year, and Maëlle says the plan is to add up to 650 more. In this episode, she sits down with Women on the Move host Sam Sapperstein to talk about Techstar's approach, her commitment to supporting female and other founders, and her partnership with Women on the Move.
An ecosystem approach
Maëlle says she thinks about Techstar's approach as an ecosystem, built on a framework of accelerators, or bootcamps, for entrepreneurs. "Young entrepreneurs join us, and for three months work with us to take their company to the next level," she explains. "We also do a lot to build an entire environment around the entrepreneurs. We have things like startup weekends or catalyst programs where we basically help activate communities all around the world, bring wannabe entrepreneurs and mentors and alumni of our programs and potential investors and corporate partners and government institutions. So basically we really try to get a stronger ecosystem because no one succeeds alone."
An integral part of Techstar's approach is the diverse founders they serve. Shying away from typical Silicon Valley start-ups, Maëlle says that Techstar regularly invests in women, in people of color, in people with disabilities, and in the LGBTQ community. This year Techstar will have 52 programs in 18 countries. They also have shorter catalyst programs in more than 50 countries. "The underlying philosophy is that talent and ambitions are distributed equally around the world, but opportunities are not," she tells Sam.
The power of sisterhood
Maëlle says the power of sisterhood is phenomenal—making investing in their business endeavors a no-brainer. "I think women are strong," she says. "Women are smart. Women have run the world for as long as I know—they've just done it in the back rooms rather than at the forefront. To me, this is more about unleashing and supporting existing potential than anything else."
She notes three key elements that Techstar's programs can help unleash in the women they support. The first is helping with imposter syndrome. "It saddens me that it still exists, but the reality is we still have a lot of women who are not 100 percent sure that they're worth it, that they can do it, that they have what it takes and going through these programs helps increase that confidence," she tells Sam.
The second element is an understanding that nobody succeeds alone. She notes: "Your chances of success increase proportionally to the network that you have, whether it's the network to find the first people you're going to hire, or the first customers that you're going to sign, or the mentors that you're going to surround yourself [with] or bring to your board, or ultimately the investors."
The final key element to building strong female entrepreneurs, Maëlle says, is simply money. "Ultimately it all comes down to money," she notes. "Are you going to find a way to invest in this woman? And so I think for me, these programs are about making sure that these women are being funded, are being put in touch with the right investors."
Partnership with JP Morgan
Maëlle and Sam talk about the importance of networking in getting women in touch with the investors they need. And they describe how a partnership between Techstar and Women on the Move is helping foster those relationships. A few months ago, J.P. Morgan announced an 80 billion fund that they'll use to partner with Techstar and set up accelerator programs in several cities, as part of their commitment to racial equity in those areas of the United States.
Sam mentioned that only 2 percent of venture capital money goes into female founders, and the two women talk about their commitment to moving that stat. "There is so much potential," Maëlle asserts. "And so many things that can be done to unleash all this potential. As I say, talent and ambitions are equally distributed, but opportunities are not. And the partnership that we're doing with [J.P. Morgan] is basically trying to make this opportunity more equally distributed."


Maelle Gavet
CEO, Techstars
Subscribe