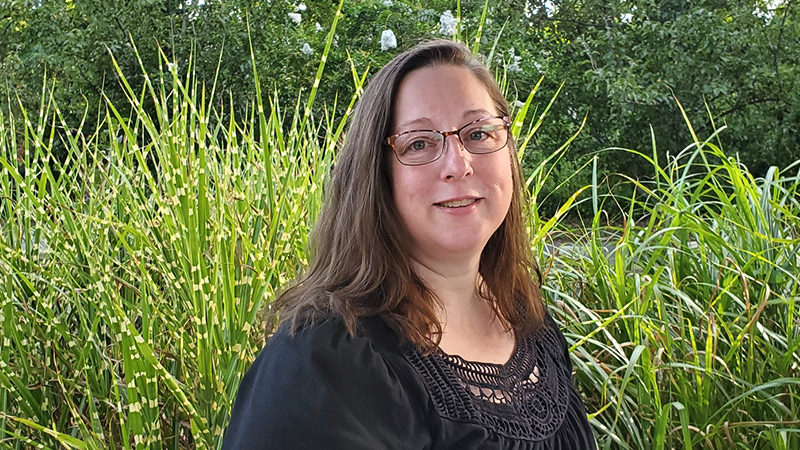 Stories
Defined by Life, Not Illness
After Christin Bell was diagnosed with multiple sclerosis, she worried about losing her independence. Here's how she built a life filled with freedom...and opportunities.
By Betty Marton
It was March 2004, Christin Bell was 29 years old, and she thought she was going blind.
At first, she attributed her gray, blurry vision to allergies, but then her eyes began to hurt. Her eye doctor diagnosed her with optic neuritis and immediately referred her to a neurologist.
That's when she discovered that she had multiple sclerosis.
"I didn't know anyone with the disease or what it would mean for my life," Bell recalls. "Would I lose my vision? End up in a wheelchair? I sat in my car and cried and then called my mom."
Multiple sclerosis (MS) is an immune system disease that attacks the protective sheath covering nerve fibers, causing communication problems between the brain and the rest of the body. Its symptoms vary widely, and can include loss of vision, tremors, weakness and an unsteady gait. There's no known cure for MS, but treatments can help manage symptoms and modify the course of the disease.
Taking Control
After her diagnosis, Bell took six weeks off from her job to begin treatment and learn what she could about her condition. It took a while for medication to help her vision return to normal, and she quickly discovered just how much had changed.
"When people at work realized that my vision was low, that I couldn't drive, they were overly solicitous," she says. "They assumed I couldn't do things, that I wasn't as capable as before. I understood their concerns, but they would take work from me that I needed to do."
Outside of work, Bell also felt that her family—who lived nearby in Buffalo, NY—was overly protective. Instead of getting her regular weekly call from her mother and older sister, she was soon hearing from them nearly every day. Then they began showing up at her house to help out—even when she didn't ask.
"All of a sudden, people were telling me I couldn't do things," she says, "and I didn't want to be that person—the person they were turning me into in their minds."
So she made a decision.
Starting Over
Bell's best friend, Eric, lived in Cincinnati and had a lead on a job in banking. She moved there in 2005, knowing that, if necessary, she could rely on Eric and his family. Otherwise, though, she kept her condition to herself. Even when she had to take intermittent leave from work for infusions, she didn't feel that it was anyone's concern but hers.
It was just what she wanted.
"It helped not to have people trying to do things for me, and most people didn't even notice," she says. "It lifted a sense of accountability from me. Even if I needed someone's help with something, why should I have to explain what's going on with my body?"
Bell spent the next decade finding the right medications, learning what her body could tolerate and what would work. She also learned more about MS, which she describes as a "wonky" disease, whose symptoms and treatments can assert themselves unpredictably. For support, she turned to other MS patients she met at the infusion center where she went for treatments.
Then in 2017, she received a job offer at a bank in New Jersey. With two years of a relatively stable, consistent medical regimen under her belt, she accepted.
"I didn't know anybody in New Jersey, but I didn't care because I knew I was under control," she says. "And I was still only six and a half hours from home if I needed my mom."
Living Beyond Limitations
Two years later, with 12 years of banking under her belt, Bell moved to a position at JPMorgan Chase, a 45-minute drive from her home. By then, she decided that she no longer needed to keep her condition a secret—a decision helped in part by the confidence she'd gained from her health regimen. She'd joined a gym and a running club, where she trained first to run a 5K, then a 10K, a 15K and, between 2018 and 2021, four half marathons and a trail run—53 miles over five days.
Now, because of a bum knee, she has taken up weightlifting which, like running, helps keep her stress levels and her symptoms under control.
"Running and lifting give me a focus and a sense of freedom—like, what's to stop me from doing anything else?" she says. "It's such a sign that I don't have to be limited."
Looking Ahead
Although Bell rarely discusses her condition, her attitude has made an impact on those around her. "She's an inspiration," said Denise McLimans, a project manager in JPMorgan Chase's Wholesale Loan Technology, who was Bell's manager until recently. "I never would have known had she not mentioned that she might need time off," McLimans recalls. "She never tried to hide her condition, but she does what she needs to take care of herself and surrounds herself with people who can help her do that."
Bell, who is currently a product owner in JPMorgan Chase's Wholesale Loan Servicing department, sometimes has to be cautious about certain movements, and sometimes has to use a cane. But if people in the office ask about her condition, she now addresses it with a sense of ease. Her confidence is also bolstered by sharing her story with others in support groups for those who are just coming to grips with their situation. She helps them look to the future, as she does, with a sense of opportunity.
"I look forward to retiring, spending time with my niece and nephews, to traveling with my mom and taking care of her when she gets old," Bell says. "I know how to pay attention to my symptoms and what I need and, more importantly, that it's just a part of me. It's not who I am."
Learn how we strive to provide the best support and environment for people with disabilities at JPMorgan Chase.
This article is for informational purposes only. The content is not intended to be a substitute for professional advice, diagnosis, or treatment. Always seek the advice of your health professional or other qualified health provider with any questions you may have regarding your condition.