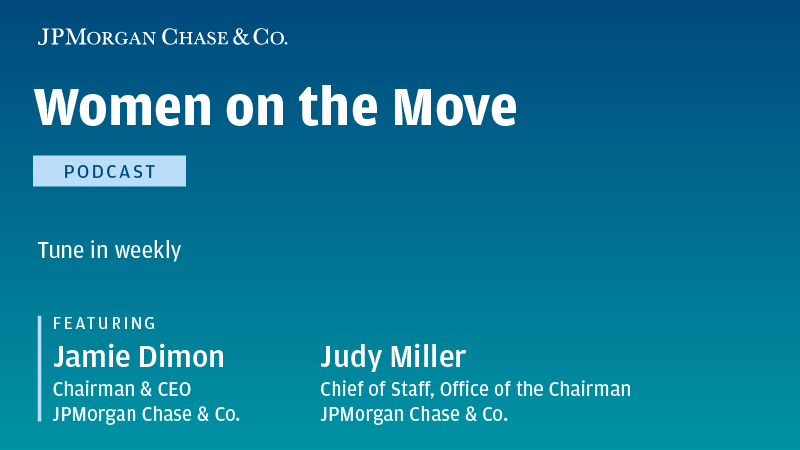 From Davos, JPMorgan Chase CEO and his Chief of Staff discuss the values of diversity and business efficiency
In this special feature from the World Economic Forum in Davos, Women on the Move Host Sam Saperstein sits down with JPMorgan Chase Chairman and CEO Jamie Dimon and his Chief of Staff Judy Miller. They discuss the value of diversity, equity, and inclusion at JPMorgan Chase and the equal importance of all stakeholders to the firm, and Jamie shares tips on being more efficient every day.
Jamie talks about what he sees as the biggest global issues facing the world today. "There's only one thing taking place in 2023 that matters for the future of the world, and that's what's going on in Russia, Ukraine, related trade, China, security, the trade issues around national security, what it's going to do to energy prices, oil prices, poor nations," he says.
Being together with the world's economic leaders at Davos is critical, Jamie says, because the issue today is about how the Western world can stay united—in terms of security and energy in particular. And although many of the solutions will come from government policy, global corporate leaders like J.P. Morgan have an important role to play as well. "We have a really complex problem here, which is we all want to get CO2 down, but we also need reliable, secure energy and cheap," he notes. People yelling at banks and corporations isn't going to solve the problem, he adds. But people coming together for R&D and solution seeking can impact change.
DE&I at JPMorgan Chase
Diversity, Sam notes, is one area where JPMorgan Chase has been a change leader. Judy says that for Women on the Move, it's both internal—helping women thrive and take on leadership roles withing the firm—as well as external—helping women entrepreneurs with training and resources. Women on the Move, she points out, started internally as a group of senior women who really wanted to help support women throughout the firm.
"I think that the roles that women are in at the company is really outstanding," Judy tells Sam. "When you look at Jamie's direct reports, about half of them are women and they are leading some of our biggest businesses. It wasn't that way when I first started. And I think the women in these positions, they both can act as role models and the younger women can look at them as role models and see there is a path for themselves."
Jamie adds that all areas of diversity are equally important to the company, and he notes that the challenges faced by people of color can be more substantial than those faced by women. "We want [everybody] to feel treated with respect and decency where they can contribute to the company to the best of their ability."
Finding efficiency amidst the bureaucracy
Another core value for the firm, Jamie says, is efficiency. In such an immense global firm, bureaucracy is inevitable. The challenge, he says, is to not let it stifle growth. People are going to get bogged down in the details—sometimes to an unhealthy degree. But the way to fix that, he says, is not to resent it. "It's to understand that it's like weeds in the garden," he tells Sam. "It's always growing. Meetings are getting bigger. Meetings taking longer. People want to collaborate. I want you all to come here to collaborate, but I don't want you to over collaborate."
One of Jamie's strategies for ensuring momentum rather than getting bogged down by bureaucracy is his to-do lists. He says he consistently maintains both short-term and long-term lists. "People throughout the company know about Jamie's list," Judy vouches. "So I can just send an email and say, 'Okay, you're on the list, let's work to get off it.' Jamie rewrites this follow-up list every Sunday and there's nothing worse than being transferred from one week's follow-up list to the next week.." Judy describes Jamie's list as something that keeps the company moving: "It keeps that constant forward progress."
Jamie describes himself as relentless. "Nothing gets by me [where] I don't say, 'Cut that out. We don't need that. That's too long.' Every meeting starts on time. It ends on time." Jamie says he's relentless about it is because bureaucracy leads to politics. And that leads to stasis. "That's why you can't take it lightly and why I don't."


Jamie Dimon 
Chairman & CEO,
JP Morgan Chase & Co.
Judy Miller 

Chief of staff, Office of the Chairman,
JP Morgan Chase & Co.

Subscribe