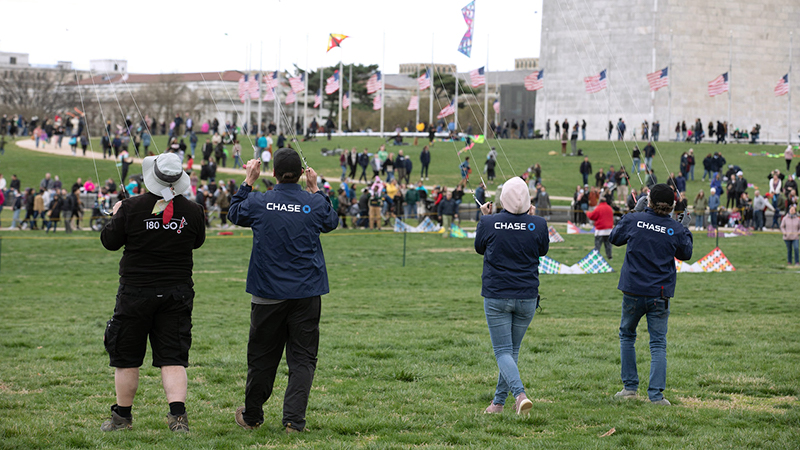 Stories
In DC, Cherry Blossoms Represent Rebirth... and It's Happening in Ward 8
From planting cherry trees to promoting financial education, JPMorgan Chase is supporting growth and rebirth in one of Washington DC's most neglected neighborhoods.
By Kim Justen
Spring has sprung...and, in Washington, DC, that means cherry blossoms. A 1912 gift from the city of Tokyo, Japan, the 3,200 trees surrounding DC's Tidal Basin have become a well-loved part of the city's culture. Today, tourists from around the world throng to the city for the annual four-week National Cherry Blossom Festival.
The trees and their blossoms were always meant to bring people together, but for many of the city's underserved residents, enjoying the festival—or even visiting the blooms—was extremely difficult. With that in mind, the staff at National Cherry Blossom Festival (NCBF) have worked for years to extend the festival across all of DC's eight wards to bring the blossoms to people throughout the city.
"It's very important to expose all the neighbors who maybe haven't come to the Tidal Basin to feel that beauty, especially since this community hasn't had as much attention and events as some of the others," says Diana Mayhew, President and CEO of the NCBF.
This year—the first to have a full festival since the advent of COVID in 2020—the NCBF is striving to host events across the city, particularly in underserved neighborhoods where locals need them most.
That's why NCBF is hosting events in Ward 8's Oxon Run Park. Located in one of the city's lower-income area, the park is critical to the neighborhood; for many, it is the area's only safe space, it's only greenspace. "The kids in this beautiful park space are free to fly a kite, but more than that, they're safe here," says Brenda Richardson, a leader on Friends of Oxon Run. "They don't have to worry about getting shot, or what the sirens might mean. Here, they're in this cherry blossom bubble."
Planting Roots in Ward 8
In the early 2000s, 200 cherry trees were planted in Oxon Run Park; over the years, NCBF has worked with many sponsors to continue to plant cherry trees in the park. Today, it is home to the largest grove of cherry trees in the city outside of the Tidal Basin.
When the pandemic forced NCBF to scale back in-person events, it moved much of its community engagement online. In cooperation with the Girl Scouts of America, it created a virtual learning program–the Blossom Kids. Kids earn badges after completing five activities in five categories: arts & crafts, words & numbers, gift of trees, music & performance, and sports & fitness.
In October 2021, to honor the first 30 children to earn a badge, JPMorgan Chase volunteers—in partnership with NCBF—planted 30 cherry trees in Oxon Run Park.
"We were thrilled to partner with Chase for a tree planting, which is a great way to ensure that the reach of the region's official celebration of spring will continue to extend beyond the Tidal Basin for many years to come," says Mayhew
Building—and Extending—a Partnership
This year, NCBF expanded its offerings in Ward 8—and across the city. To begin with, it held the Blossom Kite Festival on the National Mall, as well as in 12 neighborhood parks throughout the city, Maryland and Virginia—including Oxon Run Park.
The kite flying competition and demonstrations on the National Mall were sponsored by JPMorgan Chase. At all the Blossom Kite Festival sites, the bank provided kids with free kite building kits; the sites provided areas for kids to decorate, build and then fly their kites as part of the festival.
NCBF and JPMorgan Chase also hosted Petapalooza, a day-long event featuring art, live music and activities, including an art walk along the Anacostia River, which runs through DC, and next to Ward 8. The free event was the culmination of the National Cherry Blossom Festival and wrapped up with fireworks over the river.
2022 also marks the third year JPMorgan Chase has been a sponsor of the festival. In 2019, it sponsored the parade. In 2021—in addition to planting trees in Oxon Run park—it sponsored one of 23 blossom statues throughout DC.
"We were lucky because we both had interests in serving Wards 7 and 8," says Mayhew. "That's why JPMorgan Chase came on board stronger than ever this year."
Watching Oxon Run Bloom
Extending the NCBF to Ward 8 is important, but so is helping the residents of that area create a better life for themselves. Before the pandemic, DC's racial wealth gap was eight times higher than the national average – black households had 81 times less wealth than white ones. Since COVID hit, that gap has grown even wider. To shrink it, residents need pathways to prosperity.
In January 2022 the bank announced a $20 million commitment in philanthropic capital and flexible low-cost loans to Wards 7 and 8. "We've been in Ward 8 for three years," said Erik Drucker, JPMorgan Chase Market Director of Banking for Washington, D.C. "We realize it's very important to be present and be part of the underserved communities. There's a need for financial health and education, and we can provide that."
JPMorgan Chase now offers financial education events both within the branch and at external locations throughout the neighborhood. By learning about and understanding budgeting, credit and savings, people in Ward 8 can make more educated decisions about their finances and begin down a path of becoming more financially sound.
"If we're looking to expand and support this region, it's both a moral and a business imperative for us to invest in the communities that have long been disconnected from opportunity," said Dekonti Mends-Cole, VP of Mid-Atlantic Global Philanthropy, JPMorgan Chase. "We recognize our relationships with the community and our clients extends beyond the branch doors."
By investing in Ward 8—both with community events and with long-term economic development—JPMorgan Chase is working to support a rebirth of a community, one that promises to last long after this year's cherry blossoms have faded and blown away.