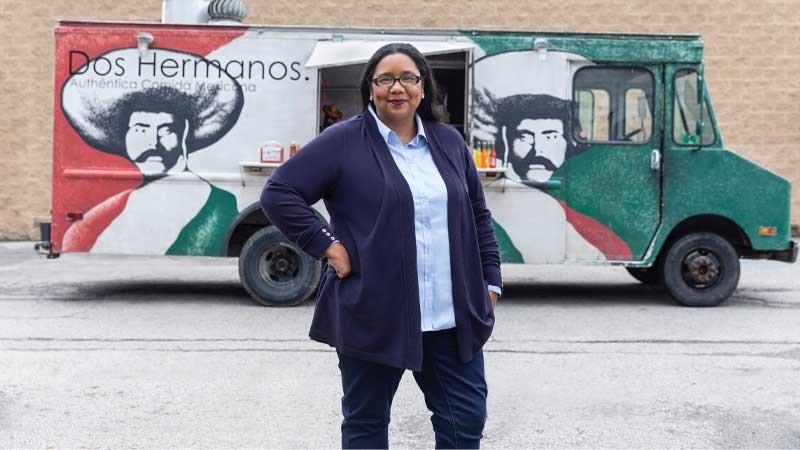 Stories
From a borrowed food truck to cooking up a $3 million food business: How a Columbus businesswoman leveraged relationships to go the distance
"You start with what you have."
That's what Lisa Gutierrez, now CEO of Dos Hermanos, a bustling Mexican-inspired food business based in Columbus, Ohio, says about her start as a small business owner more than 10 years ago.
In her case, she started with one borrowed food truck — and turned it into a profitable company that generates $3 million a year and employs 45 people and includes multiple food trucks, concession stands at venues like Lower.com Field and the Greater Columbus Convention Center, permanent stalls at two area food markets, and a commissary kitchen that serves an underserved community.
Of course, she had more than just the truck on her side. She had 15 years of experience managing restaurants, a husband with a passion for food, trusted family recipes, and a village of support behind her.
Lisa's business journey from a solitary food truck to a thriving business included support from community developers, fellow foodies, and city advocates — as well as a long-term relationship with her local Chase business banker.
"When I walked into my Chase branch with my Dos Hermanos t-shirt on years ago, I thought I was unbankable. My credit score was low, and there was so little in my account that I was just hoping I'd have enough to get change for the next gig. What happened next was very powerful."
Coming out from behind the cubicle
Lisa was standing in line waiting to see a teller when Bryan Brzozowski, a Business Banking relationship manager with Chase noticed her Dos Hermanos t-shirt and, as a self-proclaimed "local foodie," wanted to know more.
After learning about Lisa's business, Brzozowski offered to put her in touch with someone at JPMorgan Chase's McCoy Center — a large office complex in Columbus that regularly invites food trucks to help serve meals to its 13,000 employees.
"I'll never forget what he told me: 'You're doing business with us, so why are we not doing business with you?'" Gutierrez recalls. "Most people don't even look up at you from their desks. He actually got out of his chair."
Brzozowski was true to his word and connected her with the McCoy Center, where the Dos Hermanos food truck continues to serve local employees to this day. But their relationship didn't end there.
"We make sure she's getting everything she can out of our products, but what we're really doing is talking about how we can get her contacts that will help her continue to grow."
From setting up a food tour to getting her in front of folks who run concessions at Buckeye Stadium to encouraging her to connect with the local food markets, Brzozowski and Gutierrez "just continue a strong relationship and make connections."
"I always say, 'How else can I help?' and 'Who can I introduce you to?' I do that as a person because I truly want to help out," he says. "But Lisa deserves a lot of the credit here because she's not afraid to give real answers to those questions. She's not afraid to ask."
A good example of that fearlessness occurred when Gutierrez saw tennis star Serena Williams in some local Chase marketing efforts and asked, "Do you ever use real people for that? I'd like to do that one day."
And that's how Gutierrez became the face of Chase for the Chase for Business Conference, where she shared the stage with famed entrepreneurs and was able to share her inspiring story about Dos Hermanos.
Gutierrez is so proficient at networking that her efforts have been featured in Forbes.
Full-circle mentorship
Gutierrez recently participated in JPMorgan Chase's Founders Forward program, which connects small business owners with volunteer teams of JPMorgan Chase employees to receive short-term advisory support on specific business challenges such as financial modeling, e-commerce, marketing and more. Launched in 2021, the program provides recovery support for small businesses amid the pandemic.
To date, more than 230 JPMorgan Chase volunteers have mentored and supported 105 local small businesses through both Founders Forward and the related Small Business Mentorship Program.
Gutierrez and her team participated in the Founding Forward program to improve their digital skills and better manage incoming online service requests. They wanted to grow beyond their mobile food trucks and expand their services to catering, takeaway orders, and a physical restaurant, and they felt better technology would help them grow beyond their mobile food trucks and carts.
"We're restaurant people. We want to be around people and hospitality and have a good time and serve great food. But we're not always as tech savvy as we need to be," she explains.
Together, they worked to create and streamline an app and will make it more user-friendly for both guests and staff to engage in her business.
"I'm very excited to see it roll out. I think it gives us a competitive edge, setting us apart from other food trucks and showing that we're more than just a food truck now," Gutierrez says.
Reflecting on the mentorship experience, Gutierrez says she always recommends surrounding yourself with like-minded business owners and "good people from the community." For her, that included not only her local Chase branch and the JPMorgan Chase corporate mentorship team, but also local nonprofits that support small businesses.
In particular, the Columbus-based Economic & Community Development Institute (ECDI), a nonprofit community lender, has supported Gutierrez throughout her food truck journey.
"They literally came out to the side of the road where we had the food truck and asked me if I knew about the services they offered," Gutierrez says. "This was my awakening to a community with similar goals."
ECDI, which is also supported by funding from JPMorgan Chase, connected Dos Hermanos with its Food Fort, an initiative to support the food truck industry by offering access to parking, deliveries, cold storage, and licensing guidance. The program helped Gutierrez to secure microloans which helped her purchase equipment as her business grew. In addition, she was able to meet with the Columbus-area Women's Business Center to enhance her marketing and communication skills.
Gutierrez is experiencing significant success, and she's now bringing this local mentorship full circle: She founded a new business called Food Truck Millionaire LLC, a business coaching firm that helps people go "from the concession window to CEO seat of their own business."
"What is most rewarding for me is to let people know they're not alone," she says. "You're really not. We're all trying to navigate."
As chief navigator of her own growing food empire, Gutierrez continues to steer her ship through uncharted waters remarkably well and map a course for others along the way.
Learn more about how JPMorgan Chase is making a difference in the communities where we live and work.