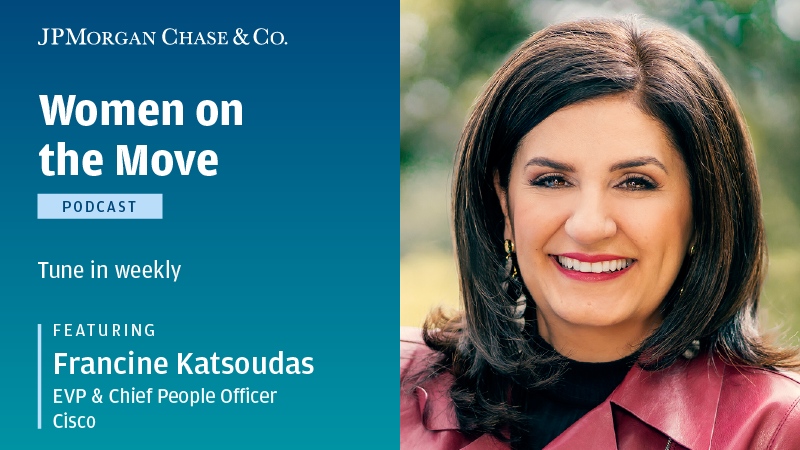 A conscious culture of wellness and empowerment, with Cisco's Chief People Officer
From the World Economic Forum in Davos, Francine Katsoudas, Executive Vice President and Chief People, Policy & Purpose Officer at Cisco, joins Women on the Move host Sam Saperstein to talk about her journey at Cisco, the idea of empowering managers in a hybrid workplace, and why Cisco includes mental health professionals in company meetings to support a culture of wellness.
Francine started working in Cisco's contact center more than 25 years ago. Her first job was providing first-level technical support, despite not having much of a technical background. Francine credits the leader who hired her for believing in her potential to learn the skills needed for the role. Since then, she's sought a variety of positions within the company, telling Sam that she believes there's power in collecting experiences. "And so I would have one role and I would [ask myself] okay, what have I learned on this role and what do I still need to learn?" she says. "And I think that focus on learning really helped to navigate me through the company."
She says she moved into HR about 15 years ago, which led to her current role of Chief People Officer. "I focus on people, policy, and purpose," she tells Sam. "And what that means is that together with our team, we focus on how our people organization, how government affairs, how real estate, how building a digital agenda all come together in service of our company and our purpose, which is the power and inclusive future for all."
Empowering managers
One focus of her job in the last few years has been hybrid work and work-life balance. At Cisco, she says, technology had enabled virtual work even before the pandemic—and so when the pandemic forced people out of offices, Cisco already had historical data showing that employees' "promotion velocity" was the same whether they worked remotely or onsite.
"The approach that we have within the company is to really focus on the work and what is best as it relates to the team," she says. "And so we've basically decentralized that decision. We ask leaders to make the best decision for their team. We also ask them to experiment."
She notes that over time, the role of leaders has evolved. "I think it will continue to evolve, meaning that our leaders now I think have to be a bit more customized as it relates to how they approach every individual" she explains. "As we went through the pandemic, we asked our leaders to understand, how are your people doing? What do they have going on? Check in on them, right? I think we got rid of this belief that there's a one-size-fits-all approach to leadership."
A culture of wellness
When it comes to helping women in particular navigate and succeed in their careers, Francine notes that Cisco relies on what they call their conscious culture. "Our conscious culture is this belief that every single employee owns the culture," she notes. "We as a company have to focus on the environment, we have to focus on the experience and our principles. Part of how we do that is we have to be really overt in talking about what's not working. And I think when you do that, you build trust with your teams and they know that if there's something that you can do better, that you're willing to work it because you were willing to say it in front of the entire company."
Once specific strategy that's worked at Cisco is having a mental health practitioner attend every monthly meeting. "What will end up happening is we'll take questions about, hey, what's our strategy for security? Where are we going? Hey, there's this new program. Oh wait, we have a question for Dr. Zane. Dr. Zane, there's a question here about how do you handle anxiety?" Francine says. And when employees have actively received that message that it's okay to ask about mental health issues, they feel empowered to embrace their mental health as a critical component of their work life.
Looking forward, Francine has three main goals on her 2023 agenda. The first priority is around hybrid work and ensuring that leaders are making the best decisions about how their teams can be at their best. Next is something the company calls resilient communities: the idea of how they show up in the communities in a way that builds lasting success. And her third item is focusing on people and taking the conversation around wellbeing and career growth to the next level.




Francine Katsoudas
Executive Vice President and Chief People, Policy & Purpose Officer at Cisco
Subscribe