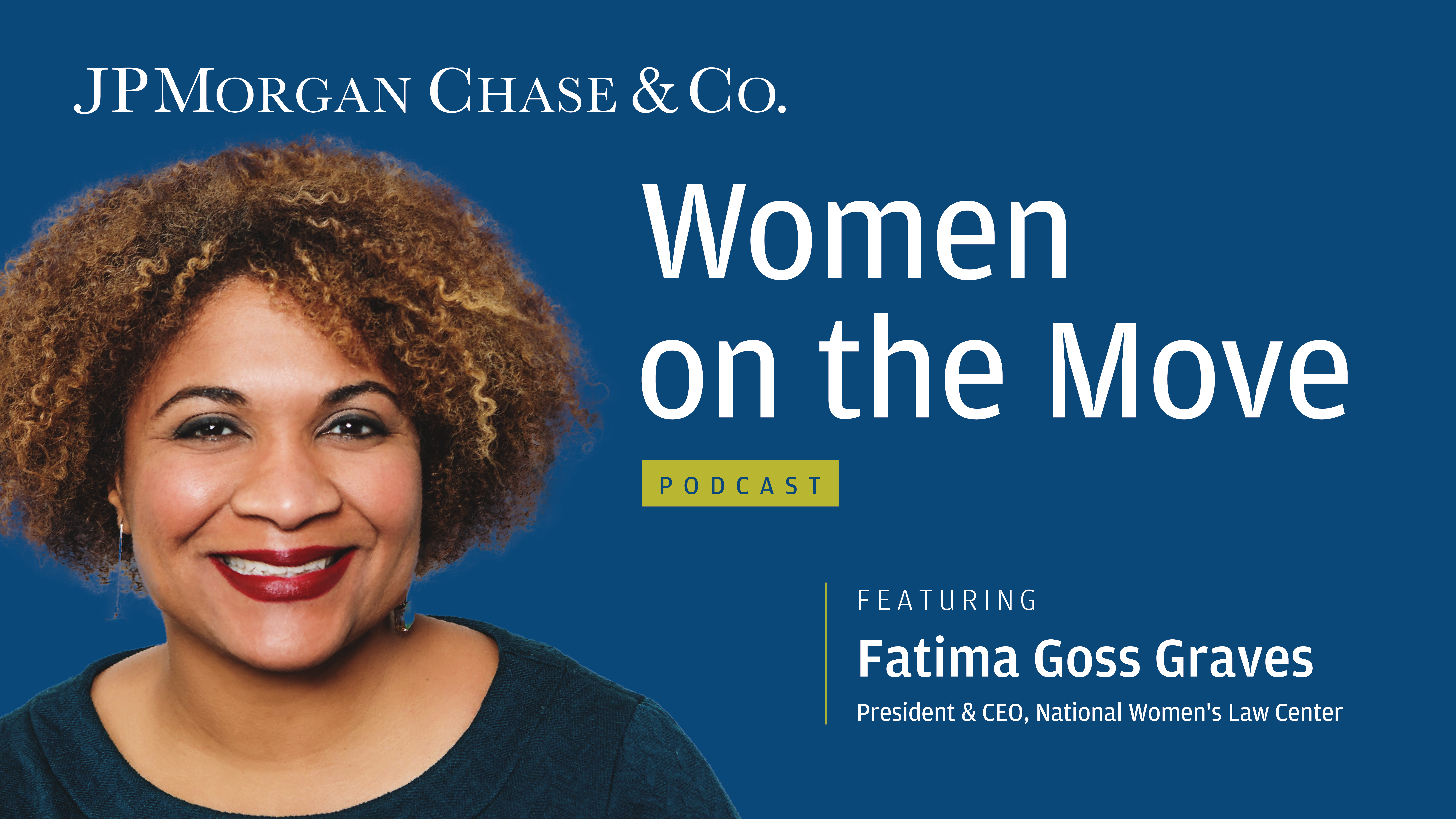 Stories
National Women's Law Center CEO talks advancing gender equity
For 50 years, the National Women's Law Center (NWLC) has been working to improve the lives of girls and women in the United States. In this episode, the Center's president and CEO Fatima Gross Graves sits down with Women on the Move host Sam Saperstein to talk about the NWLC's work, the gender pay gap, and how COVID-19 has exacerbated gender inequalities—plus, what she's hopeful about for the future.
Gender pay gap and COVID's impact
Fatima and Sam discuss the longstanding gender pay gap, with data showing that even before the pandemic women overall were making 82 cents for every dollar that men made (and for Black women the figures were much worse, with Black women making just 62 cents to the dollar). And, Fatima explains, things only got worse with the pandemic. "The COVID-19 pandemic has upended all of our lives," she notes. "But that has been very, very true for women in this country."
Women experienced greater unemployment than men during the pandemic, she says. That's partly because women's jobs are more concentrated in the sectors that were hardest hit in this pandemic, and partly because women had to leave their jobs to take care of their children as schools and childcare options shut down. Fatima calls the pandemic's impact a "complete crumbling" of the nation's care infrastructure.
The "impossible math problem of caregiving"
Fatima tells Sam that the issue of caregiving in the United States is both a jobs problem and a quality-of-care problem. And in both cases, it rests on the shoulders of women: because women tend to work more often in caregiving jobs, and because they tend to take on more responsibility for caretaking within families. "And part of the reason our care system is so fragile, [is because] it was kind of built out of the idea that it is okay to pay basically poverty level wages to mostly women who are caring for the most important things to us," she says.
It's not only women who work in healthcare or childcare sectors whose employment is impacted by the issue of caregiving in this country, Fatima notes. Women who work in sectors like retail, with both low pay and unpredictable scheduling, can find it nearly impossible to schedule or afford childcare. . For most families, childcare is more expensive than rent or mortgage payments or even college. This is just one of the issues the National Women's Law Center targets.
National Women's Law Center progress
As the organization approaches its 50th anniversary, Fatima describes the work of the National Women's Law Center as both broad and deep. "We have litigators, we have public policy advocates, we have researchers, we have storytellers, we have culture makers," she notes. "And all of that is to ground us in this idea that we believe we can build a better world in this country."
As the pandemic is controlled, the Center focuses on making sustainable change by advocating for policy initiatives during the recovery. "I'm really, really proud of the relief we were able to get in the American Rescue Plan," she tells Sam. "We have the largest increase in childcare spending since World War II. There was a child tax credit in that plan that, once implemented this summer, stands to move millions of families out of deep poverty. And the idea that that is a possible thing to do, that this country can do big and important things in this way, it was exciting and inspiring for all of us."
Looking forward, Fatima is excited about the Center's continuing work on building "a care infrastructure" that works for both families and employers. She notes that it will likely require third-party inputs to achieve fair wages for caregivers at prices that families can still afford. "In some ways the concept is pretty simple, if we want a stronger care infrastructure, then we're going to have to pay workers for that, and paying workers more actually helps the mostly Black and Brown women who have been doing those jobs," she notes.

Fatima Goss Graves, National Women's Law Center
President & CEO,
National Women's Law Center


Subscribe