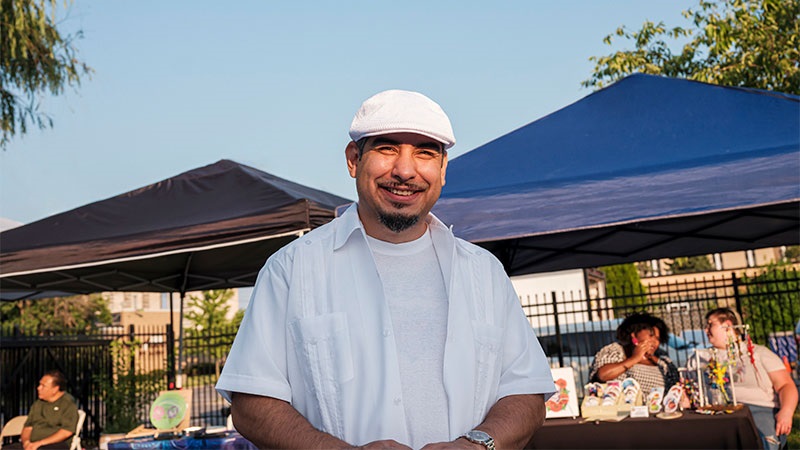 Stories
In Detroit's Corktown, a New Banking Model Opens Doors for the Community
Residents and local business owners in Detroit's oldest neighborhood now have access to more financial health products and services to strengthen their community, with a new Chase Community Branch.
On Friday nights in Corktown, Detroit you can find the neighborhood gathered on Trumbull Street, listening to live performances, learning to salsa, and sampling Mickey's Puerto Rican Cocina. People come together to talk, laugh and dance among the stalls of local merchants who are selling everything from herbal tea to glass beaded bracelets.
Now in its third year, the Fantasma Market and Café, a program offered by the Detroit Hispanic Development Corporation (DHDC), invites entrepreneurs to use the weekly market as a testing ground for their products. Alexis Zavala, Director of Development & Operations, DHDC is proud of its success, noting that the organization has been able to uplift dozens of local entrepreneurs and small businesses by ensuring they have access to financial resources and opportunities.
"We try to meet people where they are: whether you're just starting, or established, we tailor to what your needs are," says Zavala.
Fantazma Market is just one of the financial health initiatives and programs at the DHDC, which partners closely with Chase's nearby Community Branch to provide classes geared towards advancing the financial health of both neighborhood residents and small business owners. Programming includes topics like business planning and financing, saving and investing, building credit, and youth financial literacy. For Zavala, promoting access to this knowledge is about empowering people and giving them the skills they need to create generational wealth.
"You can't pass down a job, but you can pass down a business," says Zavala.
The First of its Kind
When JPMorgan Chase opened its Corktown Community Branch in 2021 it was one of the first community branches — an initiative resulting from JPMorgan Chase's $30B Racial Equity Commitment. This model offers tailored resources and financial tools to underserved communities that have faced historical barriers to banking. Eventually, the community branch model expanded to locations around the country, utilizing lessons learned from the Corktown location.
"People can be wary of banks. They're worried about fees, or they don't know the best way to manage their account. Even talking with people who are well-established, there is so much they don't know. We want to be a place for education," says Gail Taylor, Corktown Community Manager, JPMorgan Chase.
The Corktown Community branch offers free community programming and a space for all ages to learn about credit, money management, business and personal finances, investing, and homeownership. "From the bank's long-standing investment in Detroit, we learned the importance of being really integrated in the community," says Taylor. "Our community branch model is one of the ways we do that. We've seen incredible growth in our own backyard."
Detroit 2.0
The neighborhood where DHDC is located is a prime example of a larger revitalization happening in Detroit, powered by the determination of Detroiters and their dedication to their city. From 2013 to 2023, per capita income in Detroit has increased 23 percent and the percentage of unbanked Detroit residents is down 6.7 percent.
This economic boost can be felt in Corktown, the oldest and one of the most diverse neighborhoods in Detroit. "Corktown is the original immigrant community for Detroit. The train station is our Ellis Island," Zavala shares.
Much of this work is led by Taylor who imbues the branch with the same community orientation of the neighborhood itself. "Corktown is a true community. When I was growing up, everyone on the street knew me and my parents, and you knew the store owners and their families. It's a community of people who care about one another."
Equally important to the economic growth of this community is the importance of ensuring longtime residents are equipped to thrive in Corktown's new era. The Corktown Community Branch is there to respond to the community's needs by partnering with business owners, entrepreneurs and organizations embedded in the community. One of those community needs was breaking down a specific barrier to entry when it comes to finding work: criminal records. JPMorgan Chase's Second Chance Program has enabled members of the DHDC community to expunge criminal records holding them back from finding quality jobs and helping to further boost Detroit's economy. "We need for people to get a fresh start—opportunities to participate in the economy and live above the poverty line," says Zavala.
The Corktown Community Branch has become not just a resource, but a centerpiece in the community. "It's always booked and lively… We use our space after hours and on the weekends, not slated to nine to five because that's not how people work or when people need the space," says Taylor.
Over 15,000 Detroiters have received financial health services from JPMorgan Chase in the past six years as part of JPMorgan Chase's $200 million investment in Detroit's economic recovery. "People need resources and tools," says Taylor. "If you teach people skills and give them resources, they can generate money on their own."
With 90 years of doing business in Detroit, JPMorgan Chase is committed to partnering with the local community to improve its financial health. As Taylor says, "knowledge is powerful – and really opens doors for people."
Learn more about how JPMorgan Chase is helping to strengthen Detroit's local economyand provide financial resources to the city's residents and business owners.


For 90 years, JPMorgan Chase has helped make lasting impact for Detroiters. See how in a video featuring local Detroit poet Joel Greene.
Participants Compensated.
©2023 JPMorgan Chase & Co. All rights reserved.